Welcome to the 2014 NEWS ARCHIVE page
All posting for 2014 - 2011 NEWS will be displayed on the page below. For recent Village News, click on the link below:

Archive Updates / News


2014 - Shere lights up for Christmas

Last Night - 4th December - Christmas Lights Switch on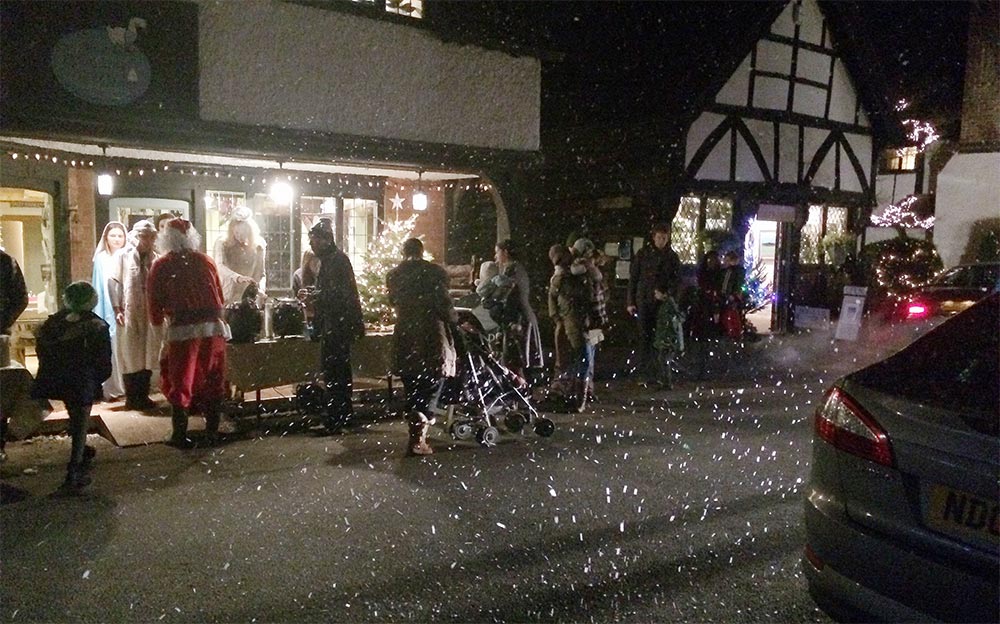 Snow at Christmas - Thanks to the Dabbling Duck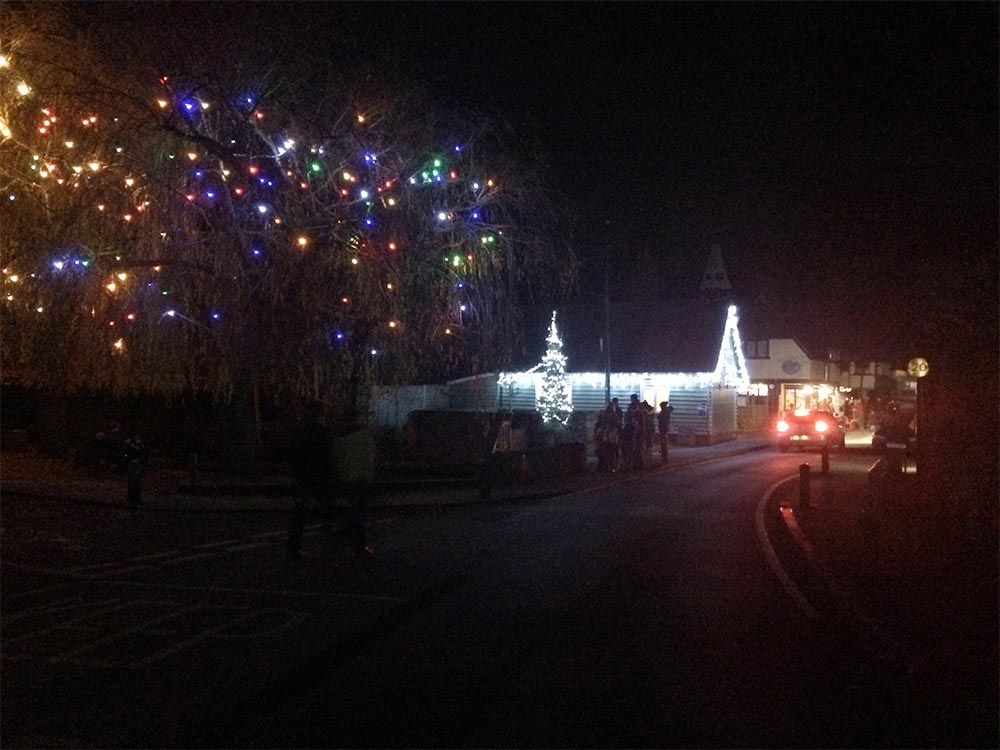 December 2014

2014 - Shere Cinema is 1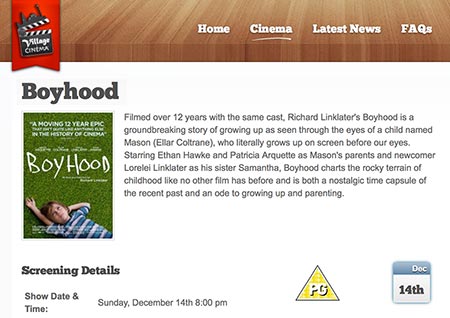 SUNDAY 14th December 2014 - Shere Village Cinema
Evening film at 8pm - BOYHOOD
More details and booking on the Shere Village Cinema website

November 2014

4th December 2014
Thursday 4th December 2014 - 5.45pm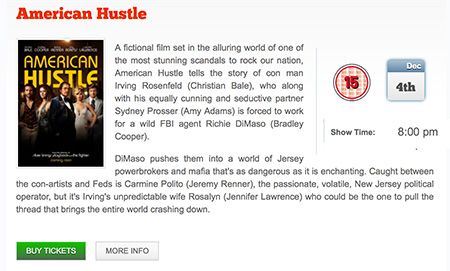 Thursday 4th December 2014 - Shere Village Cinema
Evening film at 8pm - AMERICAN HUSTLE
More details and booking on the Shere Village Cinema website

Village Nursery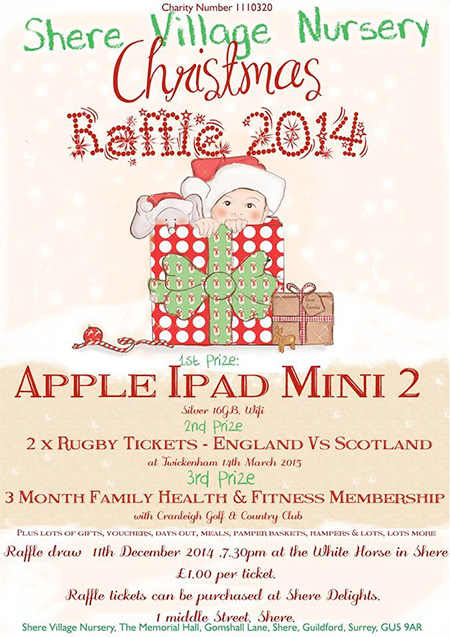 Thursday 11th December 2014 - Christmas Raffle 2014
7.30pm - White Horse, Shere
Christmas Raffle 2014 Shere Village Nursery 11TH DECEMBER @ THE WHITE HORSE SHERE @ 7.30PM.
1st Prize: APPLE iPAD MINI 2
2nd Prize: RUGBY TICKETS - ENGLAND VS SCOTLAND
3rd Prize: 3 MONTH FAMILY HEALTH & FITNESS MEMBERSHIP
Raffle tickets can be purchased at Shere Delights, 1 Middle Street, Shere
Shopping Extravaganza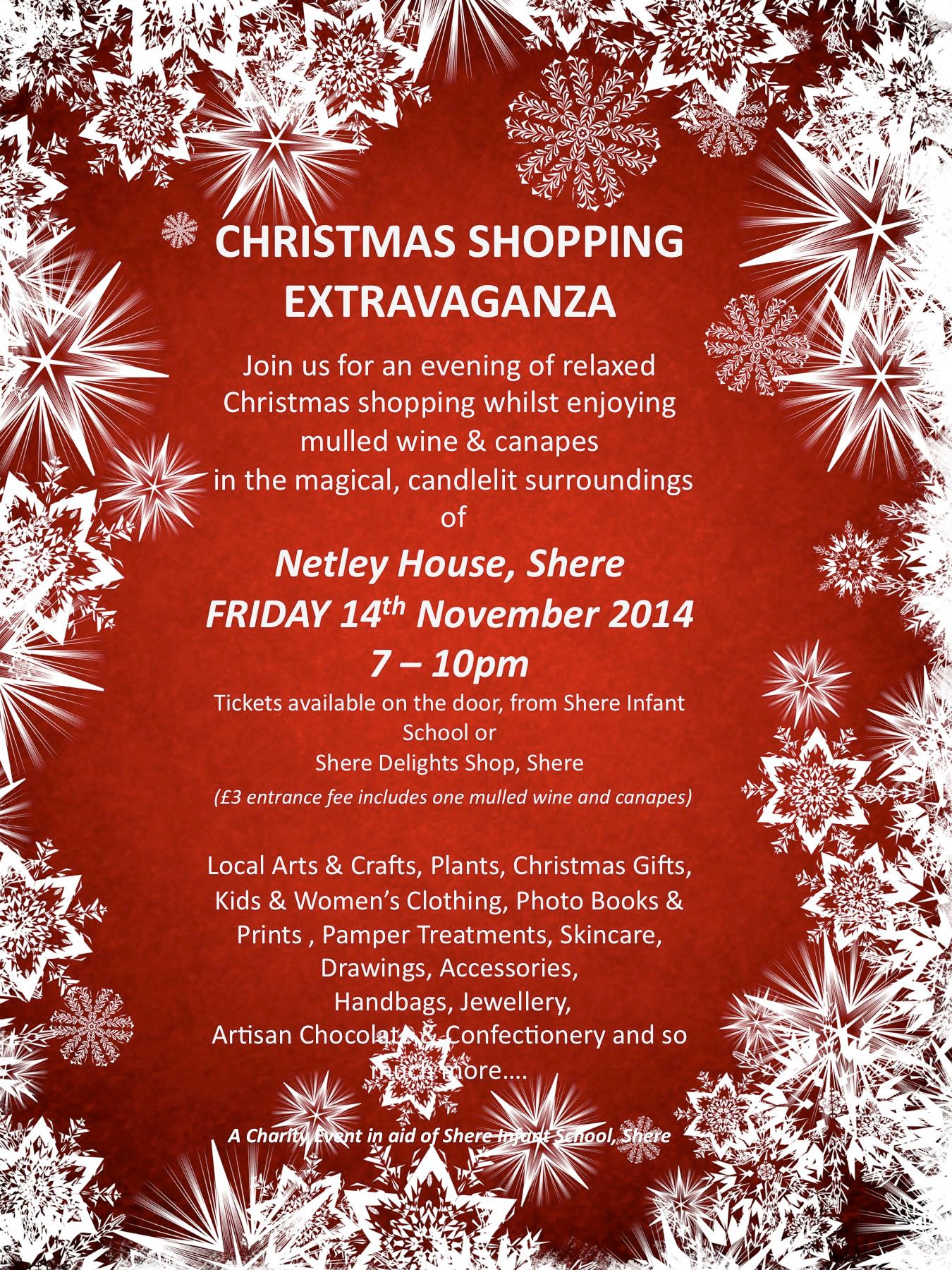 Friday 14th November 2014 - Christmas Shopping Extravaganza
7-10pm - Netley House, Shere
Confirmed stallholders include:
Stella & Dot, Iona Laycock (renowned local textile artist), Captain Tortue (Kids Clothing), Mary Kay Skincare, Rebecca Lewis (local artist), Lillian Spibey Photography, Lily's Lollipop Trees, Shere Delights, Ju (women's clothing), Small Lebus, Elf on the Shelf, Kingfisher Farm Shop, Cuckoo Junction gifts, Handmade Bunting and Handmade Cushions to name but a few. There will of course, be Pamper Treatments on offer too.

Join us for a festive evening of Christmas Shopping in the beautiful Netley House.
The fire will be lit, the mulled wine and canapés await you. What nicer way to spend a Friday evening...

Tickets on sale at the door or from Shere Delights beforehand.
£3 ticket entry which includes first glass of mulled wine, entrance to the stunningly beautiful Netley House whilst supporting Shere Infant School.
For those of you who haven't been before, this really is a fabulous evening out and a treat to be able to shop in such a beautiful setting so grab your friends, mums, aunties and neighbours and start the festive season off in style.
Shere Cinema Tickets available
- 6th & 16th November


Thursday 6th November 2014 - Shere Village Cinema
Evening film at 8pm - CHEF
More details and booking on the Shere Village Cinema website

J. Weller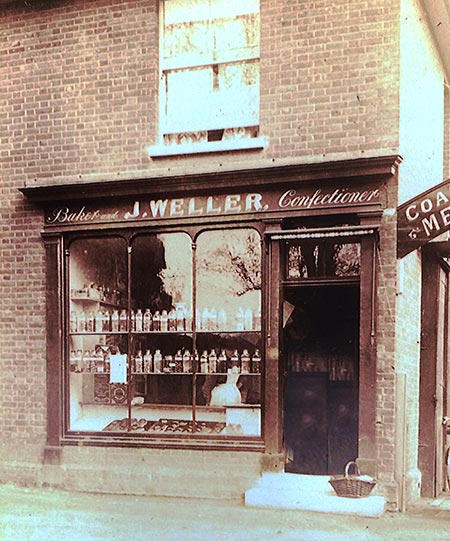 Baker and Confectioner - J. Weller
Now known as 'The Bakehouse', This photo was taken pre-1910 with Wellers the Coal Merchant to the right (now Beaufield Mews, Middle Street). The Weller family seem to be very much part of the 'old' Shere village, with the name cropping up on various occasions. Does anyone have any information on the family or old photo's of the shop's? Any information on the Weller family would be welcome
- please e-mail Tristan

November 2014

Tickets available - 19th October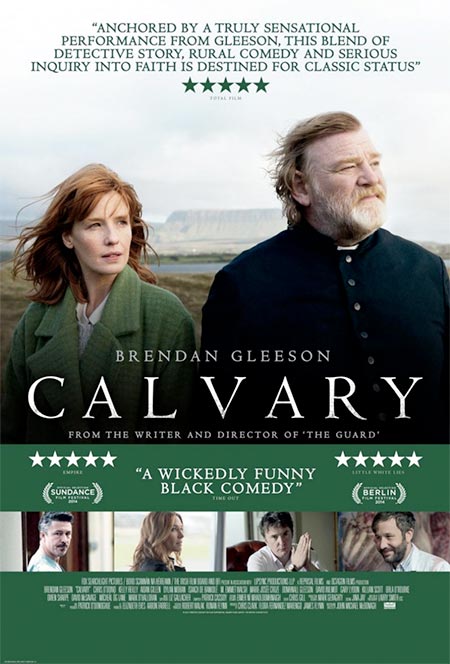 Sunday 19th October 2014 - Shere Village Cinema
Evening film at 8pm - CALVARY
More details and booking on the Shere Village Cinema website

FILM: Shere returns to the 1950's and becomes Pagwell during filming.
For the past two days, Shere has been part of a film set for the upcoming BBC production, Professor Brainestawn, a one hour comedy special due for transmission during the Christmas period.
Middle Street and Lower Street had their shop windows changed to reflect the period of the production set in the post-war fictional English village of Pagwell.
Starring Harry Hill, David Mitchell and Ben Miller (pictured above with Shere Delights shop owner Gillian Akroyd - photo ©2014 G.A.) -
Its the second film Ben has filmed in Shere after shooting the 2012 production 'Molly Moon: The Incredible Hypnotist' two years ago.

PHOTO's and information on the FILM PAGE
Local on-line magazine:

Harry Hill family film Professor Branestawm shot in Shere
The new BBC drama Professor Branestawm was being filmed in Shere on Tuesday morning, with 'Peep Show' and 'Would I lie to You' star
David Mitchell
the big draw for fans - READ ARTICLE and view the photo gallery
Handa Bray looks back on her 50 years as Shere's Lord of the Manor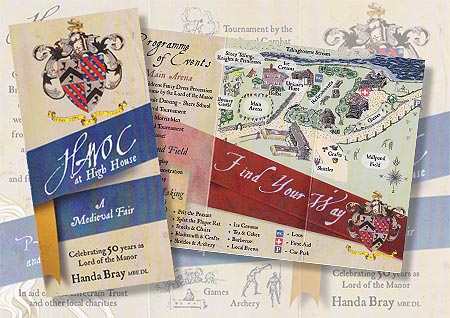 Havoc at High House - A medieval Fair - Held last Sunday, a wonderful celebration for Shere and the surrounding area

October 2014 Parish Magazine Report

This month's Parish magazine has a wonderful four page feature and report on last weekends 'Havoc at High House", to celebrate an amazing 50 years as Shere's Lord of the Manor, including a colourful centre spread (as shown below) - Available locally or by subscription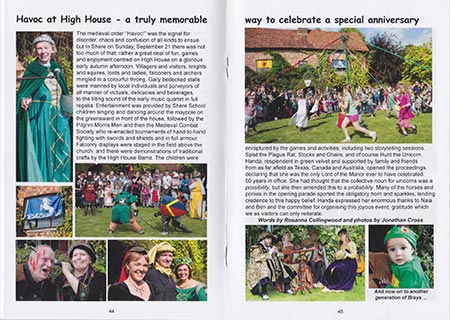 This weeks paper, The Dorking and Leatherhead Advertiser have a two page spread:
The Dorking and Leatherhead advertiser also have an article on-line, with photos: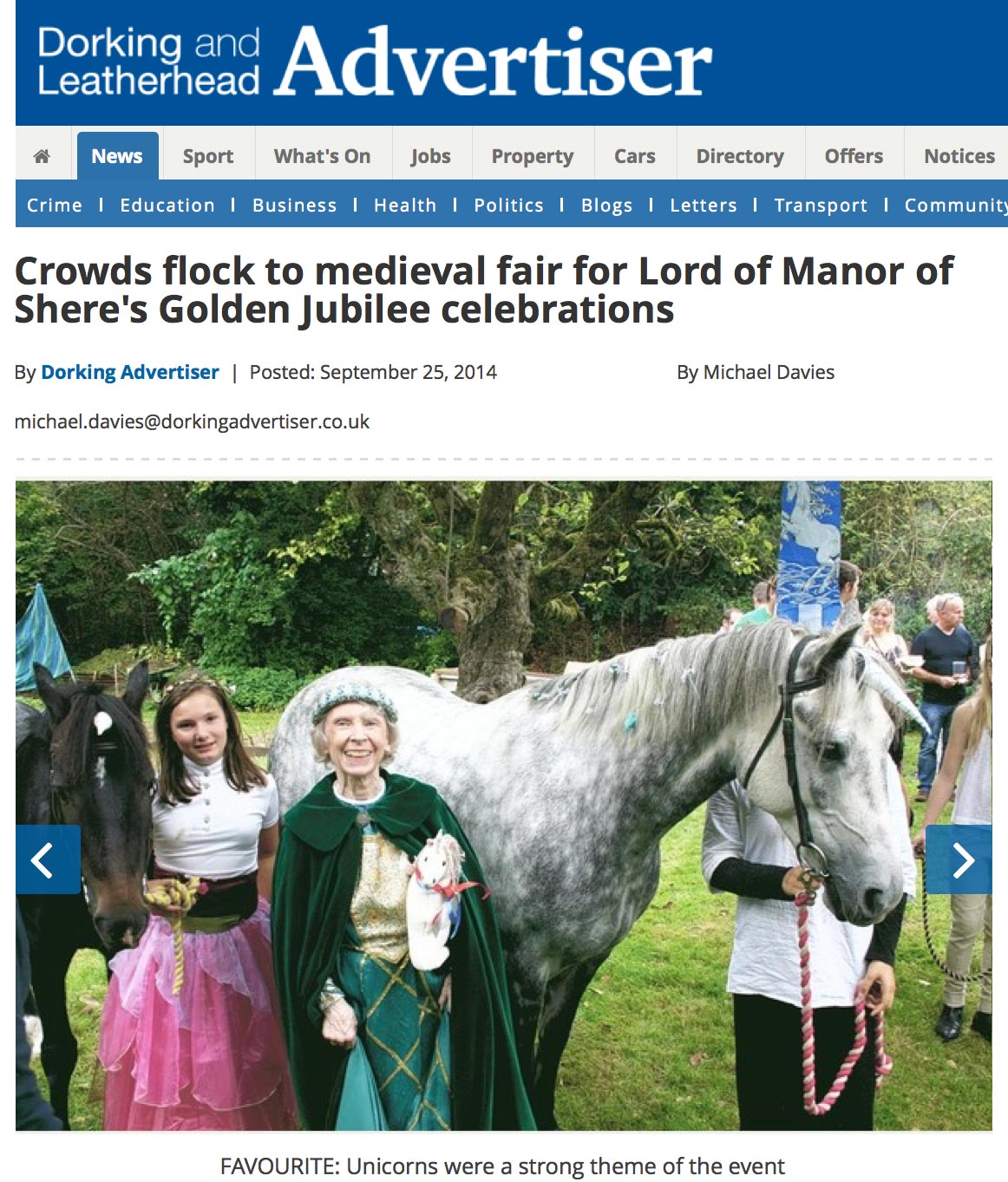 including 10 photos - READ ARTICLE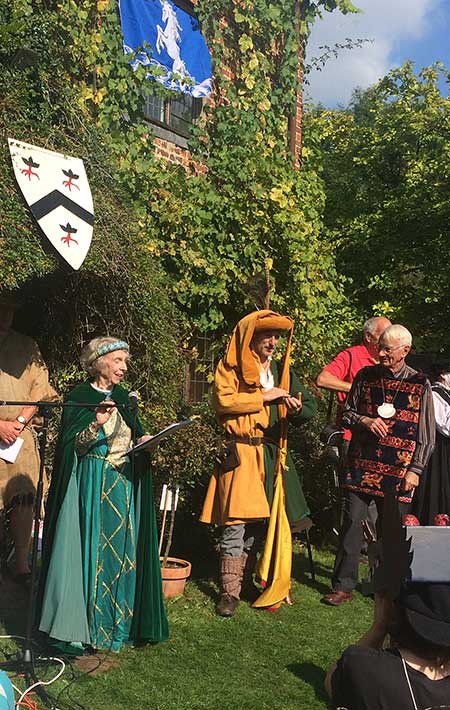 Flickr photos of the days event
Please share your photo's with us, if you can - email
OCTOBER 2014 - Tickets available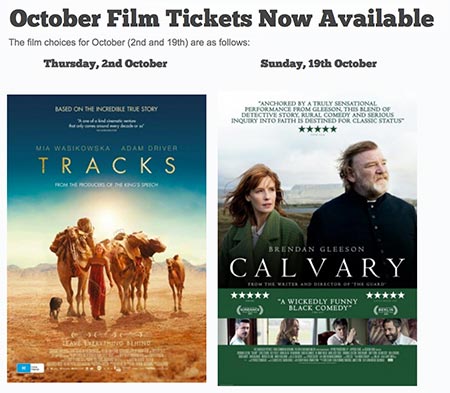 Thursday 2nd October 2014 - Shere Village Cinema
Evening film at 8pm - TRACKS
More details and booking on the Shere Village Cinema website

21st September 2014 -Tickets available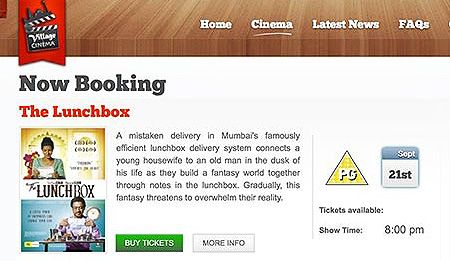 Sunday 21st September 2014 - Shere Village Cinema
Evening film at 8pm - The Lunchbox
More details and booking on the Shere Village Cinema website

4th September 2014
- TICKETS available

Thursday 4th September 2014 - Shere Village Cinema
Evening film at 8pm - La Week-End
More details and booking on the Shere Village Cinema website
Shere Parish Council Annual Report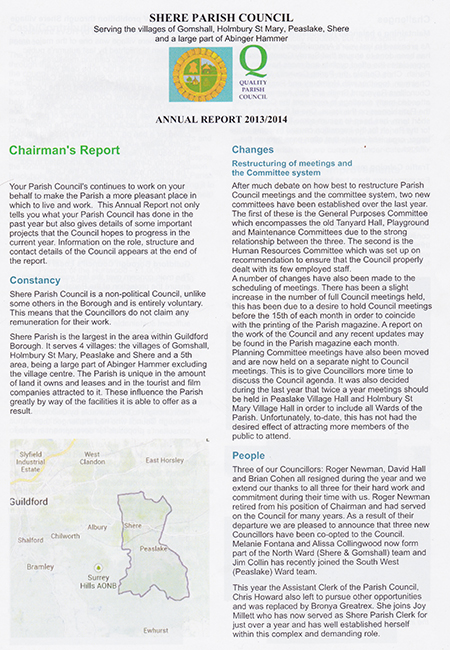 Welcome to Shere - August 2014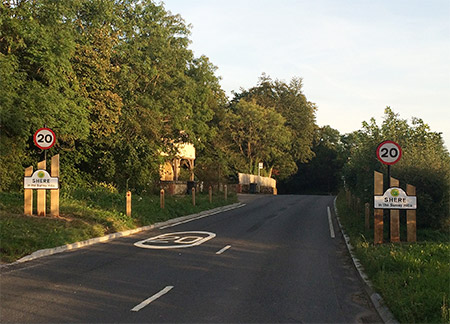 Upper Street Entrance from the A25

With work to traffic calming now complete and the introduction of a new 20mph speed limit, the village gets new entrance boards and signs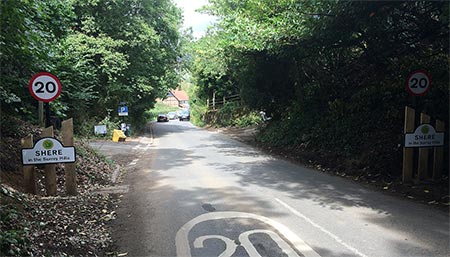 Shere Lane Entrance from Peaslake/Albury


Gomshall Lane Entrance from the A25 with new speed limit and boards

1920's - Village Hall and the relationship to the Great War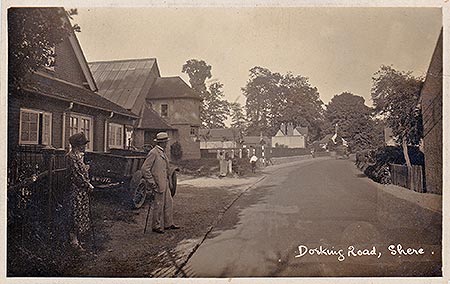 Click to view detail

When the men of Shere returned from serving in the First World War the Parish wished to honour them, by building and completing the present Village Hall in 1922. The then Original Parish Hall (the current location of the Shere Museum), was built to commemorate Queen Victoria's Diamond Jubilee in 1898 then became available for The Shere Working Men's Club. The Shere Working Men's Club closed in 1997 and the hall lay empty until 2006 when a team of volunteers started work on converting the building to house the museum collection.
24th August 2014
- TICKETS available

Sunday 24th August 2014 - Shere Village Cinema
Evening film at 8pm - The Grand Budapest Hotel
Sunday 24th Aigust 2014 - Shere Village Cinema
Afternoon film at 2.30pm - Rio 2
More details and booking on the Shere Village Cinema website
Aug/September 1892 - Photo album
Exciting Social History find
An original small photo album dating from 1892 and containing 30 views taken in and around our village of Shere.
Photo captions, "Next Door", "Opposite", "Cottage on the Hill" etc. offer a fascinating glimpse into the past. One photo that gives us a clue as to where the owner of the album once belonged to is a photo titled 'Headquarters'', which is 'Burrow Down' house (next to the garage) in Upper Street.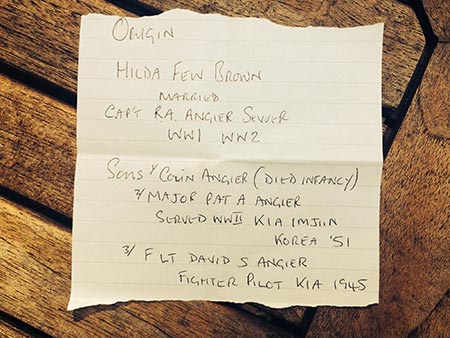 In addition, a sheet of paper was tucked in the album: "Origin, Hilda Few Brown - Married Capt R A Angier, served WW1-WW2"... - VIEW
This is a wonderful social history item with so many images of a single English village of this era, not only for Shere but also for Surrey - all photos taken in August and September 1892.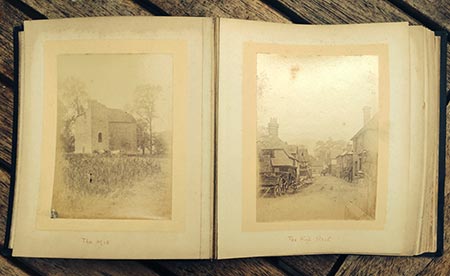 I am going to post all these photos, over time and on a dedicated page of its own, so that we can all enjoy this wonderful find.
Official 2014 Open Gardens Photos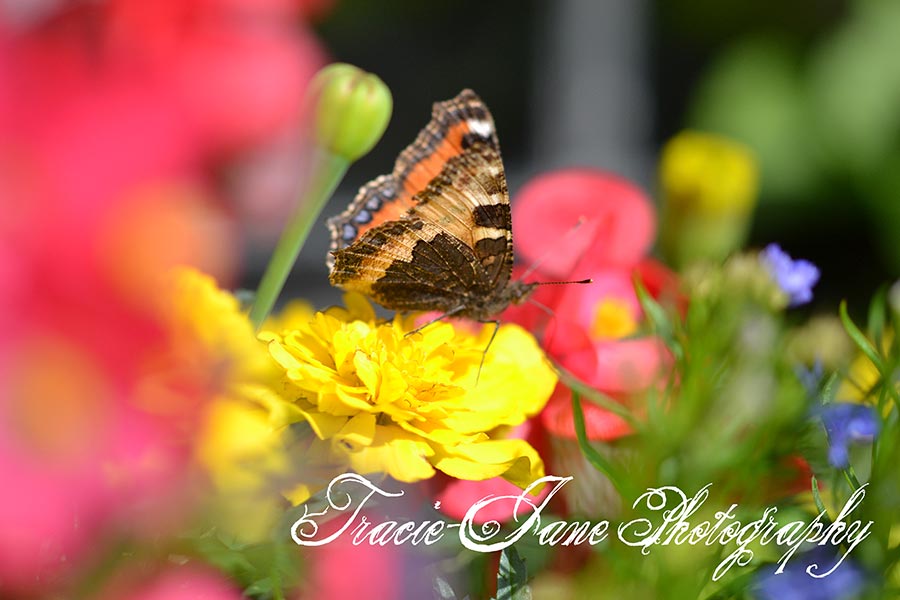 A reminder of what the Shere Open Gardens is all about.
Many thanks to Tracie-Jane photography

Shere Open Gardens
- Annual Open Day web page

George Clooney returns to Shere two years later...

...the actor/director was enjoying lunch exactly two years ago to the month (see entry below on this page), returns to Shere village, albeit not in person but in his latest film release:
Thursday 7th August 2014 - Shere Village Cinema
Evening film at 8pm - The Monuments Men
In his second showing, George also appeared in Gravity (shown 3rd April) earlier this year.

More details and booking on the Shere Village Cinema website
June 29th 2014: Open Gardens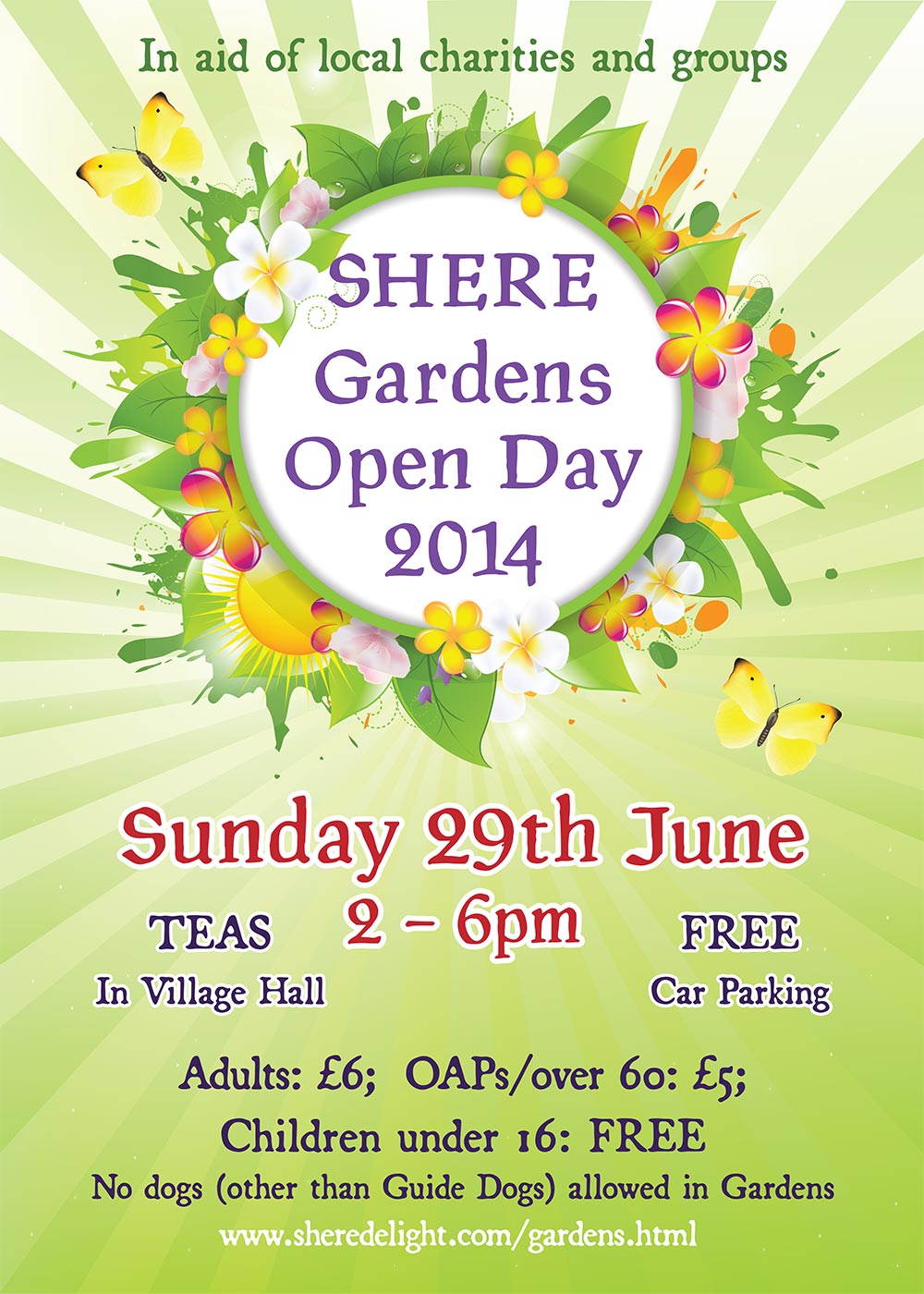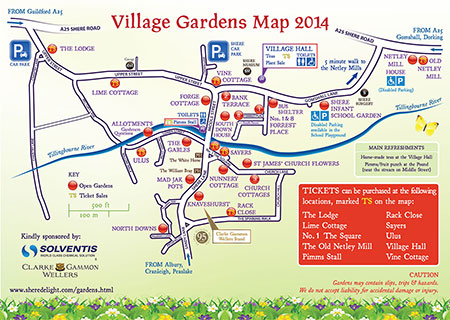 From 2pm this coming Sunday, June 29th, the village welcomes visitors to the 36th Shere Open Gardens - Click on the map to plan your route.

Shere Open Gardens
- Annual Open Day web page

Winterfold Garage, Middle Street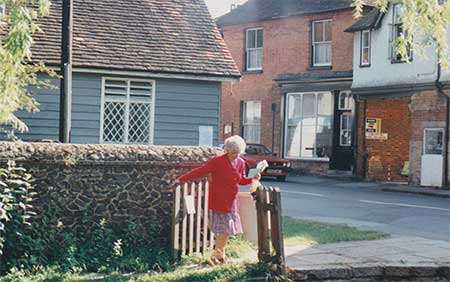 Still looking for the elusive Garage named Winterfold (now Beaufield Mews & Treacle) - This photo of Phyllis Coates, taken in the 1980's shows the petrol pump in the background, sunken into the wall of
Middle Street.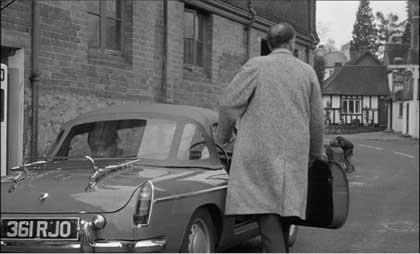 The only other photos I have seen of the garage are from the 1965 film (The Earth Dies Screaming) - FILMS PAGE

If anyone has photo's or information on the garage, please e-mail me,
many thanks, Tristan.
Vaughans Bakery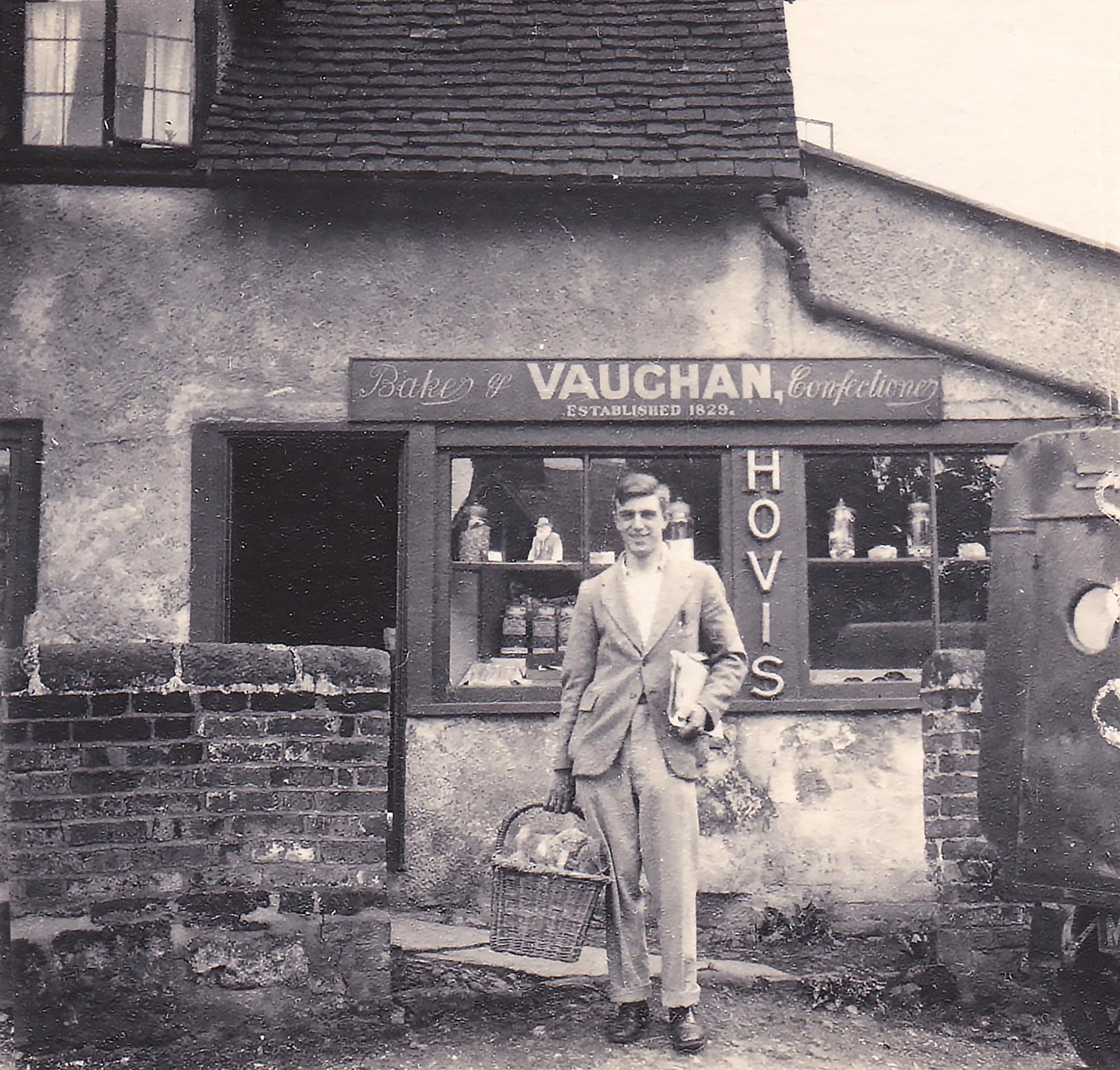 The sign tells us above the door: Bakery of VAUGHAN, Confectionary
Established 1829
John with his bread basket
Many thanks to Phyllis Coates for this photo of her brother taken sometime in the 1930's
3rd & 20th July 2014
- TICKETS available
Thursday 3rd July 2014 - Shere Village Cinema
Evening film at 8pm - 12 years a Slave
Sunday 20th July 2014 - Shere Village Cinema
Evening film at 8pm - Okuribito (Departures)
More details and booking on the Shere Village Cinema website
15th June 2014 - TICKETS available

Sunday 15th June 2014 - Shere Village Cinema
Afternoon film at 2.30pm - Cloudy with the Chance of Meatballs 2
Evening film at 8pm - Le Diner de Cons (The Dinner Game)
More details and booking on the Shere Village Cinema website
The Shere Tigers Football team
- Cup Finals 1983 programme
A successful year, with all three teams reaching the finals.

U12 Team photo


U12 Team on the day at Dorking Football Ground
Finals:
Under 16's - Shere Tigers F.C. v South Park
Under 14's - Shere Tigers F.C. v Guildford Youth F.C.
Under 12's - Shere Tigers F.C. v Westcott 1935 Wizards
7th June 2014 - Join in Jamboree

Saturday 7th June 2014 - Shere Village Hall (2pm-5pm)
Surrey Hills - Join in Jamboree
This is YOUR chance to make a contribution to life in our wonderful Surrey Hills....

There are more than 20 local groups displaying what they can offer you – and asking YOU to join THEM!

They include:

Cricket

Tennis

Bowling

Badminton

Peaslake Players

Scout Group

Gomshall Club

Gardening Association

St James' Bellringers

Parish Choir

Peaslake WI

Jubilee Library

Shere Museum & Local History Society

Village Cinema

Peaslake's Alternative Bridge Club

Attractions on the day include:

A Beer Tasting stand provided by Tillingbourne Brewery.

Teas, cakes and sandwiches from Ye Olde Sandwich Shoppe

Pilgrim Morris Men

Choir Belles recitals

Top-grade raffle with proceeds to SALV (Shere and Local Villages Health Trust)

The Jamboree will be opened by our local MP, Sir Paul Beresford, at 2pm 

The fair won't cost anybody anything 
– simply come along and enjoy the fun!
5th June 2014 - TICKETS available

Thursday 5th June 2014 - Shere Village Cinema
Evening film at 8pm - Saving Mr. Banks
More details and booking on the Shere Village Cinema website
Shere 1861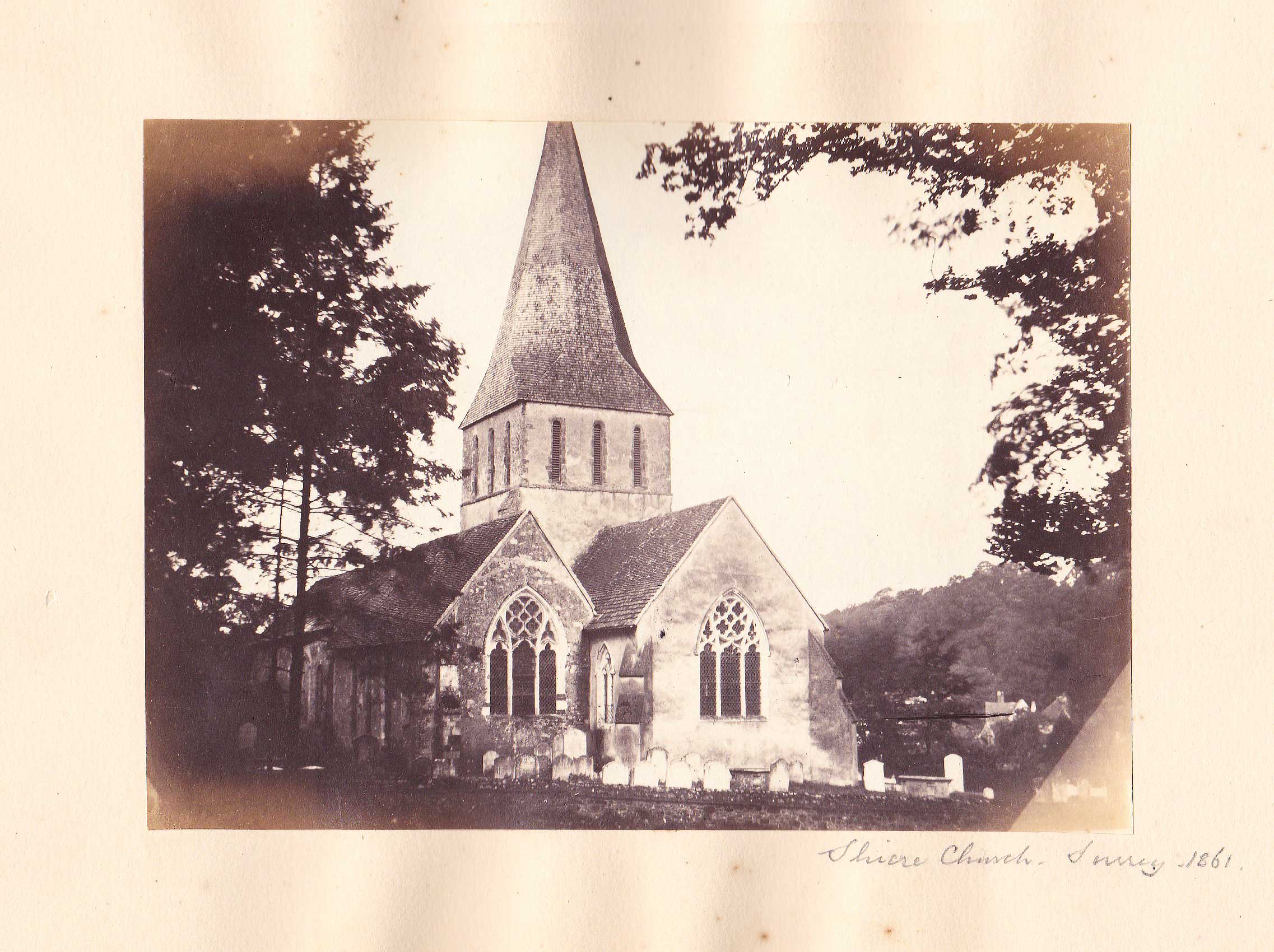 Shiere Church - 1861
One of the earliest photographs of St James' Church
Note the spelling of 'Shere' - This and another photo can be viewed on the 'Photographs' page
18th May 2014 - TICKETS available

Sunday 18th May 2014 - Shere Village Cinema
Afternoon film at 2.30pm - Frozen
Evening film at 8pm - The Great Beauty
More details and booking on the Shere Village Cinema website
The Joy Book - 1954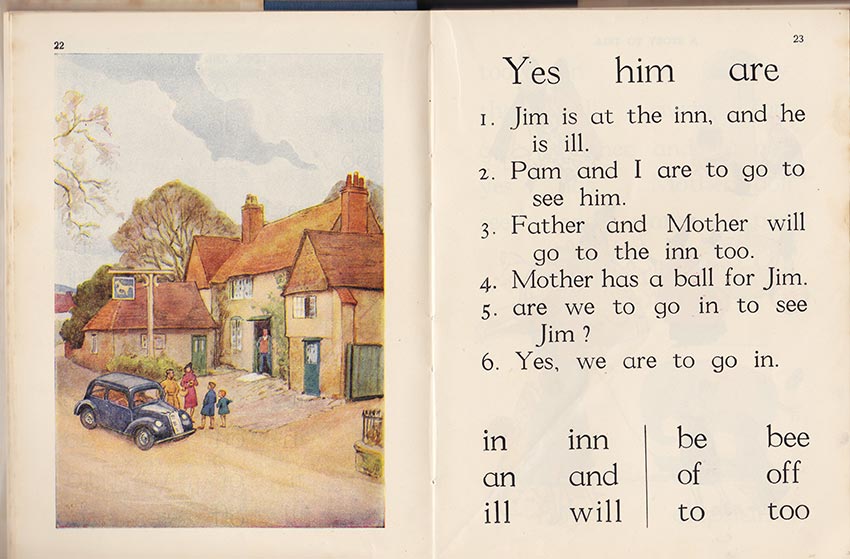 A HOME READING COURSE FOR BEGINNERS
Illustrations by Margaret Winifred Tarrant (1888-1959)
You will notice that the illustration above is of 'The White Horse' pub.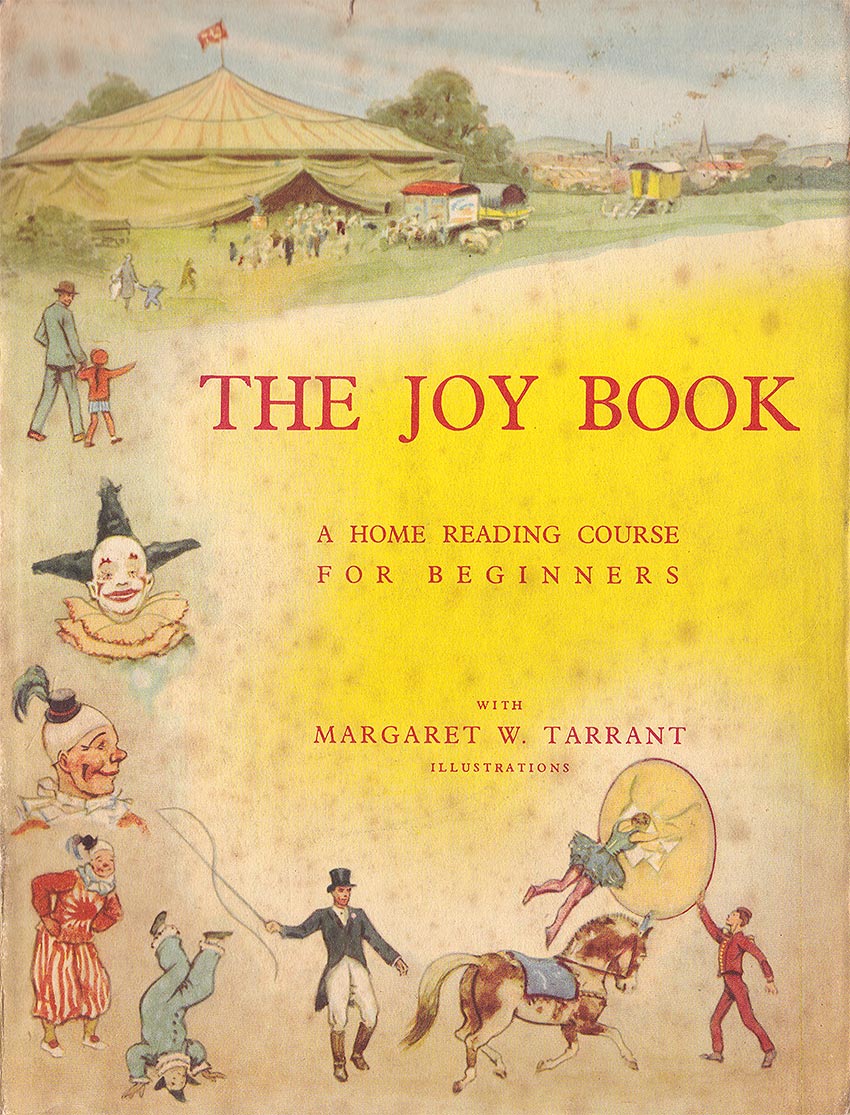 During the 1930's Margaret moved to Peaslake in Surrey and she soon became a well known figure in the community. Following the death of her parents in 1934, she moved to Peaslake and made friends with the artist Molly Brett, whom she met on a course at Guildford School of Art.
The White Horse - 1909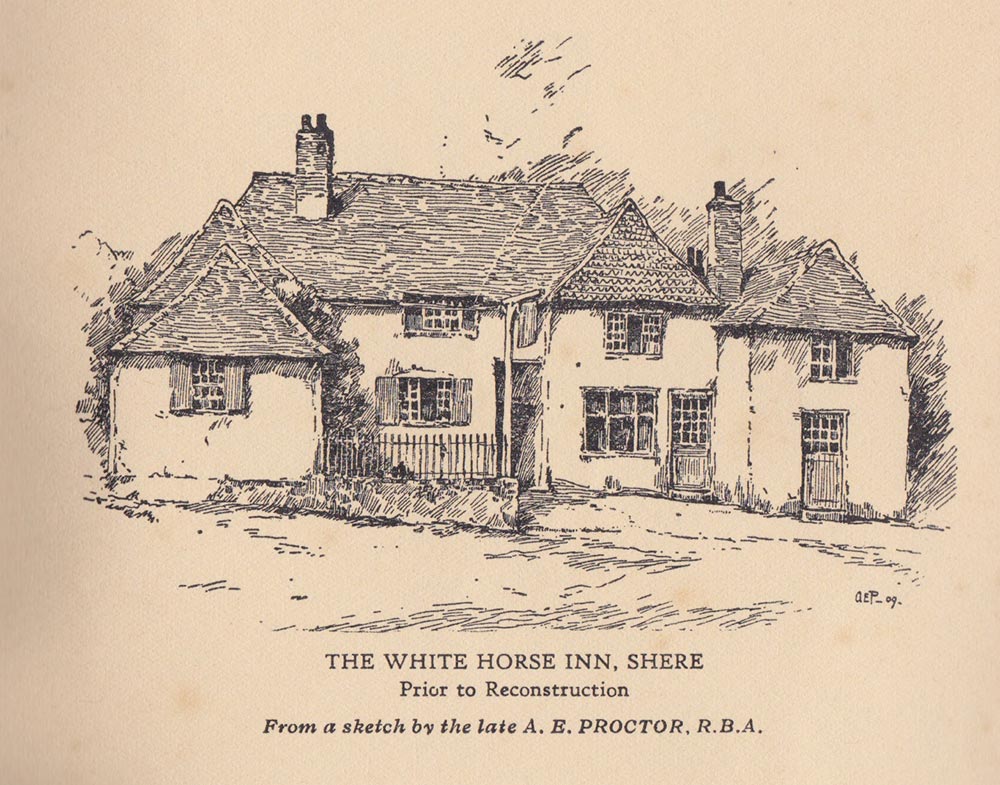 This illustration appeared in "Walks & Talks about Shere" by
R. J. Askew published in 1920.
The picture was drawn in 1909 by A. E. Proctor.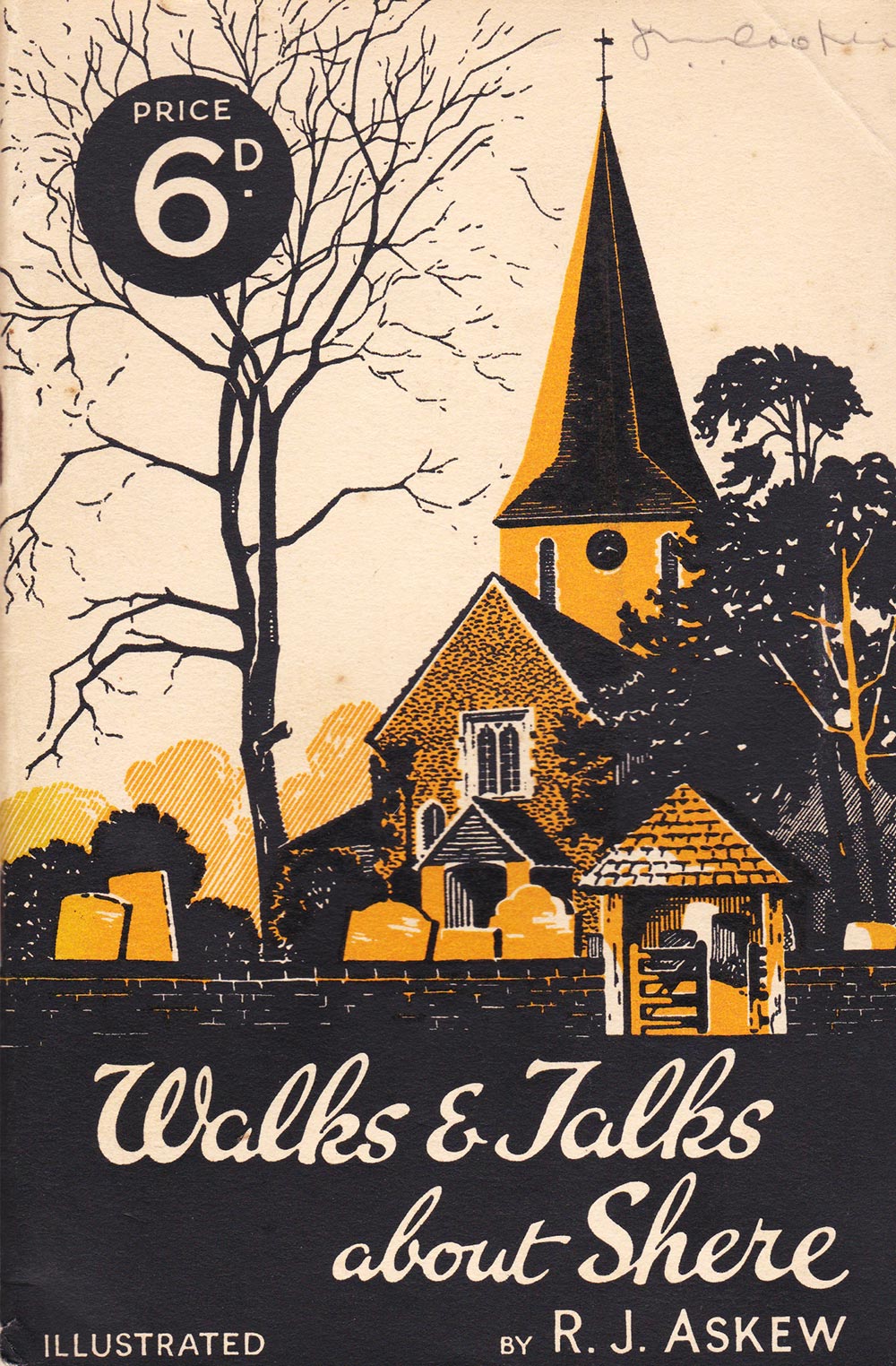 This 40 page illustrated book is well worth a read.
The book contains some interesting articles:
The Ancient Church of Saint James at Shere
The Early History of Shere
Extracts from Parish Book of Shere
Shere - Extract from the Victorian History of Shere
The Bishop of Winchester fights the "men of Shere' in Shere Church, 1258
Map of the area
Notes on some Outlying Districts
Extract from J. J. Proctor's Manuscript
Guildford
Footpath Rambles - Routes A-P

Shere - 1817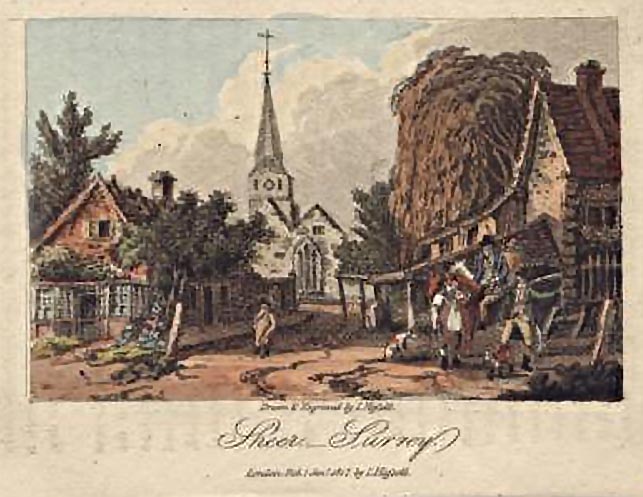 Discovered this painting, one of the earliest images of Shere:
Sheer (Shere). Drawn and engraved by John Hassell
Published by John Hassell, c1817 in "Picturesque Rides and Walks, with Excursions by Water, Thirty Miles Round the British Metropolis.

Antiques collectors and craft fair
A twice monthly Antiques collectors and craft fair in the village hall, and will be held every 2nd and 4th Sunday. The event is free entry and offers a wide range of stalls. Opens to the public at 11.00am and closes late afternoon. 

Shere - 1938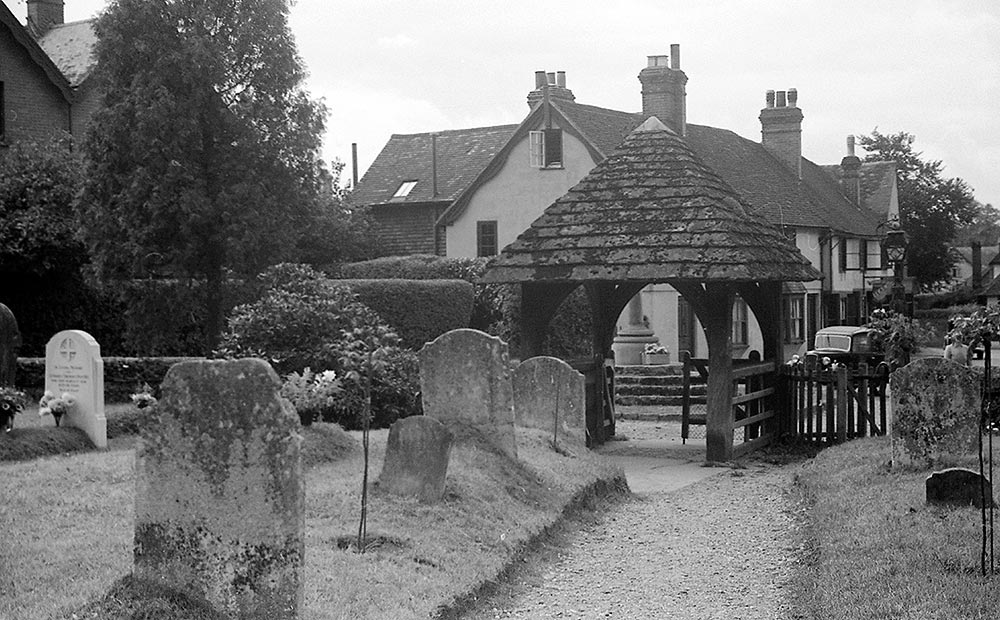 Following up on the series of photo's of 1938 Shere - see various postings (Middle Street series) - Looking from St. James' Church towards The Square - see how new the grave stone looks on the far left of St James' Churchyard
Shere welcomes the Superfast Surrey Easter Vending Machine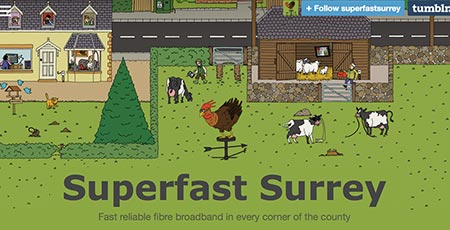 A follow up to the feature posted earlier this month titled
'Fibre Broadband comes to Shere'.
The April 2014 issue of Superfast Surrey Newsletter published the following on-line article:
Eggs-citing event as fibre broadband arrives in Shere
Parish councillors and children from Friends Montessori Forest Nursery in Shere, celebrated the arrival of fibre broadband in the village. With some Superfast Surrey magic, the green road-side cabinet was disguised as an Easter Egg Vending Machine and dispensed Easter Eggs to the children to mark the occasion.
This week areas that have gone live are:
Chertsey, Ripley, Shamley Green & Woking | Superfast Surrey
Shere, Peaslake &
Gomshall Parish Magazine
- New email address

A reminder that this months parish magazine is available now and that Tim and Lesley Austin, respective Editor and Advertising Manager of
the Parish Magazine, have a new email address dedicated to
the Mag: shuttlesmag@gmail.com

Please use this for all communications about the magazine in the future. If you experience any problems, call Tim or Lesley on 01483 202 563

1st May 2014 - TICKETS available

Thursday 1st May 2014 - Shere Village Cinema
Evening film at 8pm - The Railway Man - Colin Firth and Nicole Kidman
More details and booking on the Shere Village Cinema website
1938 - Where is this?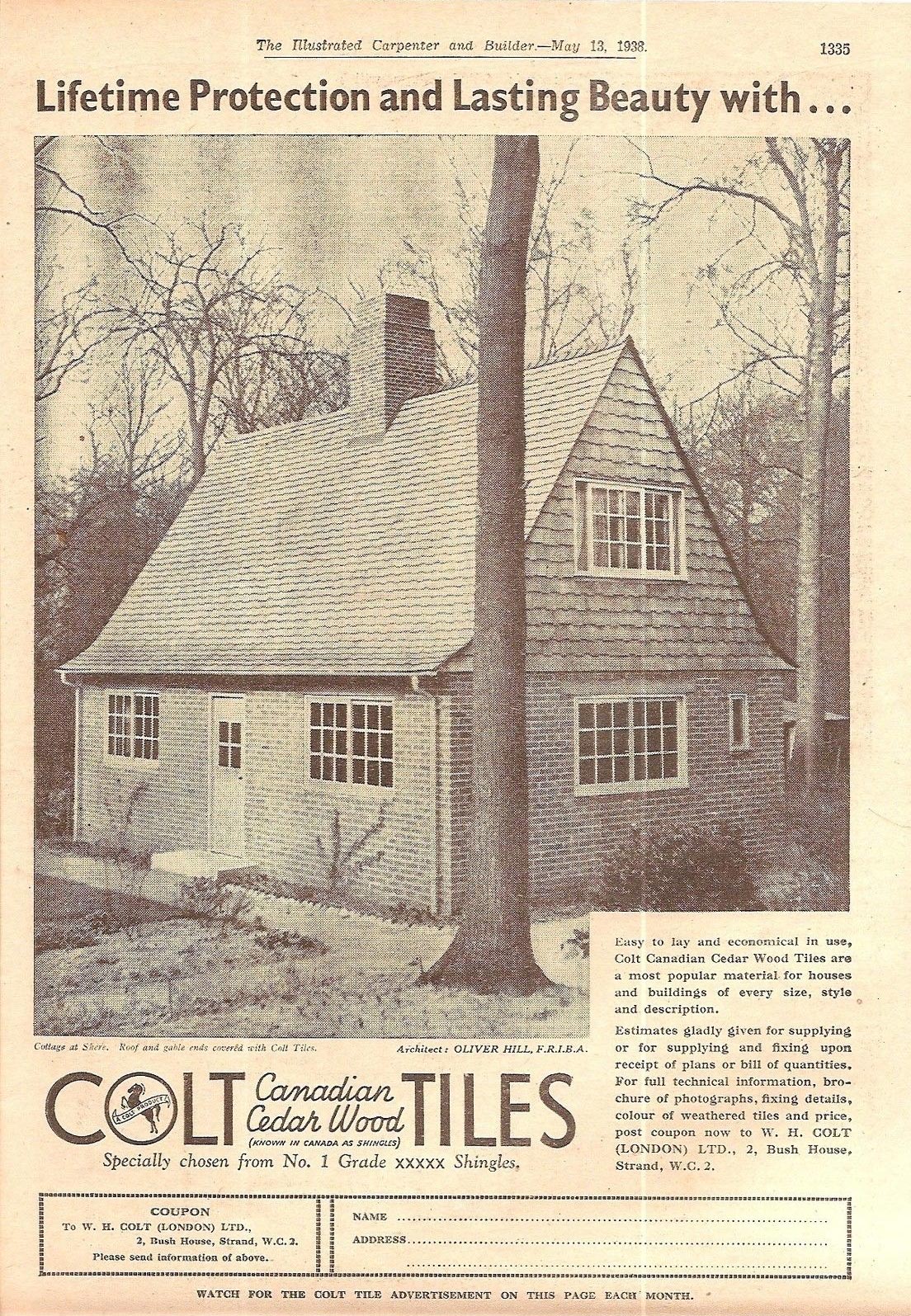 Advert from the Illustrator Carpenter and Builder, May 13th 1938
The photo caption "Cottage at Shere" - click the photo for a larger view
Initially I thought it was the cottage next to Shere Surgery but after checking again, it isn't. Does anyone know the location to this cottage or any information, would be helpful?

2014 - Gomshall Train Stats
STATISTICS
Seems that Train travel is rising, heading for twice the amount of passengers in the past ten years. Annual rail passenger usage*:
2004/05: 27,136
2005/06: 28,968
2006/07: 28,999
2007/08: 32,978
2008/09: 39,770
2009/10: 41,040
2010/11: 46,628
2011/12: 50,736
2012/13: 59,290 - Continues high growth of recent years (exceeds double figures over the last 10 years)
* Annual estimated passenger usage based on sales of tickets in stated financial year(s) which end or originate at Gomshall from
Office of Rail Regulation statistics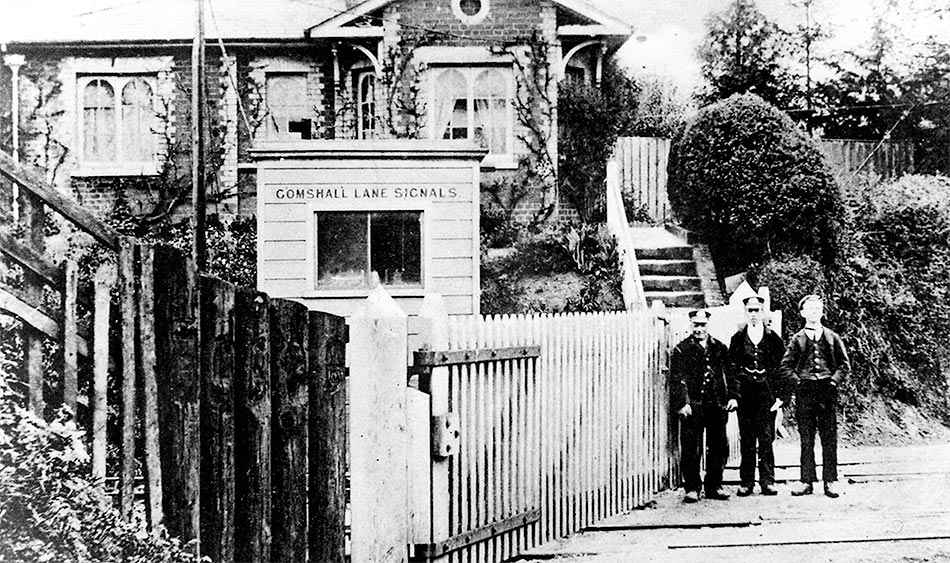 Gomshall Lane Signals - circa 1903
1889

Evening on the Tillingbourne by Lewis Pinhorn Wood
Bridge by the Swimming Pool / Church with 'High House' in the background. Seems to be a popular viewpoint:
Traffic Problem - 1953

Traffic Problem in London and Shere
Middle Street - 1938

Following up on the - 1938 Middle Street - posting below - we now have the photo looking the other way towards the Upper Street junction. This time the men at OLWENS (now the dabbling duck) are using their ladder. All seems very calm, just a year befrore World War II breaks out and what stands out most is the lack of Motor Vehicles in Middle Street. OLWENS was a hair stylist to Ladies and Gentlemen in 1938.
Many thanks again to Richard - photo © Richard

Fibre Broadband comes to Shere...
The long awaited news and the official launch of Fibre Broadband was on Wednesday 9th April 2014, outside the Village Hall
photo: Rev Judy Potter, Chris Carlisle (Vice-Chairman of Shere Parish Council), Marion Taylor-Cotter (Parish Councillor)
The green fibre enabled cabinet has gone live.
This posted on the Super Fast Surrey facebook page:

Living in Shere? Another fibre enabled cabinet has gone live

If you live in one of the following postcodes then you might now be able to connect to fibre broadband as a cabinet in your area has been upgraded:
GU5 9DR GU5 9HB GU5 9HD GU5 9HE GU5 9HF GU5 9HG GU5 9HH GU5 9HJ GU5 9HL GU5 9HN GU5 9HP GU5 9HQ GU5 9HR GU5 9HS GU5 9HT GU5 9HU GU5 9HX GU5 9HY GU5 9HZ GU5 9JA GU5 9JB GU5 9JD GU5 9JE GU5 9JF GU5 9JR GU5 9JT GU5 9JU GU5 9JY GU5 9TD

Postcode not here? These postcodes are just the latest to have been added so check here for fibre broadband availability > http://bit.ly/1mLf4vu

Cabinets in the areas of the above postcodes have now been linked to fibre broadband. The BT Wholesale checker will be able to confirm if fibre has been run to the cabinet that serves your home. If it has then you should contact your preferred ISP who will be able to tell you how to change or subscribe to a service.

If your postcode is not included above, and fibre broadband is currently not available to you, please bear with us. This is a huge programme reaching out to some of the most remote areas of Surrey which otherwise would not have received fibre broadband through commercial rollouts. We will continue to post updates to this site as and when they become available plus you can follow us on Twitter Superfast Surrey. #sfsurrey


...and Albury
Strangely we live in Forest Place, Shere with a postcode of GU5 9BT and it seems that we come under 'Albury' - must be an error surely? Either way, we are going to be connected. If residents of Albury is indeed connected or wish to find out, here are the details. If anyone knows either way, please let me know.
Fibre broadband in Albury - check for availability > http://bit.ly/1mRj6Fu

If you live in one of the following postcodes then you might now be able to connect to fibre broadband as a cabinet in your area has been upgraded.
GU5 9BL GU5 9BN GU5 9BT GU5 9BU GU5 9BW

Postcode not here? These postcodes are just the latest to have been added so check here for fibre broadband availability > http://bit.ly/1mRj6Fu
July 1910 - Postcard

Thanks for your e-mails regarding the the Shere Postcard flickr page.
One postcard that many of you were interested in - "White Horse"
Shere July 27th 1910. I am not at all sure what the celebration was, or why that day was so special, but I have enhanced the image in the hope that someone may be able to shed some light: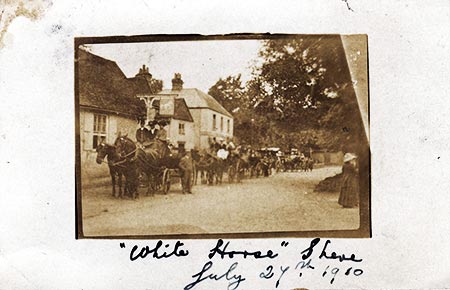 Here is the rear of the postcard, posted on August 12 1910: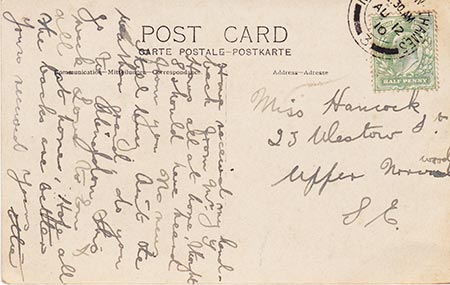 400+ Postcards of our village

An additional 85 postcards have now been scanned and added to the
Shere Postcard flickr page, bringing the total to 424 - April 2014
Shere Cinema

Afternoon film at 2.30pm - The Lego Movie
Early evening at 5pm - The Hunger Games: Catching Fire
Evening film at 8pm - Django Unchained
More details and booking on the Shere Village Cinema website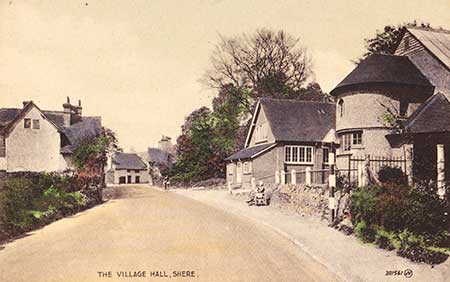 CINEMA VENUE - The Village Hall, Shere

April 2014
3rd April 2014 - TICKETS available

Thursday 3rd April 2014 - Shere Village Cinema
Evening film at 8pm - Gravity - Sandra Bullock and George Clooney More details and booking on the Shere Village Cinema website
Traffic Calming begins...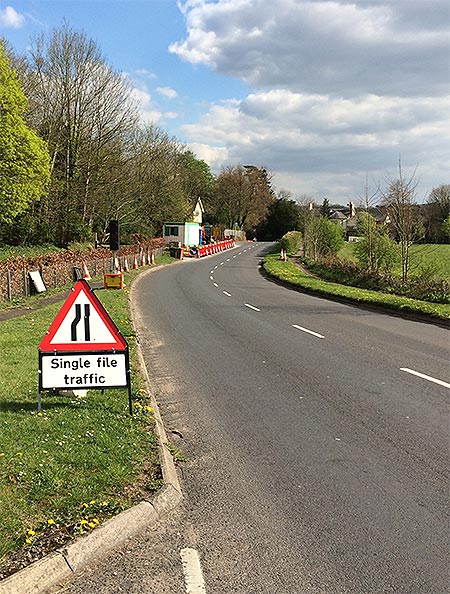 ... in Upper Street - End of March 2014

March 2014
A Short Film

Welcome to Surrey - Thomas Westcott
This short film was first aired at the Shere Village Cinema on 6th February 2014 and was simply epic on the huge screen.
'Welcome to Surrey', with Tom captioning it as: "This is where I live. I love it."
The video was filmed over Newlands Corner, Silent Pool, Shere, Leith Hill, Holmbury Hill, Gomshall, Abinger Hammer and Guildford.

8th February 2014
1938 - Middle Street

Looking towards the Lavender Lady Tea rooms from Middle Street - "Signs for Albert Weller, Coal Merchant and Cars for Hire, W. King
Bakery delivery wagon and another sign that sps1955 identified as the "Lavender Lane Tea Room". The building on the right with the pointed roof is the Fire House". Many thanks to Richard - photo © Richard
VIEW DETAILED PHOTO - More to come soon...
Six additional paintings of Shere...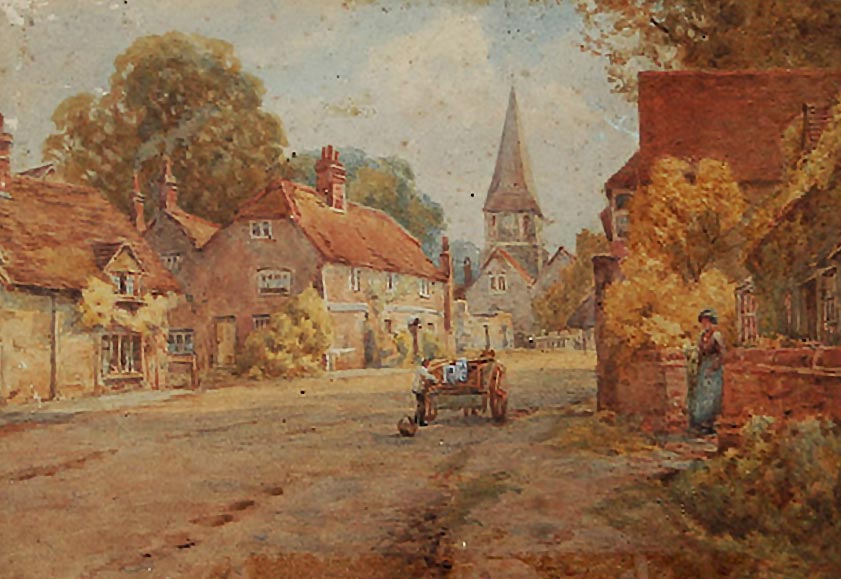 ...have been added to the paintings page.
Can anyone give me a clue as to the date this may have been painted?
The more recent painting below was sold from a gallery in Arizona,
USA. Interesting 'painters licence' regarding true life perspective.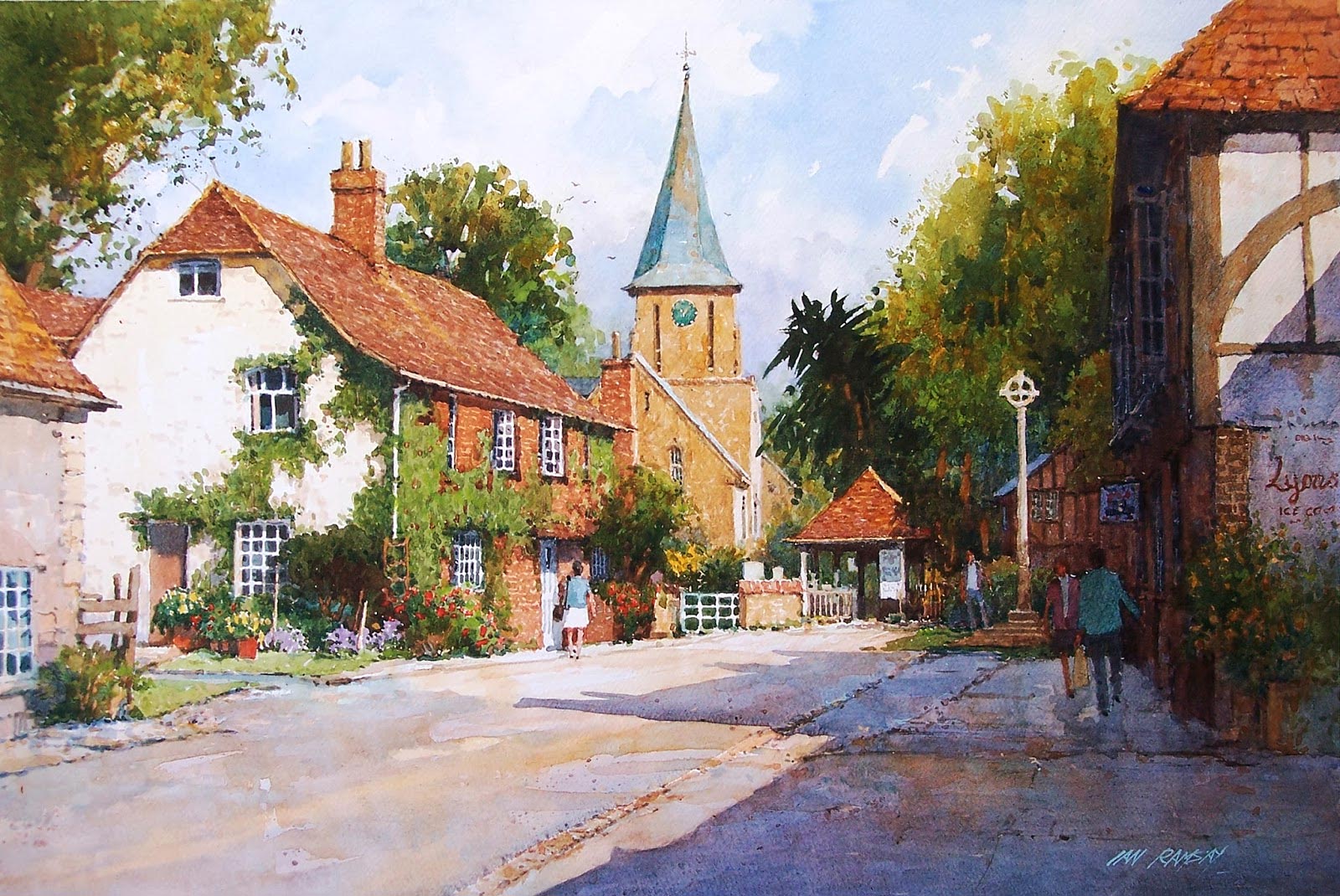 Shere from above - April 1948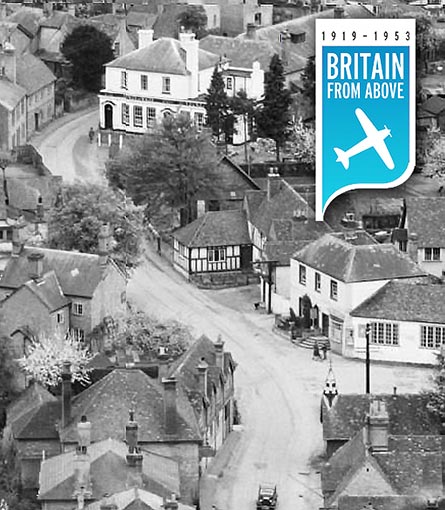 Britain from above
An amazing view of our village just after the second world war in 1948.
A series of five detailed aerial views can be found on the Britain from the website:
Visit the website to view (you have to sign in to access the zoomable maps) - any problems e-mail me
Visit the Shere Aerial Photo page for more views

April 2014
2014 - Charlie

It was lovely to see Charlie Brooks and her family on Saturday (22nd March 2014), enjoying our village.
I thought she may have been in Paris (for you EastEnders fans out there).
March 2014
Congratulations William Bray
CONGRATULATIONS to the William Bray - Surrey's best Pub of the year for 2013 - as voted by the readers of the Surrey Advertiser (March 2014).
He's called The Stig...


There is an interesting article with Julian Bailey in February's 2014 'Round & About' Guildford magazine where Julian is interviewed and pictured with F1 drivers Lewis Hamilton and Jenson Button.
Formula One versus Radio One in Murray's pub quiz.
Lewis Hamilton - Julian Bailey - Jensen Button in 2010 - photo ©
FORMULA One drivers made a pit stop in Shere to film a TV show last week (July 2010)
Lewis Hamilton and Jenson Button dropped in at The William Bray to battle it out against another celebrity team for a pub quiz hosted by comedian Al Murray.
The racing aces, joined by Eddie Jordan, lined up against a Radio One team of DJ Chris Moyles, his sidekick Comedy Dave, and BBC Sport presenter Jake Humphreys in the special quiz.
Former Formula One driver Julian Bailey, who owns the pub, said: "All our customers were very good natured and had fun joining in on the sidelines and the guys were very generous with autographs and photos."
The winners will be announced as part of Sunday's Grand Prix
March 2014
Shere Village Cinema - 6th March

Thursday 6th March 2014
Evening film at 8pm - Captain Phillips - Tom Hanks
More details and booking on the Shere Village Cinema website

March 2014
the WI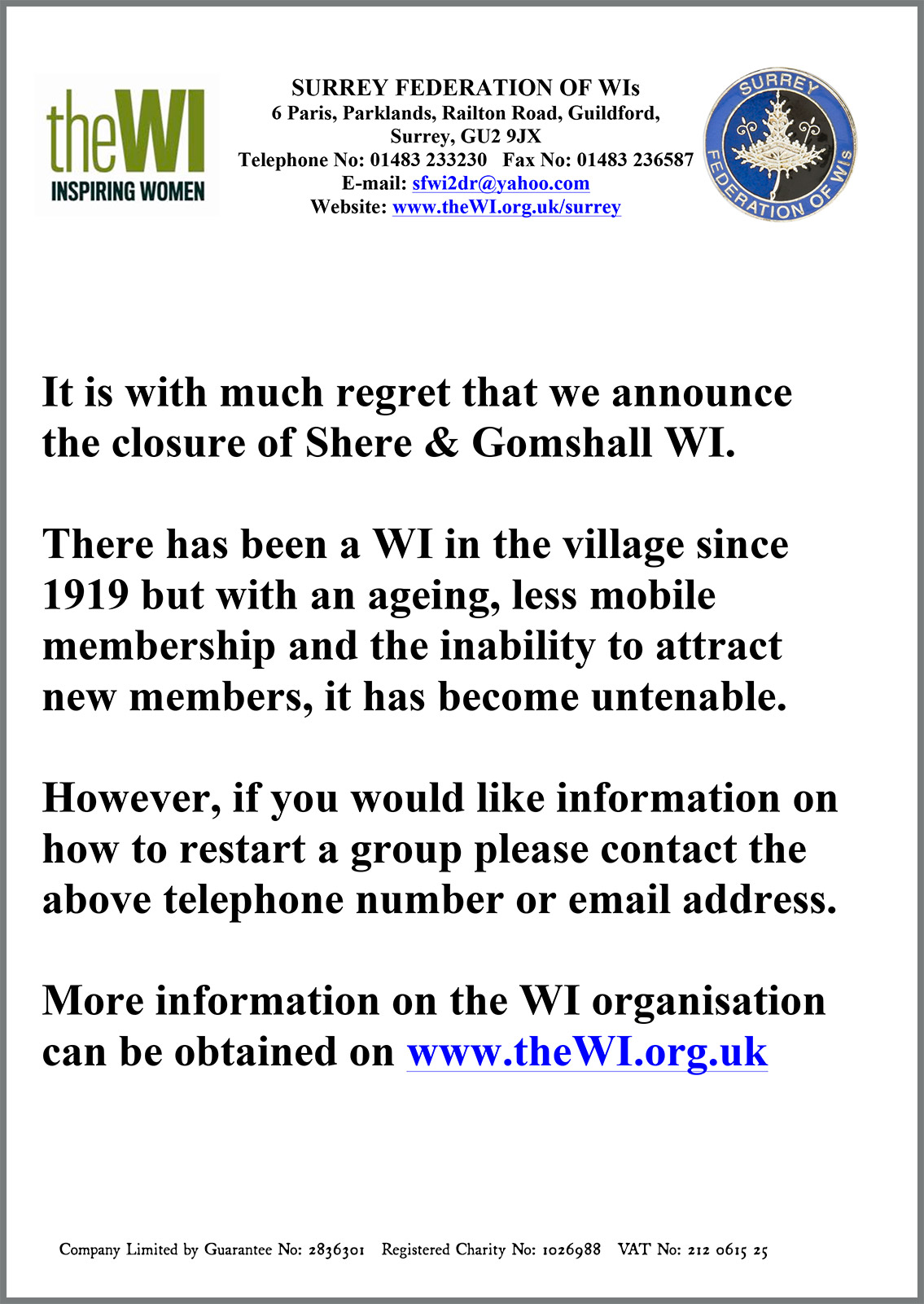 We are so sad at Surrey Federation of WIs that the WI in the village closed last week. There maybe younger women in the village who would be interested in re-starting a group? There has been a great upsurge of interest in the WI movement, nationwide and Shere and Gomshall have such a rich history in the movement.
Kindest regards
Chris Butterfield
Chair of Membership for Surrey Foundation
The Prince of Wales
- 105 years ago today, February 15 1909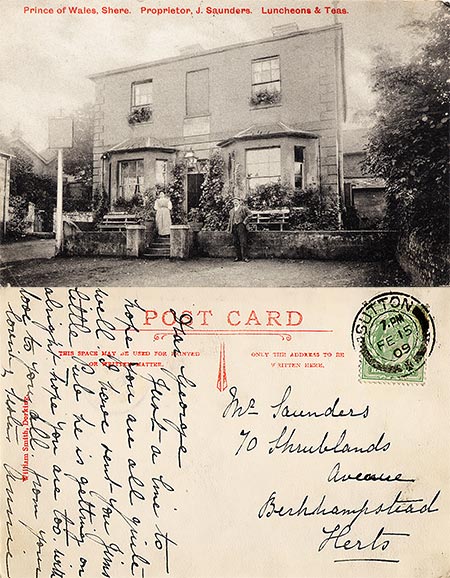 The William Bray is owned and run by Julian Bailey, ex-Formula 1 driver (team mate with Mikka Hakkinen with Team Lotus) and more recently exposed as Top Gear's 'The Stig'. Residents will recall that before 2009, "The William Bray" was previously known as 'The Prince of Wales' (and formerly Cook's Beer House). It was built in the late 18th century, the frontage being an early 20th century addition.

In 2003 an article on the BBC website mentions Maggie Dale as the landlady of the Prince of Wales pub in Shere, Surrey, for six years.
REWIND 105 years to the day, February 15th 1909 and an amazing story with POSTCARD, sent by the great nephew of the Proprietor of 'The Prince of Wales'.
Dear Tristan
I have attached a postcard sent by my great grand aunt Annie Saunders to my great grandfather (her brother) George Massey Saunders in 1909.

It shows their brother (my great grand uncle) James Saunders and his wife Emily Agnes nee Johnson outside the Prince of Wales Pub, which he was the proprietor of.
George was the head gardener at Charlwood Park and his father was gardener at Horley Lodge.
Thought this might be of interest to you, and you may feel free to use it as you will.
Regards
Phil How (Croxley Green, Herts)
Many thanks Phil, the postcard written gives us an insight to life in Shere some 100 years ago.
If anyone has any old photos of Shere, please send them to me and I will share it with all our visitors.

February 2014
Shere Village Cinema - 6th February
Thursday 6th February 2014
Family film at 5pm - Planes - Disney animated film
Evening film at 8pm - Philomena - Steve Coogan and Judi Dench
More details and booking on the Shere Village Cinema website

February 2014
Mystery solved

The above photo has now been dated, thanks to Sheila:
Dear Tristan
I was browsing your excellent website and came across this photo, and it says the year is not known.  I thought you might be interested to know that the lad on the bike is Brian Killick of Church Lane, Shere. The schoolgirl may be one of his sisters, Doreen or Jennifer.
It would be about 1956/1957.  Brian cycled with my brothers, Richard and Colin Foord.  We lived at Virginia Cottage in Church Lane.
The Foord family left the village in 1981, and the Killicks did around the same time.
Best Wishes
Sheila Watts
A larger version of the photo can be found on the

January 2014
Happy New Year 2014

Shere Village Cinema - 2nd January

This coming Thursday, there'll be a family film starting at 5pm -
followed by Blue Jasmine starring Cate Blanchett and written by
Woody Allen at 8pm. - 2nd January 2014 - Shere Village Cinema
Shere Quiz
Closing Date Monday December 23rd 2013 at 5pm. Please drop completed entry forms in an envelope plus £1 entry fee into:
Clarke, Gammon, Wellers, Middle Street, Shere.
Please write your name and telephone number clearly on the envelope.
QUIZ ENTRY FORM: Word Format | PDF format

December 2013
Shere Goodwill Evening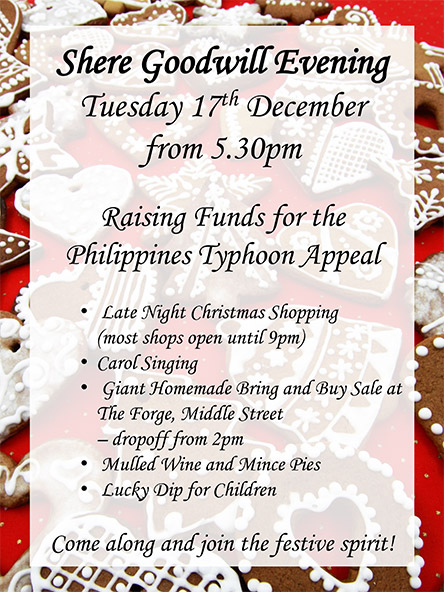 The aim of the late night shopping evening is not only to celebrate our wonderful selection of shops and get everyone in the festive spirit, but also to raise money for the Philippine Typhoon  Appeal. The Bring and Buy sale will be located in The Forge for the evening.  The Christmas lights will be on, and there will be carol singers, a Shere quiz, and hopefully plenty of festive spirit, so please tell your customers, friends and family so that they can come along to support this very worthwhile event.
Most shops will be open from 5.30 until late, there will be mulled wine and mince pies, carol singing, plus a Shere Quiz (first prize a hamper of sweets from Shere Delights). There will be a giant home-made bring and buy in The Forge (opposite Welcome), so please drop any handmade goodies – either edible or handicrafts - in from 2pm onwards.
All charitable proceeds will go towards the Philippines Typhoon Appeal.
December 2013
Shere Village Cinema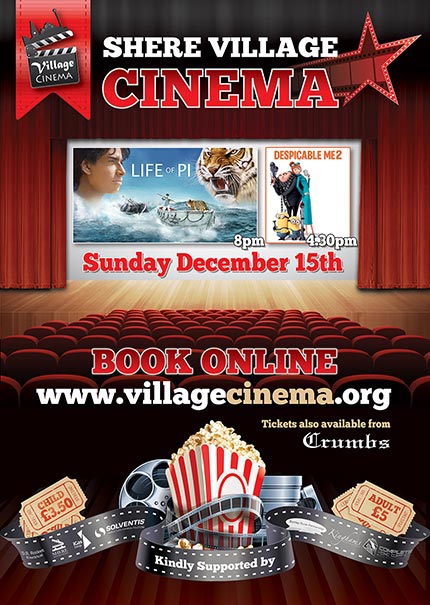 This coming Sunday - 15th December 2013 - Shere Village Cinema

New community cinema launched in Shere
December 2013
Christmas Cards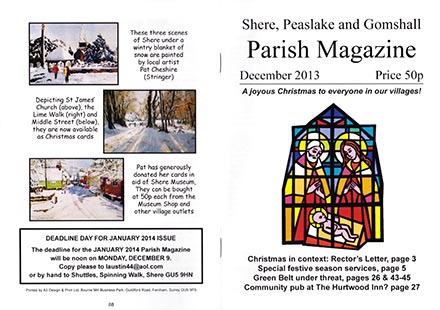 On the back of this months Parish Magazine - there are three beautiful winter scenes of Shere by local artist Pat Cheshire (Stringer). These Christmas cards are in aid of the Shere Museum and can be purchased for 50p each from the Museum Shop and other village outlets.
Larger images can be found on the
Now Gomshall and Shere Meet to Discuss Green Belt Threat - 22nd November 2013

Parish Council Chairman Roy Davey addresses the meeting.
Standing room only as around 150 cram into Shere Village Hall to discuss the Local Plan consultation.
Another night, another meeting on the Guildford's green belt. Last night (Friday, November 22) it was the turn of Gomshall and Shere.
Once again, it was standing room only as 150 concerned souls packed into Village Hall at Shere to hear the parish council and ward councillors explain their view of the Local Plan consultation and hear opinions and questions from other residents present.
The parish council were mainly concerned with the suggestion, contained in the consultation documents, that both Gomshall and Shere villages should be removed from the green belt.
Cllr David Wright
Several speakers criticised the Pegasus report titled Green belt and the countryside study. Cllr David Wright (Con, Tillingbourne) said that the methodology they had used was questionable and the views, albeit from expert consultants, necessarily subjective.
He had warned, he said, that the council's approach to the consultation might set a lot of hares running and that the issues were not clear cut: there would be difficult choices ahead.
Cllr Wright added: "The key to it is for you all to write individual letters. They have to contain cogent planning arguments. It is not really good enough to say, 'This is the place that I have loved all my life, why should anyone want to change it?' You have to use the sort of language that has been used [in the consultation documents].
"We are going to have to fight the good fight on just how many houses Guildford is going to have to build.
"If we can prove irreparable harm to the green belt as the result of having to build anything anywhere then that is a reason that the [planning] inspectors are bound to take into account."
Tim Harrold spoke on behalf of the Guildford division of the Campaign to Protect Rural England
Tim Harrold, chairman of the Campaign to Protect Rural England's (CPRE) Guildford branch said: "I represent the green belt and the countryside."
He referred to the council questionnaire on the Local Plan and the question, 'Do you support using the Green belt and the countryside study to help to decide whether we should decide new insett settlement boundaries for our villages?
"Well the answer to that is no!" he said, "Because the… study is hopelessly flawed. It was prepared by a company  who are based in Bracknell and whose principal customers are developers.
"I have studied the document and I can tell you it worries me to death, it is full of mistakes and it shouldn't have been allowed to be used."
Campaigner Susan Parker was the first from the audience to speak. She said that a website had been set up called Save Shere, Gomshall and Abinger to provide information on the campaign.
She urged the audience to write to their councillors who, she said, needing encouraging. Then, addressing the two Conservative ward councillors present, David Wright and Richard Billington, directly, she said: "I know you are on the right side but I think you need to be a lot more robust, I really do." This met with applause.
She also questioned the selection of Pegasus as a suitable company for the consultation, given their track record of providing consultation for developers.
Later Mrs Parker recommended that the audience read the Guildford Dragon's interview with Cllr Monika Juneja to understand her view that if the popular consensus was a rejection of any growth then some would be forced through on central government terms, in line with their housing targets.
Cllr Wright returned to the debate to explain that the 19 PDAs (Potential Development Areas) had been identified in the study but that not all would be developed and the situation was not as apocalyptic as some portrayed it to be. He also pointed out that any development site could only be developed if the owner wished it to be.
Several residents said that objections should not be totally negative and the need for some development acknowledged in areas that residents found acceptable.
Another pointed out that land value increases, once development is even thought remotely possible, would make affordable housing impossible.
Awareness of the issue was also raised. A member of the audience said, "It is not just some people in London that don't know about this threat there are some in Surrey that don't know about it. Even Boris Johnson, when he came through our countryside on the recent cycling event, said, 'I didn't even know this existed."
One Abinger resident echoed the view that it was not good enough to simply say no, He pointed out that it was not just the Shere area that was affected and deplored the lack of reference, in the consultation documents, to required infrastructure improvements.
Cllr Wright rejected the popular view,expressed again at the meeting, that the problem could be solved simply by utilising the brownfield sites in Guildford. "If it were that easy I don't think there would be any problem. But the plain fact of the matter is that Guildford is in a very narrow valley.
"There are very few available sites… The green belt washes over 89 per cent of the borough so if you have got no space in the town then what do you do?… There is no ready, easy answer."
The chairman of the parish council Roy Davey closed the meeting urging the audience to communicate their views before the end on the consultation period ends on November 29.

READ ARTICLE

November 2013
Green Belt Status: Please comment by Friday 29th November 2013
Guildford Borough Council is consulting on its new Local Plan. The Plan sets out a vision for the whole borough for the next 20 years. It proposes that Shere and Gomshall are removed from the Green Belt and makes it easier for developers to get permission for build houses in the area.


To comment on Guildford Borough Council's Green Belt proposals, please do this by Friday 29th November as all details can be found on the Shere Parish Council website

MORE INFORMATION

November 2013

Green Belt Status may be removed
from our village
Show your support to protect the greenbelt of Shere, Gomshall & Abinger.
November 2013
Postcard Collection - 343

An additional 75 postcards have now been scanned and added to the
Shere Postcard flickr page, bringing the total to 343 - November 2013
November 2013
Wedding in Shere - 1905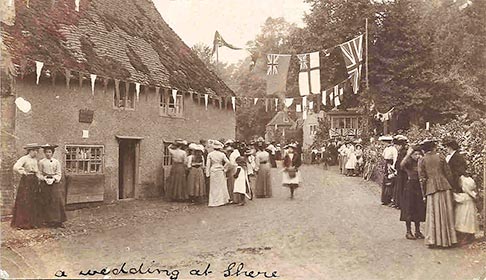 Interesting photo at the junction of Upper Street/Middle Street of a wedding photo taken in 1905 - sent as a postcard on August 23rd 1905
November 2013
New Painting to be exibited at Denbies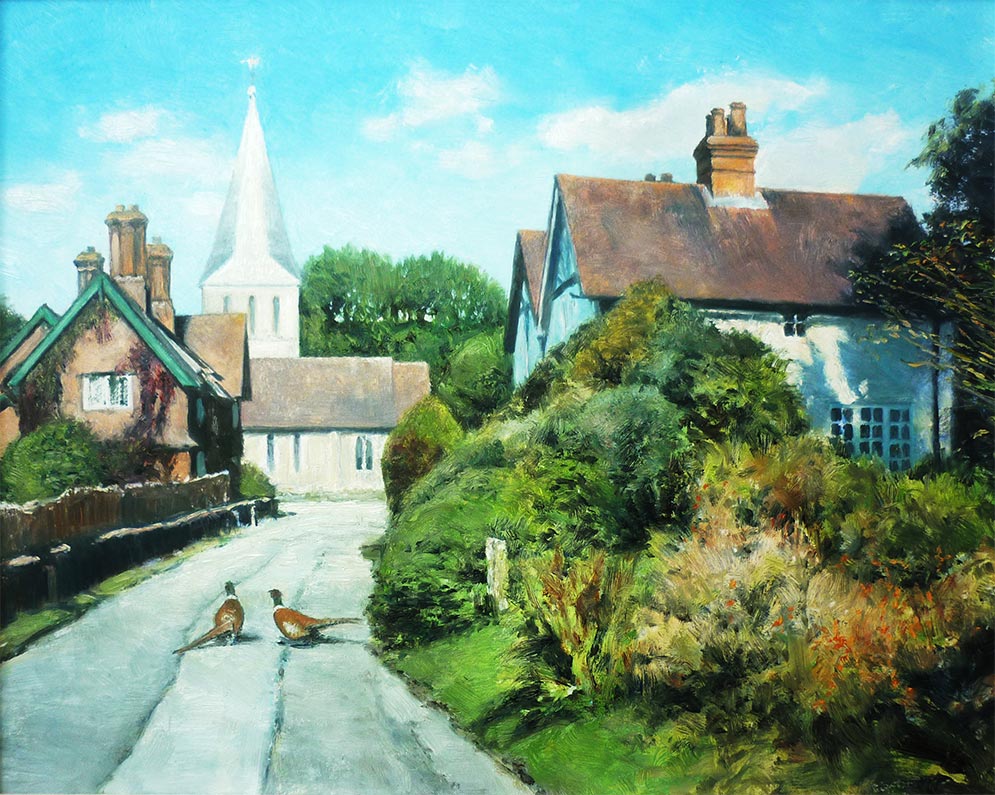 The above painting by David Deamer can be viewed in an exhibition at Denbie's Vineyard for the first two weeks of November 2013
Visit the Paintings Page for more details

November 2013
Shere Gardens Open Day 2013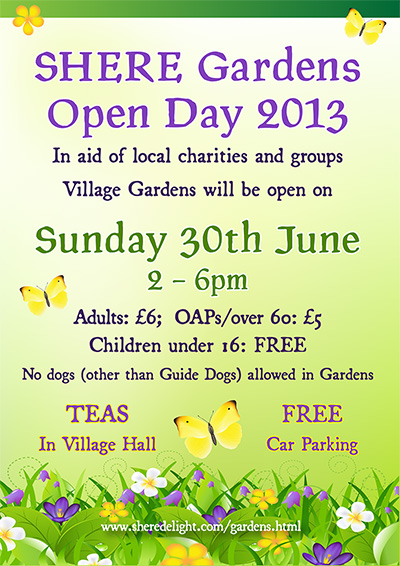 Visit the Shere Open Gardens Page

June 2013
Shere & Peaslake Church

MAY 2013
Our parish has two churches, St James' in Shere and St Marks' in Peaslake - Wonderful website just launched and can be viewed HERE

May 2013
Shere Gardens Open Day 2013
QUINTESSENTIAL ENGLAND REVEALED AT SHERE OPEN GARDENS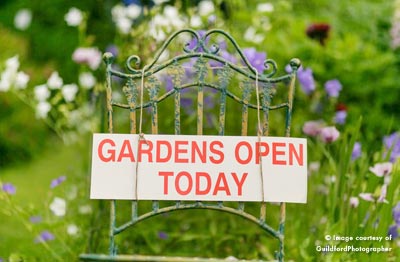 Looking forward to Summer - Sunday 30th June 2013
To celebrate the 35th Annual Shere Gardens Open Day, a new dedicated Open Gardens page has been created.
View the Shere Open Gardens Page

May 2013
John 'Hoppy' Hopgood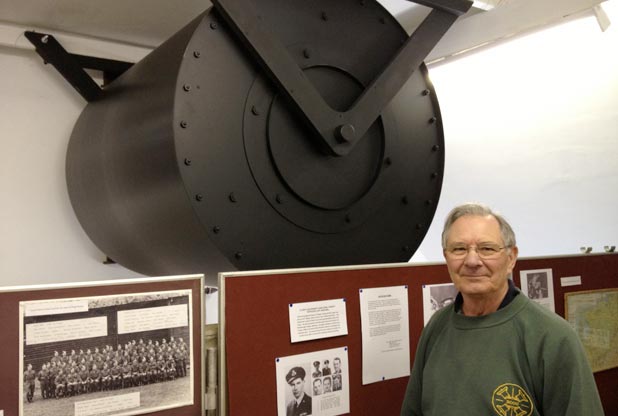 The village of Shere has paid tribute to former resident John "Hoppy" Hopgood, who died 70 years ago in the legendary Dambusters raid.
The Shere Bellringers rang a quarter peal to honour the Lancaster bomber pilot on the evening of May 16, while an exhibition celebrating his bravery opened at Shere Museum.
The display, which will be in place all summer, features a life-size model of a bouncing bomb, as well as a fragment of Flight Lieutenant Hopgood's plane.

Middle Street Today...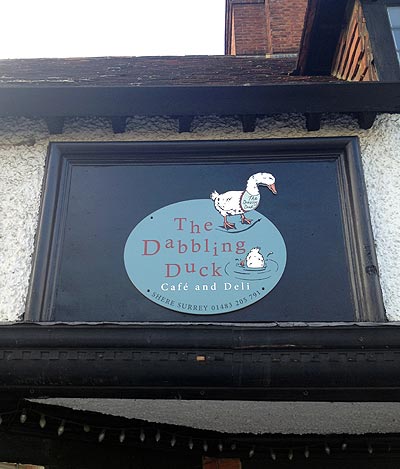 Cathy Garthwaite and Christina Collins - The Dabbling Duck - Opening this coming week - Wednesday March 6th 2013 at 8am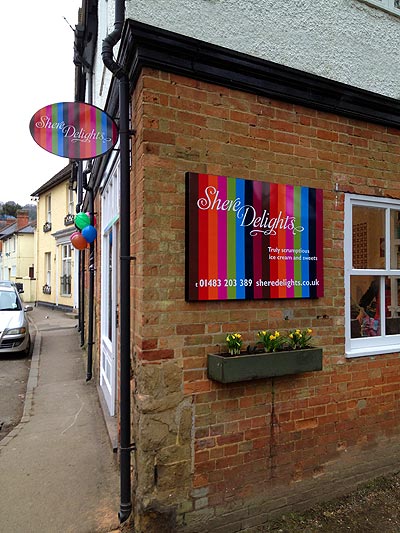 Gillian Ackroyd's Shere Delights Ice Cream and Sweet Shop - Opened Sunday March 3rd 2013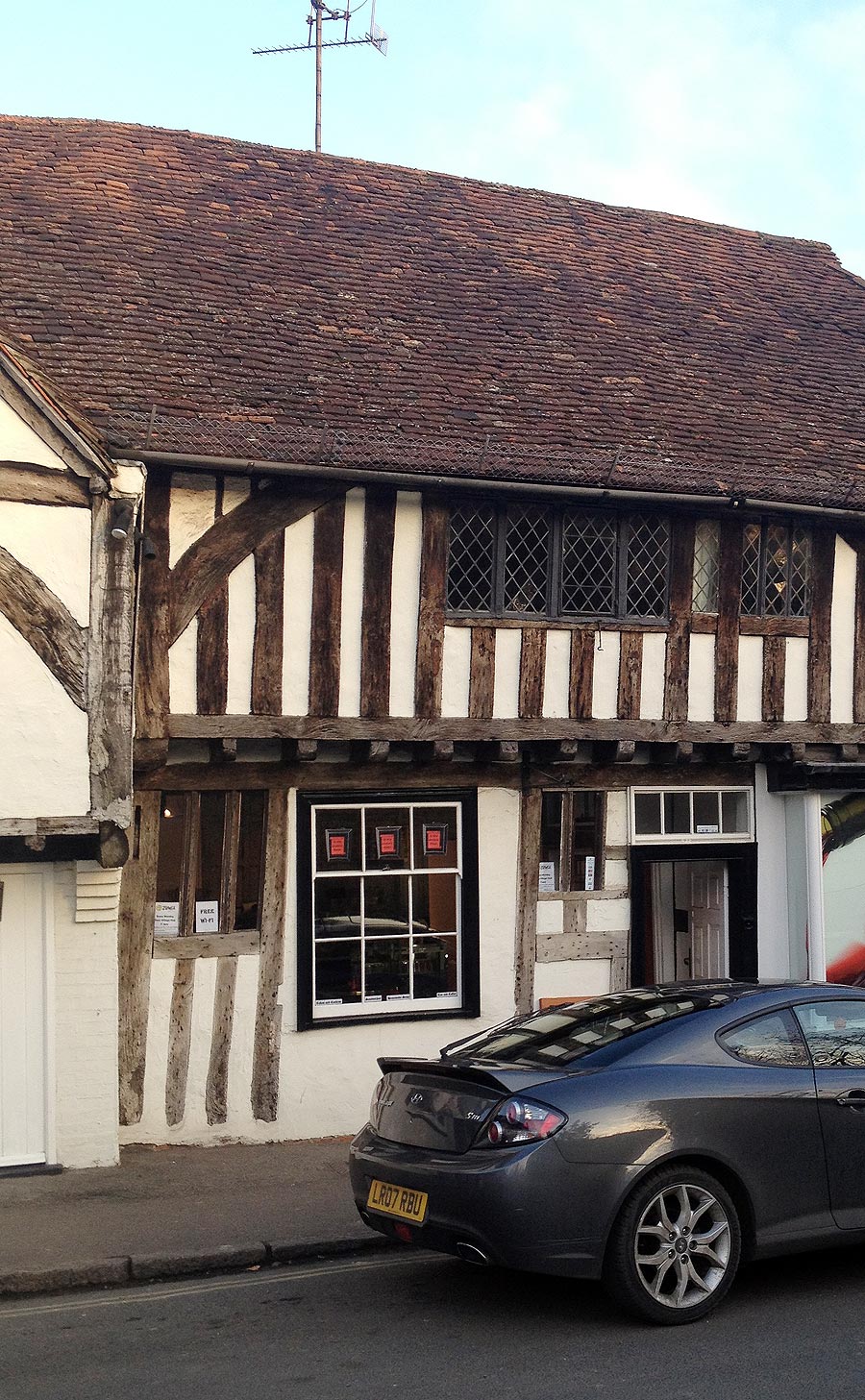 Steve Thompson's 'Ye Olde Sandwich Shoppe'
Home made soups, sandwiches and coffee's to eat in or take away. - Opened end of February

March 2013
...and Middle Street of yesteryear - A trip down memory lane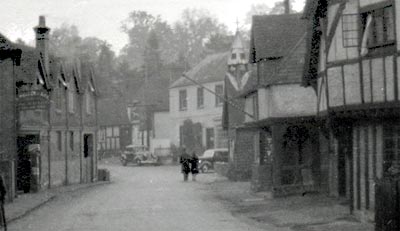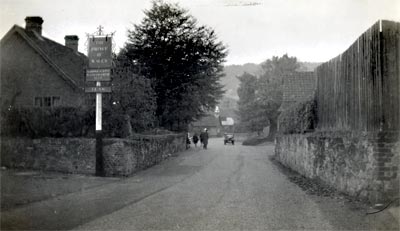 both photos were taken in October 1947 and can be viewed in the photos section of this website.
If anyone has any photos that they would like to share with us, please drop me an e-mail - we would love to see them
Shere in the Snow - 2013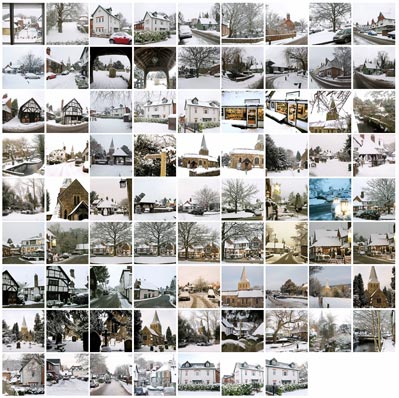 Other photos taken in and around the village - ©2013 Tristan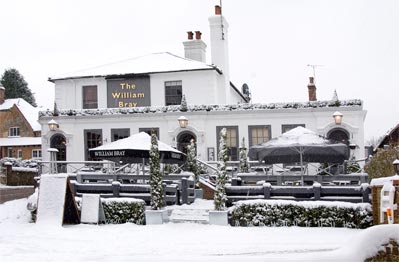 The William Bray -
photo ©2013 John Powell AVS (Albury Visual Services)
Congratulations Howard
Howard Potter, British Empire Medal (BEM)
For Services to the community in Shere, Surrey
Fantastic news and richly deserved - PARISH MAGAZINE

Lucky Duck will be in very good hands
By Mark Davison
The Speckledy Hen tearoom and deli, Shamley Green, near Guildford
I am always delighted when I receive news of a new tearoom which has opened in Surrey and I always look forward to going for a spin to try it out.
Last week, I was browsing through the most informative Shere, Peaslake and Gomshall Parish Magazine, and stumbled across an item that caught my eye...
Read More on 'THIS IS SUREY' website
RELATED ARTICLE: Time for Tea as reported in March 2012

March 2012
Paintings page Update
Various additions to the Painting's page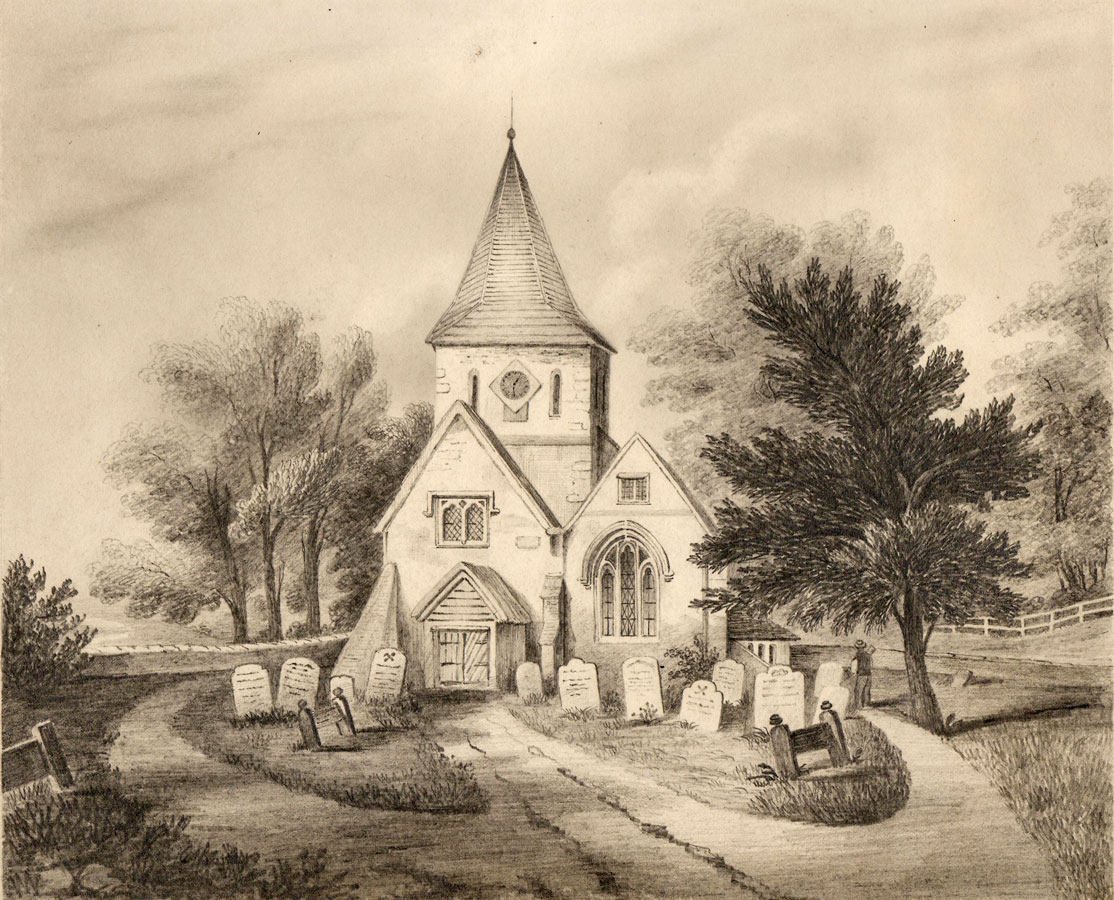 Additions include, this wonderful pencil sketch (approx. 1850) and...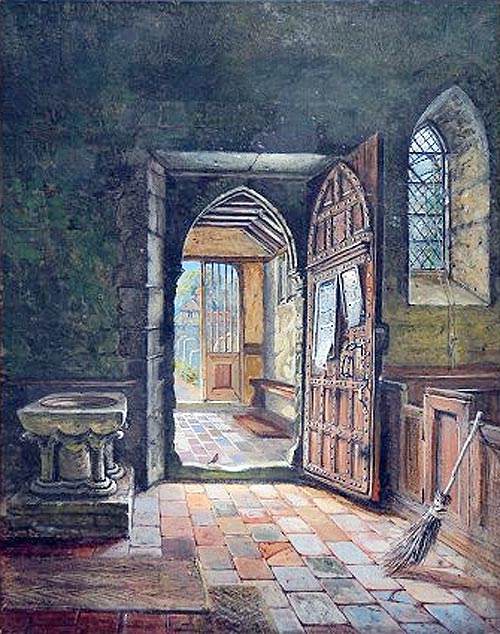 ...this beautiful painting (1880) from within St.James church
Yesteryear - Pram Race - 1984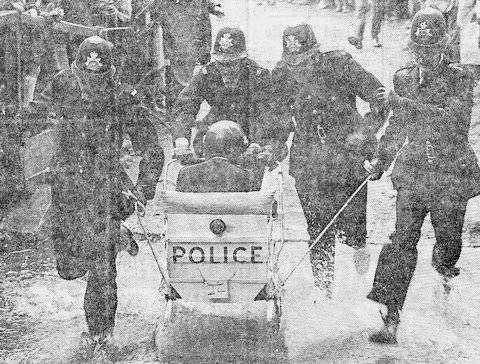 Who remembers the annual Pram Race through Shere?
Molly Moon: The Incredible Hypnotist
UPDATE: Additional day of filming - Sunday 16th December 2012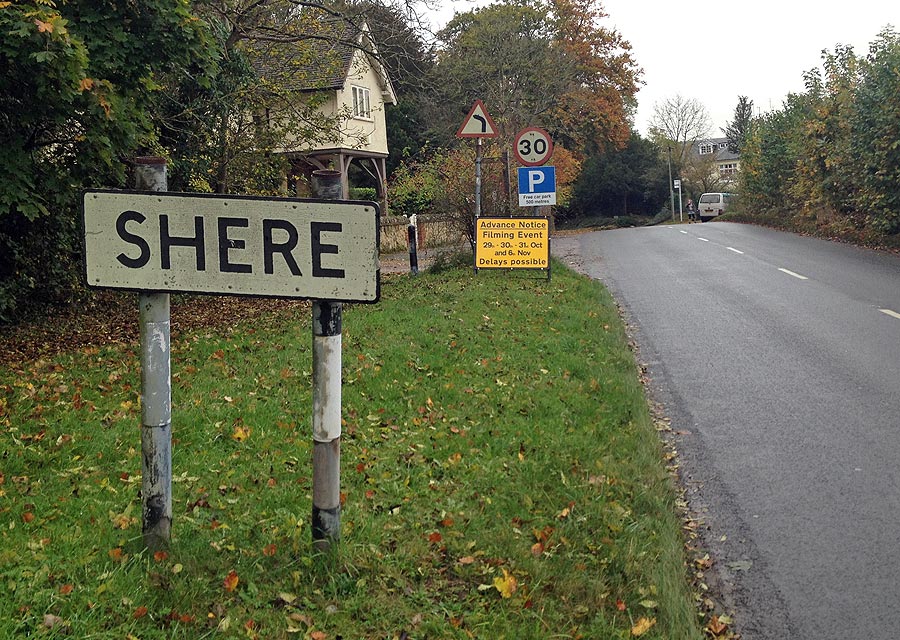 Filming begins in the Village today - 29th October 2012
October 2012
LATEST UPDATES
St. James Church Sketchings - 1884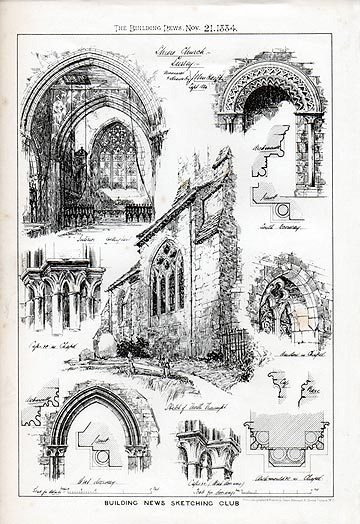 The Building News Sketching Club published these fascinating detailed drawings of St. James Church some 130 years ago, dated November 21st 1884 - Details on the History page.
Hollywood heart throb George Clooney made a stop for lunch at the William Bray in Shere
August 29th 2012 - The actor/director, who has starred in Ocean's Eleven, Three Kings and E.R. dined with four others at the pub in the heart of Shere village. 
The owner of the William Bray – ex-Formula One star Julian Bailey – regularly hosts the three stars of Top Gear
August 2012
The London 2012 Olympic Torch relay - photos / videos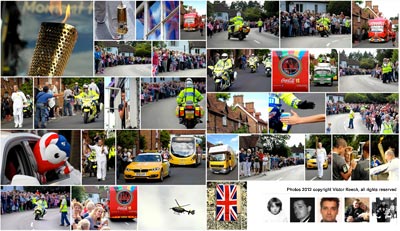 Friday 20th July 2012
The Olympic Torch Relay Convoy will be arriving approx. 4.55pm along Gomshall Lane and Upper Street. This thrilling and historic day will give local people and visitors the chance to share the Olympic spirit, enjoy exciting entertainment and welcome the Olympic Flame to Shere.
Oliver Haydon (22) (Gomshall Lane stage) and Charlie Palmer (87) (Upper Street stage) will be the torchbearers
July 2012

Middle street in 1930
Times past - 1930's photos added to the 'photography' page
Shere Gardens Open Day 2012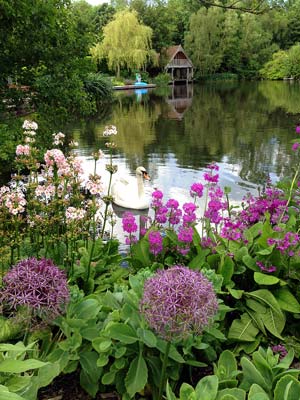 Sunday 24th June,
was the 34th Shere Gardens Open day.
View PDF GARDENS MAP

Shere, nr Guildford, Surrey
Sunday 24th June 2012 - 2.00pm to 6.00pm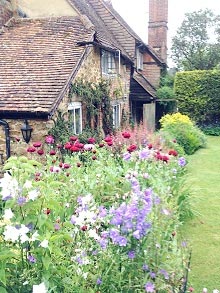 One of the most picturesque villages in Surrey, nestling at the foot of the North Downs between Guildford and Dorking, will be opening its garden gates and inviting the public to view a selection of about 20 beautiful private gardens.

Whether you are a keen gardener or simply curious to see behind the lichen covered walls and manicured hedges, Shere Open Gardens gives a glimpse into quintessential England and offers an enjoyable afternoon wandering around gardens in full bloom.

2012 marks the 34th Open Gardens event in Shere.

Organised to raise money for a variety of village charities.
£6.00 for adults, £5.00 for OAPs, children under 16 Free
Queens Diamond Jubilee 2012
The Square Celebrations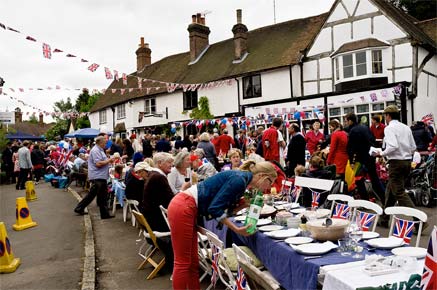 Series of 4 postcards!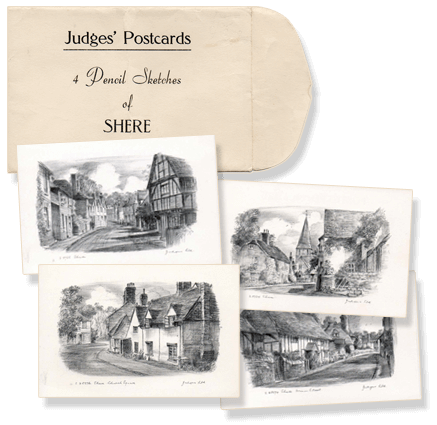 These beautiful pencil sketches were created and packaged by Judges'

HELP Shere Museum!
Shere Museum needs help through this busy 2012 Olympic summer.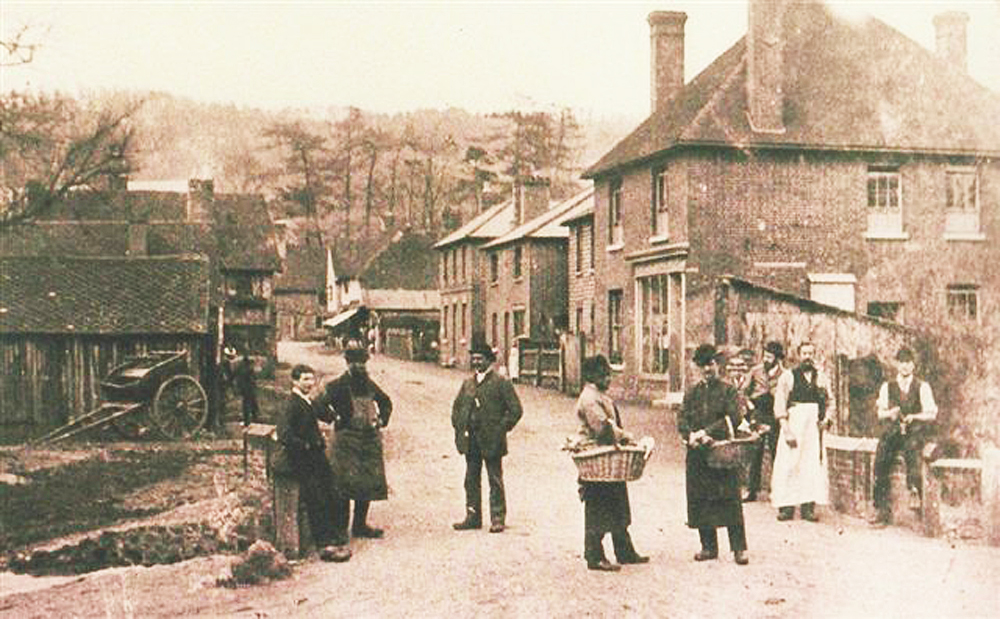 Can YOU spare a couple of hours?
As a TOURIST INFORMATION POINT FOR THE VILLAGE, we need to be open for at least two additional days each week between Easter and October this year.
The Museum is entirely staffed by volunteers: we just need a few more!
If you're friendly, live in or around the village and love living here your're exactly the sort of person we need.
COME IN AND SEE US! or call 01483 202 769
email: info@shere.museum.co.uk


A great and fun place to visit
The Last Weekend - Television
LAST NIGHT - Sunday 19th August 2012 - First Episode of three parts was shown on ITV last night. The next two episodes will be shown on Sunday 26th August with the final episode to be screened on Sunday 2nd May.
Some ilming took place in the Square, Shere on 1st May 2012
- Carnival Films
The Last Weekend: Based on the novel of the same name by Blake Morrison, ''The Last Weekend'' tells the story of two estranged couple reunited during a holiday retreat at a remote cottage by the sea.
Over the course of the long weekend, dangerous tensions surface as each day sees the competitive couples carry out challenges with horrifying consequences. The Last Weekend stars Rupert Penry Jones, Genevieve O'Reilly, Shaun Evans and Claire Keelan. - wikipedia
READ MORE ON THE FILM SET PAGE

May 2012
World War II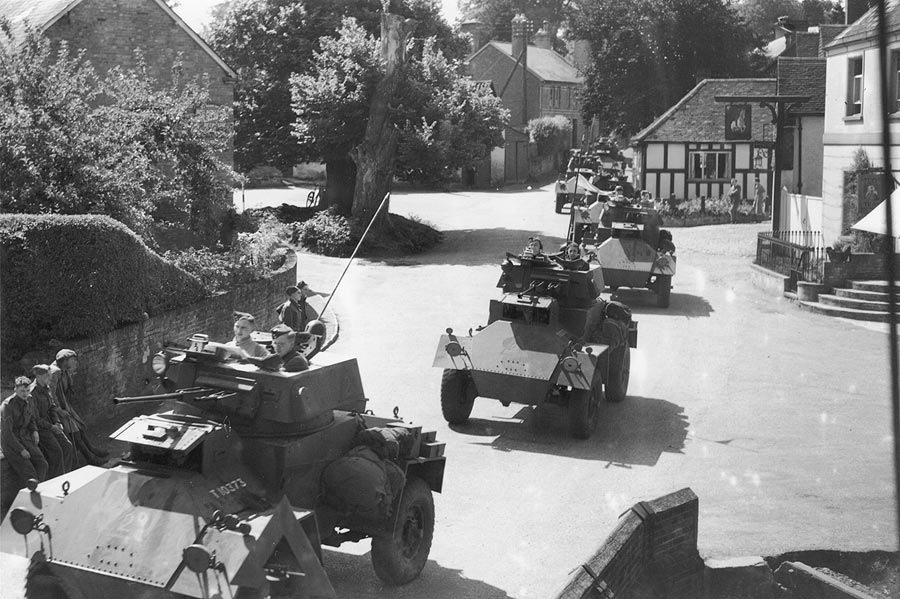 Who remembers living in shere during the war? - Love to hear from you. Photo's added to the Photographs page
2012 - Top Gear in Shere
February 21, 2012

A FAMOUS motoring trio brought the village of Shere to a halt on Saturday.
Drenched Top Gear presenters Jeremy Clarkson, Richard Hammond and James May pulled in at Trek Hire UK's shop to pick up some waterproof clothing during one of their eccentric expeditions.
They needed it for the trip back to Dunsfold, where the BBC show is filmed, as they were driving convertible cars despite the pouring rain.
Their classic convoy included a Caterham and KTM X-Bow....
...The family-run business has been visited by other famous names in the past, including actress Julie Walters who popped in with her husband to buy waterproof clothing.

February 2012
2011 - Christmas time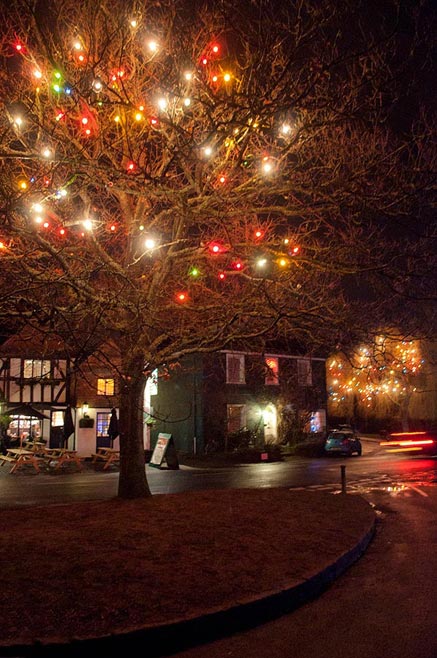 Some photo's taken this Christmas, 2011 - I would have taken more but needed a Tri-pod for low light shots - I'm amazed these came out
1877 - In Village of Shere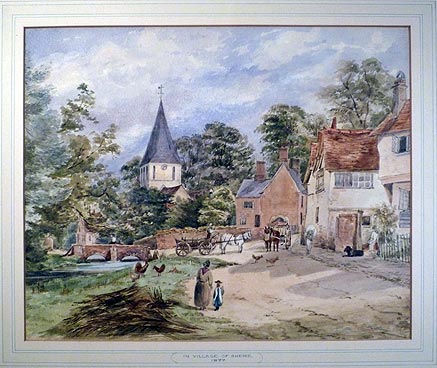 Does anyone recognise the artist of this painting, titled 'In Village of Shere'? In times before the camera we can see a glimpse of what life was like in the village. If you can help, please drop me a line.

1904 - God Bless the Happy Pair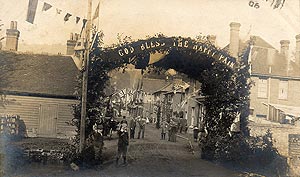 Wedding Celebrations in Middle Street - 1904
J. Weller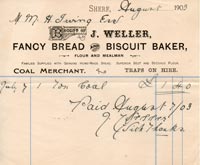 J. Weller - COAL MERCHANT and TRAPS ON HIRE
August 1903 Receipt
Middle Street Garage

Who remembers the Petrol pumps in Middle Street? These photos are
from 1965 - Does anyone have any others - would love to see them
Gardens Open Day 2011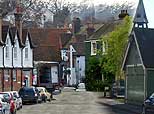 Sunday, was the 33rd Shere Gardens Open day.
View GARDENS MAP

June 2011
Postcards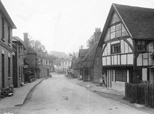 Village life through the ages
- Shere is renowed as one of the most photographed villages and can be documented through the 'postcard'
- Take a walk through the village via my collection of postcards, some dating back over the past 100 years
- the village remains fairly unchanged throughout, although the most noticed addition today is the motor car
Shere Open Gardens 2011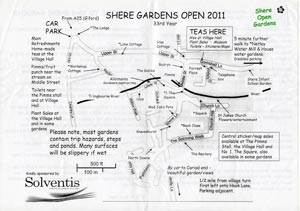 VIEW GARDENS MAP (pdf format)
Sunday 26th June 2011
2.00pm to 6.00pm
The beautiful and historic village of Shere, near Guildford will be opening its gardens.
Approximately 15 gardens will be open, including the village telephone box, and there will be an over-the-wall gardeners question time at the allotments.
Home-made teas, plant sales. No dogs please except guide dogs.
Plant sales: Various places
Cost: £6.00 for adults, £5.00 for OAPs, children under 16 Free
How to get event passports: From any garden
Directions:
Shere is between Dorking and Guildford in Surrey, just off the A25.
Location: Postcode for Sat Nav: GU5 9HF
Shere as a Film location

The village has been the home to various film locations,
such as The Wedding Date (Debra Messing & Dermot Mulroney)
Wedding scenes and shots of 'The Square'
Bridgette Jones - The Edge of Reason
(Renée Zellweger, Colin Firth, Hugh Grant, Jim Broadbent)
The Holiday
(Cameron Diaz, Kate Winslet, Jack Black and Jude Law)
Various village shots
The Ruling Class
1972 (Peter O'Toole, Alastair Sim, Arthur Lowe). Shots of 'The White Horse interior and outside shots of 'The Square'.
WATCH video clip (Inside the pub and outside in The Square)
Hearts of the World
(DW Griffith 1918 silent film) - some location shots, although I personally havn't seen this film. Starring Erich Von Stroheim, D.W. Griffith,
Lillian Gish, Noël Coward, Dorothy Gish, Robert Anderson,
Robert Harron, Billy Bitzer, William "Wild Bill" Elliott and features
David Lloyd George
A Matter of Life and Death
Shere was used as Dr. Reeve's village in the 1946 film
(David Niven and Kim Hunter) but seen very briefly through camera obscura that if you blink you would miss it.
The Earth Dies Screaming Shere was the location for the 1965 science fiction film which was mainly filmed around 'The Square' - see the newly planted Oak Tree below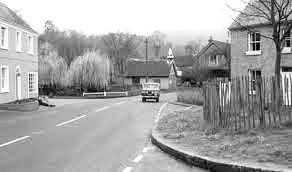 MORE PHOTOS
Actors
Many more Hollywood films and actors, including two ex-James Bond actors - Roger Moore and Sean Connery as well as notable actors: Michael Caine, Julie Walters, Debra Messing, Dermot Mulroney, Jude Law, Jack Black, Kate Winslet, Camron Diaz, Renée Zellweger, Colin Firth, Hugh Grant, Jim Broadbent, Michael Winner, Michael Kitchen, Edward Fox, Robert Hardy, Robert Mitchum, Deborah Kerr, Peter O'Toole, Alastair Sim, William Mervyn, Coral Browne, Harry Andrews, Carolyn Seymour, James Villiers and Arthur Lowe, John Le Mesurier, Stanley Holloway, Alfred Lynch, Cecil Parker, Wilfrid Hyde White, Kathleen Harrison, Eleanor Summerfield,, Eric Barker, Victor Maddern, Barbara Windsor, David Niven, Kim Hunter, Lillian Gish, Dorothy Gish, Noel Coward, Diana Rigg, Harry Hill, Simon Day, David Mitchell, Ben Miller, Emily Watson, Tom Cruise, Russell Crowev- View the FILM page for more
Access by Bus and Rail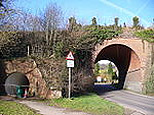 The nearest train stations to Shere are
Gomshall train station (0.91 miles)
Chilworth train station (2.68 miles)
Gomshall station was previously known as Gomshall & Shere,
as it also serves the adjacent village of Shere.
It has been unmanned since 1967.
There are buses from the village that run every half that stops at
'The Compasses Pub' in Gomshall - This takes 3 minutes according
to the time table and means that you only walk 0.2 mile from there to
the train station  
- so a max time of a 5 minute walk - Total time is 8 minutes from
Shere to the station by bus/foot.
London
by train - National RAIL WEBSITE times:
Gomshall to London Waterloo - Total time = 58 minutes
with 1 change at Guildford
Gomshall to Guildford = 15min
Waiting time between trains = 9min
Guildford to - London Waterloo = 34min
TOTAL: 58 minutes
ALTERNATIVELY - Gomshall to London Bridge
- Total time = 69 minutes
with 1 change (Redhill)
Gomshall to Redhill = 21min
Waiting time between trains = 12min
Redhill to - London Bridge = 36min
TOTAL: 69 minutes
STATISTICS
Seems that Train travel is rising, heading for twice the amount of passengers in the past ten years. Annual rail passenger usage*:
2004/05: 27,136
2005/06: 28,968
2006/07: 28,999
2007/08: 32,978
2008/09: 39,770
2009/10: 41,040
2010/11: 46,628
2011/12: 50,736
2012/13: 59,290 - Continues high growth of recent years (exceeds double figures over the last 10 years)
* Annual estimated passenger usage based on sales of tickets in stated financial year(s) which end or originate at Gomshall from
Office of Rail Regulation statistics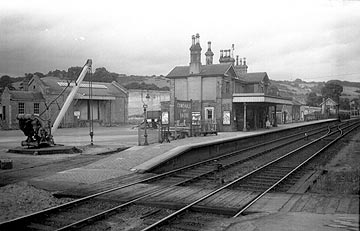 Gomshall and Shere Railway station - 24th July 1937
Guestbook
We hope that you have time to Sign the Guestbook
Website Design and programming by Tristan Greatrex