Shere - hidden gems in time
Every postcard tells a story, a 'snapshot in time' that gives us clues of what life might have been like in the village.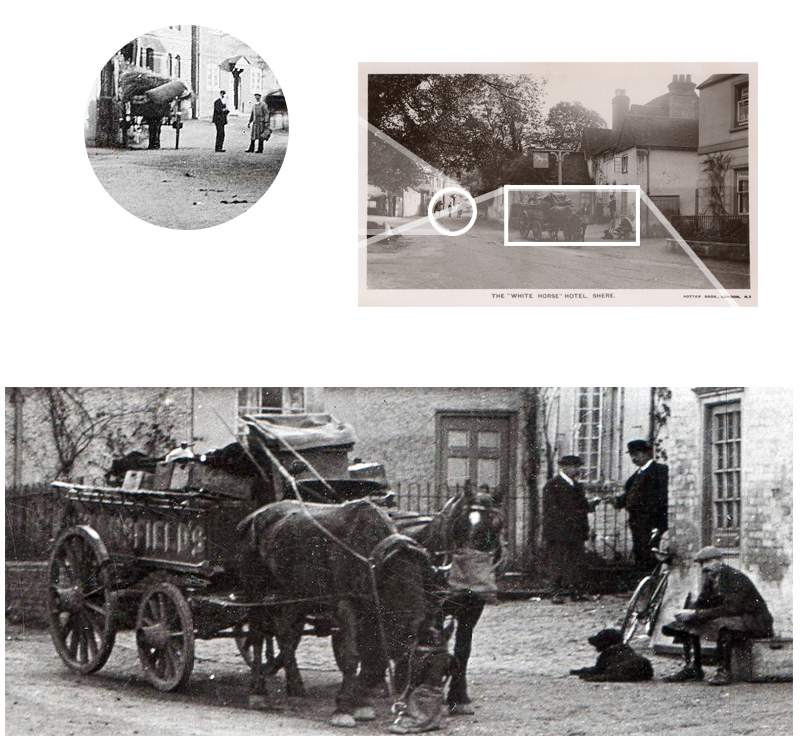 The postcard above shows a couple of men standing at the door of 'The White Horse', whilst the 'rag and bone man takes some time out to rest, along with his trusted companion. Up towards, 'Shere Lane', you can make out other travellers/business men with their cart.
Fast forwarding half a decade, the postcard below shows 'Middle Street' in the late fiftee's. On closer inspection, reveals a couple sitting in the back of their van, taking a break (outside the now, "Lucky Duck" tea room)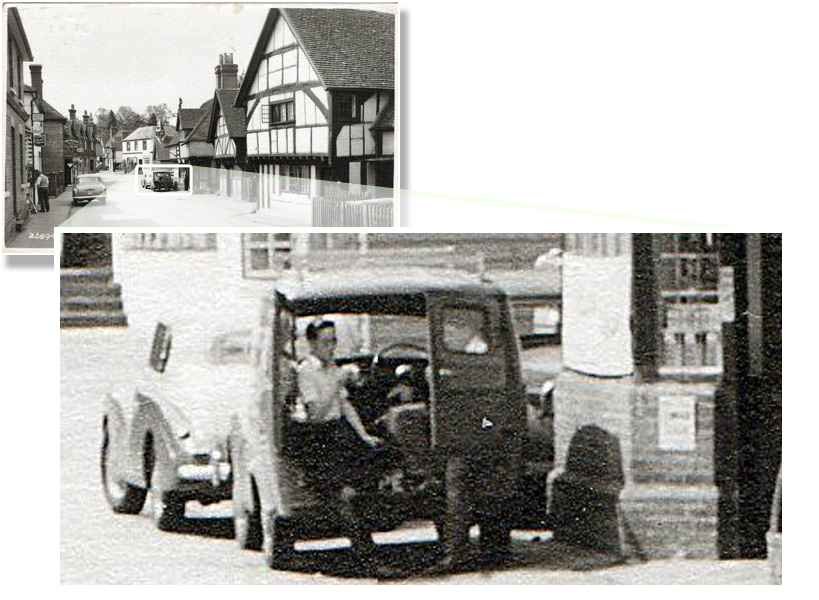 I created this page to illustrate just how much detail can be found, by observing the detail within the postcards cards, you can often find hidden gems - The postcard below uncovered a couple of details that I had initially missed: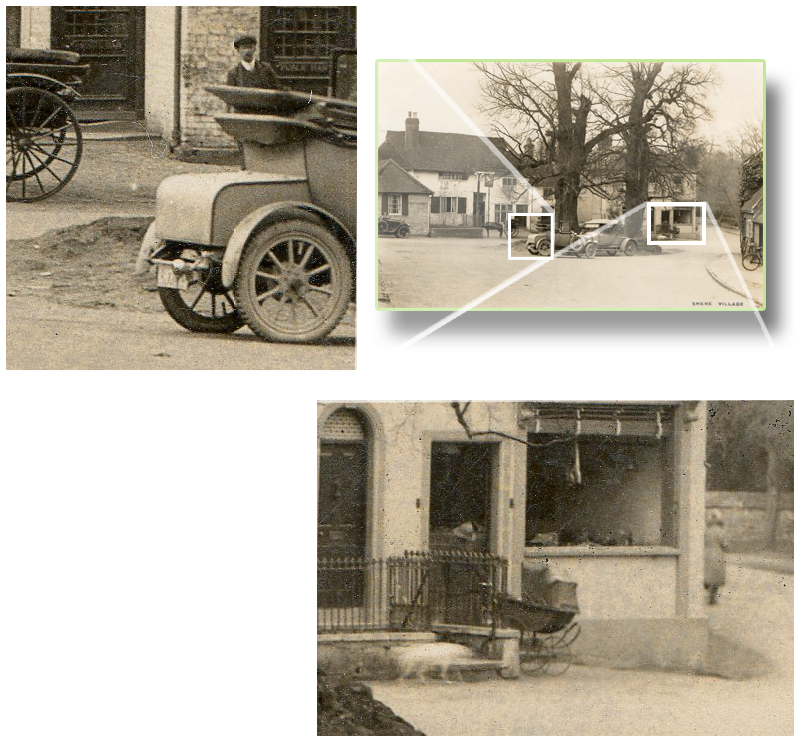 The scene is looking from 'St. James Church' towards the Square.
The top zoom, shows a man peering over the top of the motor car but also shows people going around in their daily life as the bottom highlight shows a mother, leaving the shop with her pram and a lady walking away away around the corner down 'Lower Street'.

Shere - stepping back in time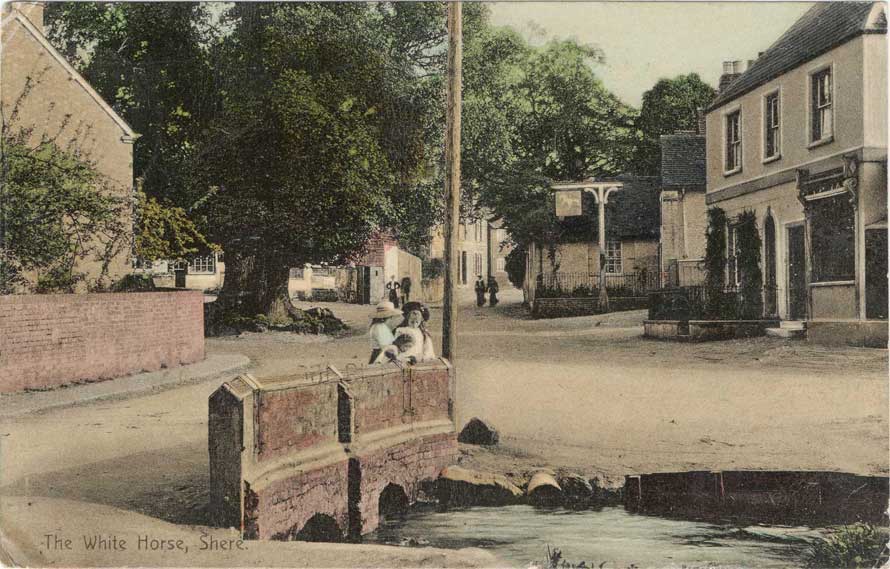 Above: front of the postcard titled 'The White Horse, Shere' with a view of three girls overlooking the
'Tillingbourne Stream' where Middle and Lower Street meet at 'The Square'
and below...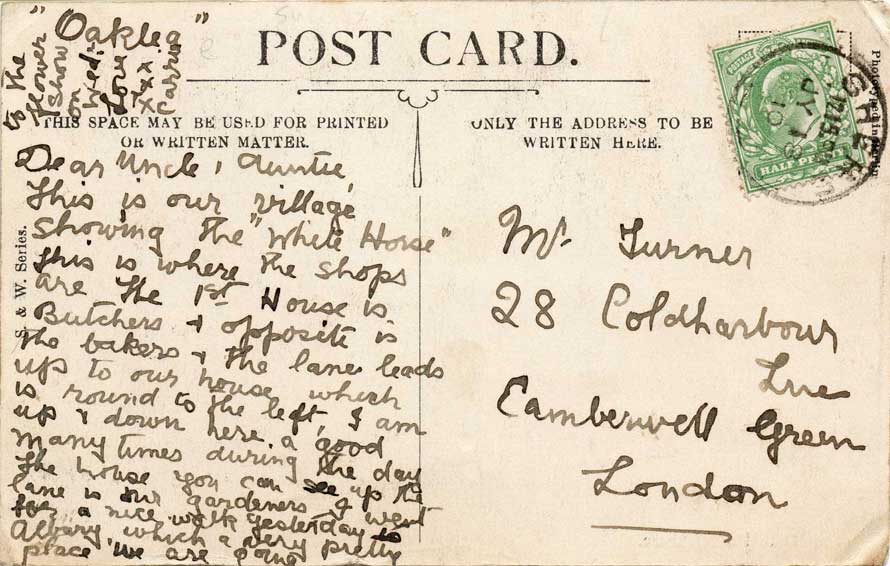 ...the rear of the same postcard sent in the Summer of 1910 - roll over the card to read
Postdated July 18th 1910 - The card, written by a young girl to her Auntie and Uncle, gives us a glimpse of her village in Shere.

Having traced "Oak Lea" in the 1911 census, conducted a year later from the postcard, it appears that the house was sadly 'uninhabited'. It may be that the family moved on...
Does anyone know the possible location of "Oaklea"? If, so please drop me a line.
For OTHER stories on the back of the postcards, VISIT HERE
Dating postcards
Even a postmarked postcard may be misleading as it might well have laid unsold or unused for several years before being mailed.
Here is a guide for dating postcards:
Francis Frith postcards reached the following serial numbers:
Judges postcards reached the following serial numbers as follows: 
18521 – 1886
55341 – 1906
79014 – 1926
19500 – 1887
57201 – 1907
79313 – 1927
No. 7400 in 1921
20475 – 1888
59460 – 1908
80652 – 1928
No. 9347 in 1927
21450 – 1889
61298 – 1909
81599 – 1929
No. 12971 in 1930
22421 – 1890
62187 – 1910
82990 – 1930
No. 15323 in 1932
28140 – 1891
63077 – 1911
83725 – 1931
No. 22430 in 1939
29865 – 1892
64058 – 1912
84911 – 1932
31590 – 1893
65149 – 1913
85424 – 1933
From the late 1950s, Judges began to produce
33315 – 1894
66516 – 1914
86015 – 1934
colour cards.  These cards are numbered from
35040 – 1895
67714 – 1915
86471 – 1935
C1 to at least C29312.
37121 – 1896
67868 – 1916
87164 – 1936
38962 – 1897
67894 – 1917
87845 – 1937
40804 – 1898
68020 – 1918
88252 – 1938
42852 – 1899
68796 – 1919
88855 – 1939
44900 – 1900
69357 – 1920
88958 – 1940
46320 – 1901
69918 – 1921
48082 – 1902
71721 – 1922
49125 – 1903
73333 – 1923
51142 – 1904
75416 – 1924
53180 – 1905
76667 – 1925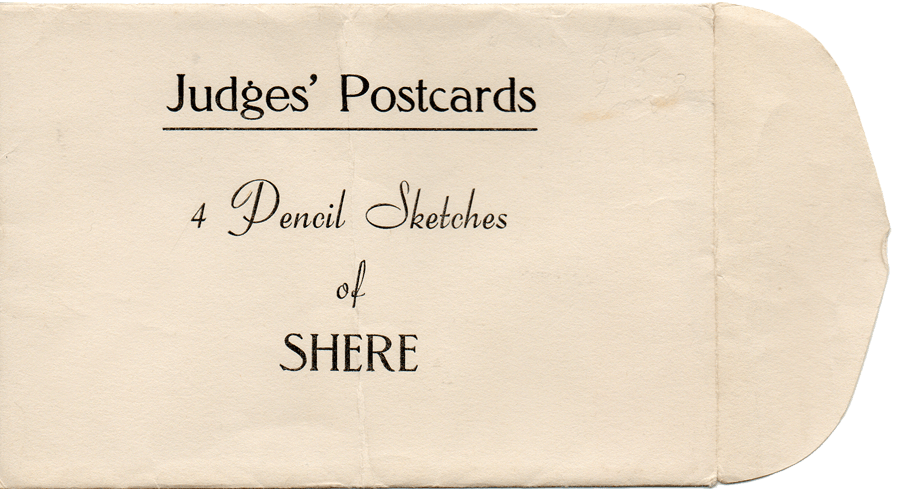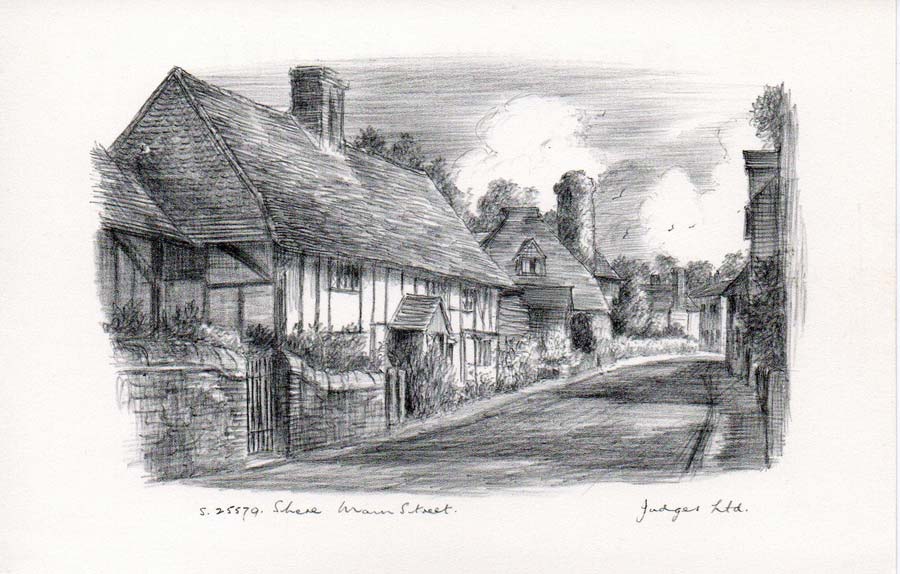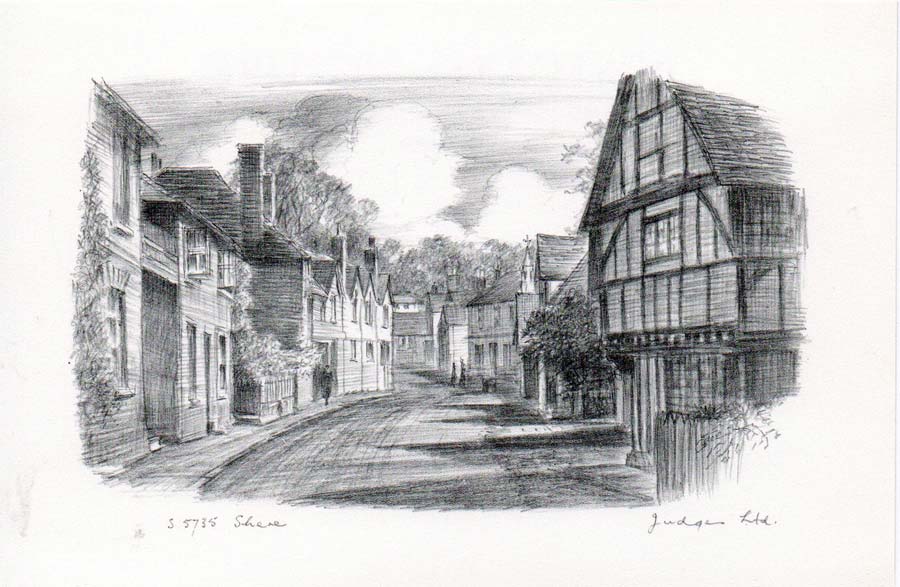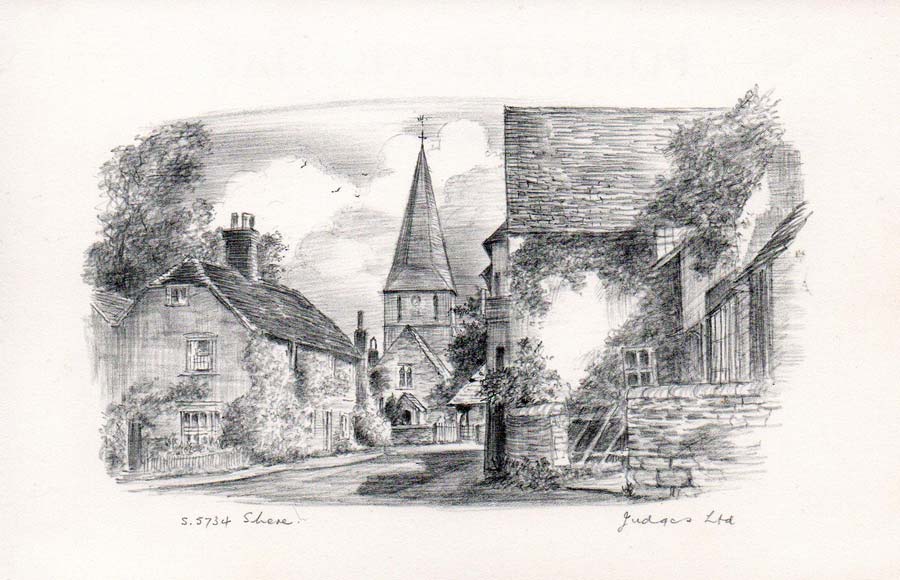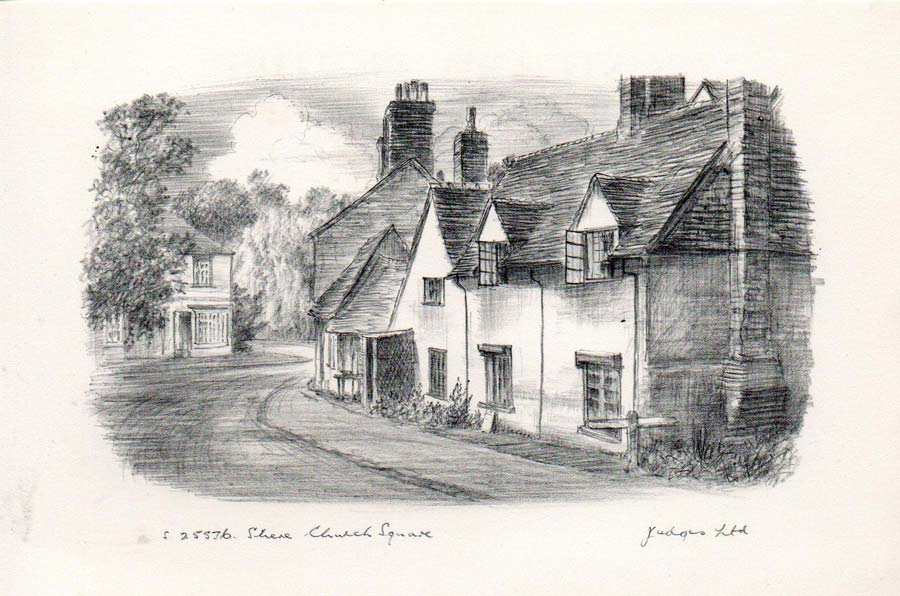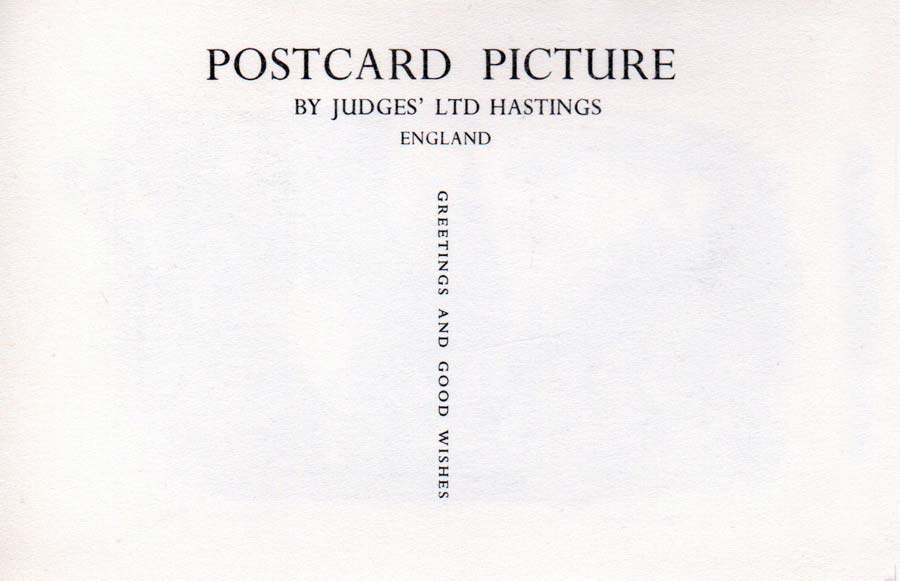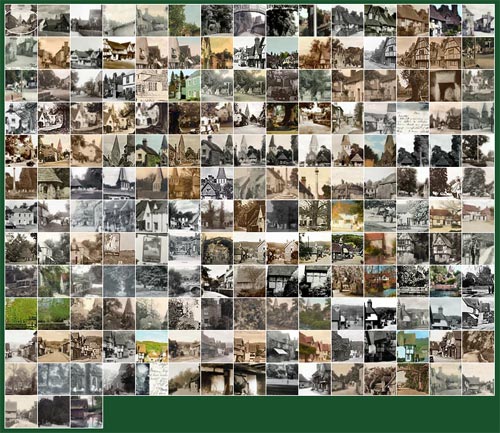 UPDATE - VIEW all 550 Postcards on flickr - click HERE