Film Director:
Charles Goodwin Norton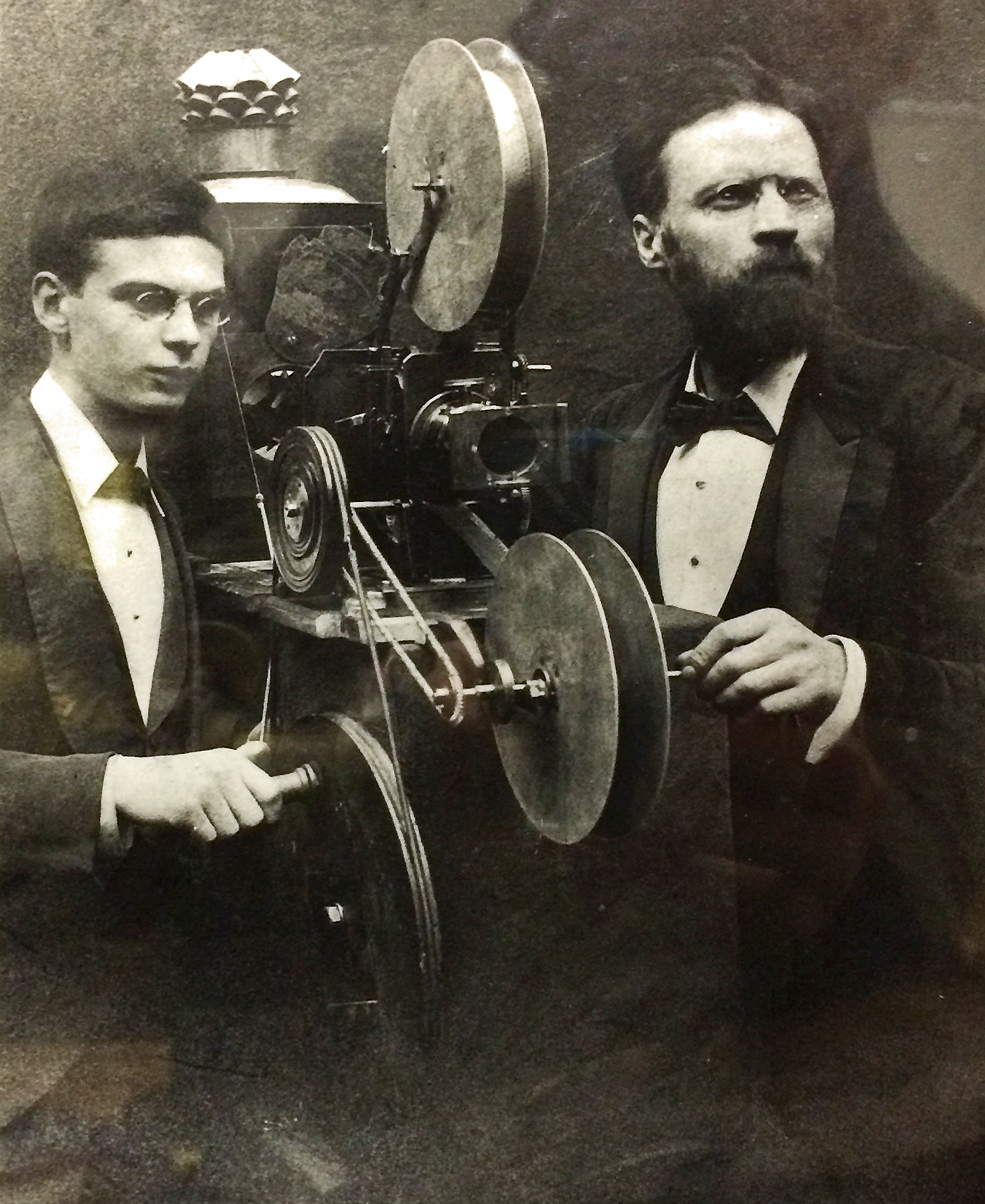 Director: Charles Goodwin Norton (above right) with GA Smith

Charles Goodwin Norton was born 8th April 1956 in Anchor Cottage, Upper Street, Shere. He was educated at the village school and then attended Guildford School.
A pioneer exhibitor and film maker who had been exhibiting films since 1896, was Charles Goodwin Norton, also a celebrated lanternist. From 1898 onwards, he began to devote more of his time to film production, for which G.A. Smith did much of the laboratory work. It is from Smith's account books that we are able to identify some of the films he made in 1899. Some of these survived and form part of the bequest made to the National Film Archive known as the Norton Collection.
In July of this year, Charles Norton made three films, one being 'Fire Brigade turn-out in the country'. This film survived and is number 11 in the Norton collection. The description given is as fllows:
"In a village street firemen run up to a small fire station, lead out the horses - fire engine, harness the horses, mount and drive off watched by a policeman and several onlookers, including a dog."
Alice Norton (daughter) in a letter dated 5th March 1961 states that this film was taken at Shere and has personal connections by which it is thought that she herself appears as one of the onlookers. As there is only one woman in the film, I can only assume that she is featured riding her bicycle.
Another film by Norton that sadly has NOT survived is 'Train Entering Shere Station'. A train enters station and Miss Alice Norton is met off the train by two little girl cousins. On a positive note, its great that we do have the 'Fire Station' film that did survive. This has given us a greater insight into social history of that time, before motor vehicles and two villages, Shere and Albury who came together as volunteers for the good of the community.
A camera used by Charles Goodwin Norton was presented to the Science Museum in London by his daughter Alice in 1950 and is probably the very camera used in the 1899 films.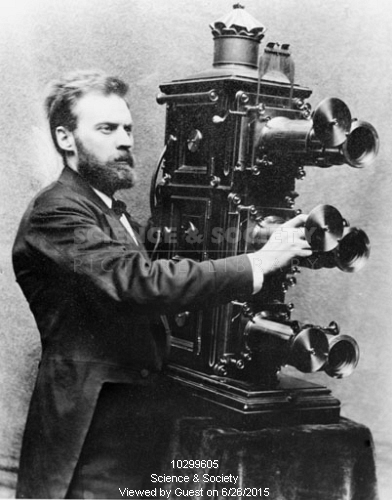 Credit © Science Museum / Science & Society Picture Library -- All rights reserved.
Charles Norton also wrote a very short biographical note under the heading "The Life of Charles Goodwin Norton", which exists in typescript only. For some reason the published account makes no mention of his Film work, although it does touch briefly on his Magic Lantern activities. For instance, he recalls how he first became interested in the subject:
"I often went to book sales, and bought up remaiders, mostly novels, and on one occasion there was a magic lantern and a lot of slides, which I purchased for 7s 6d. I gave several private shows and then launched out a bit and bought a double lantern and limelight apparatus complete, and with it gave my first public show in my native village - Shere."
Norton became well-known for his public lantern entertainments, introducing films into his programme in 1896, and producing a number of films on a Velograph camera. Norton also gave shows for the Empress Eugenie, 1896, the Royal Family at Buckingham Palace, 1897, and King Edward VII and family in 1901. He may also have been a projectionist for Harrods department store at this period.
Charles died in 1940 at the age of 84.
CHARLES GOODWIN NORTON FILMOGRAPHY
DIRECTOR:
More information can be found here: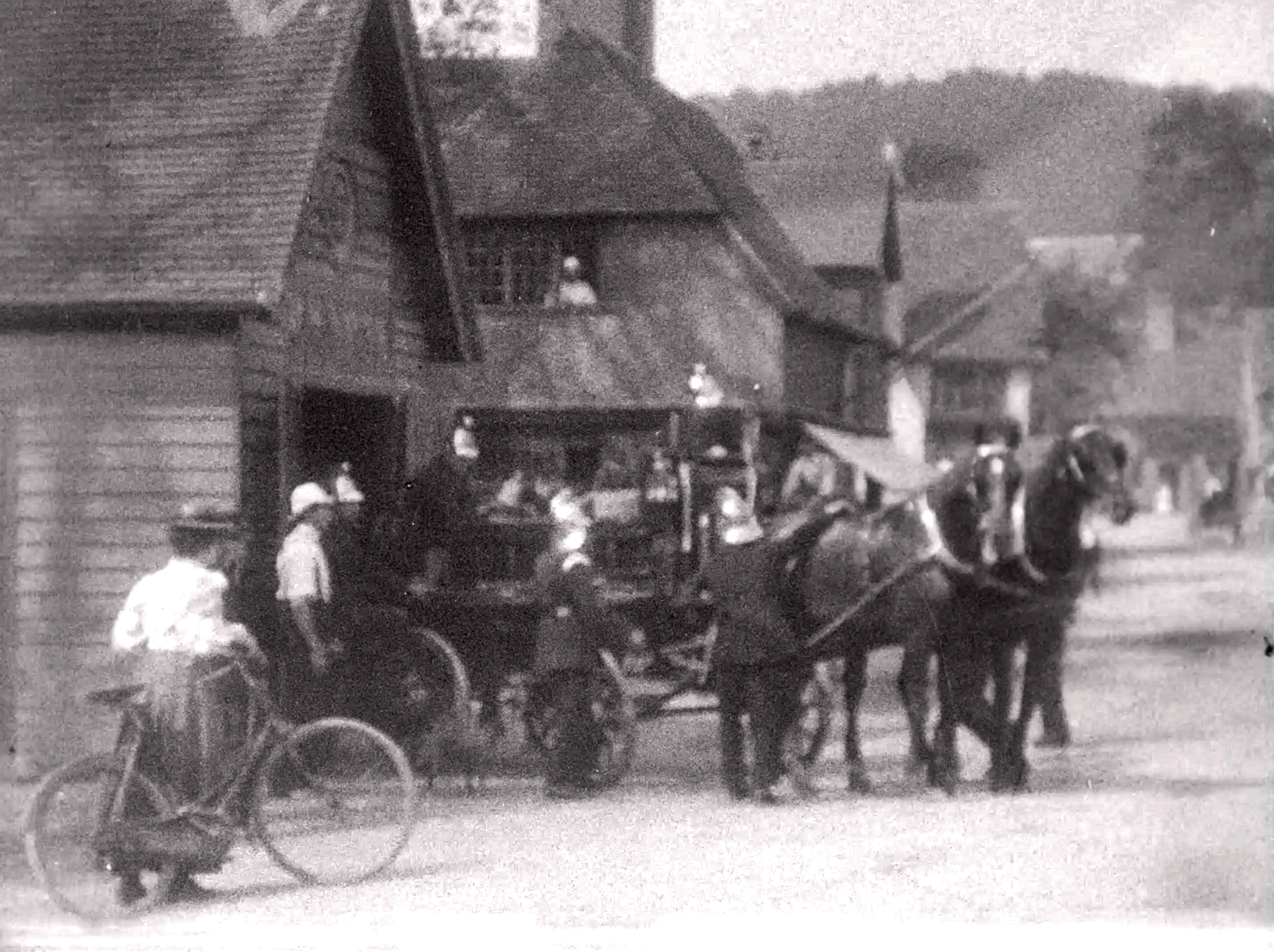 Volunteer firemen at Shere, Surrey, harness a fire engine and ride away.
Alice Norton (daughter of Film Director, Charles G. Norton) with her bicycle.
Found at Shere Museum, this mahogany and brass 'magic' lantern.
This and other information on Charles Goodwin Norton can be found at the SHERE museum.
I hope you have enjoyed this unique Film, Created and Directed by Shere born Charles Goodwin Norton about our own Village Fire Brigade.
CONTACT ME IF YOU ENJOYED WATCHING
| | |
| --- | --- |
| | |
| January 2015 | July 2015 |
Thank you to the Shere Parish Magazine for also help and encouragement to secure this piece of archive Film by raising awareness in both the January and July 2015 Parish magazines.