This website...
...is dedicated to the village and villagers of Shere in Surrey.
Welcome to everyone, whether you are a resident, regular visitor
or planning to come and visit this beautiful village.
-----------------------------------------
Shere Goodwill Evening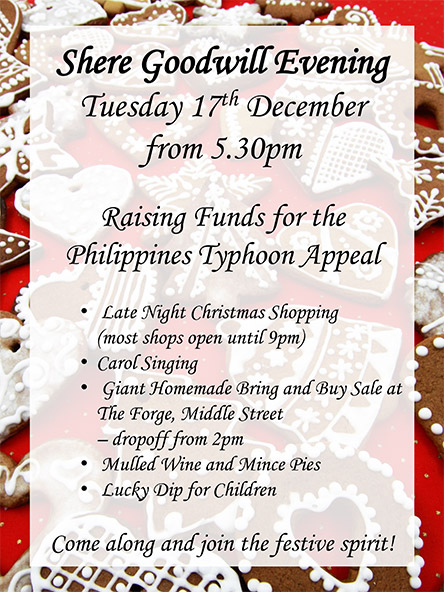 The aim of the late night shopping evening is not only to celebrate our
wonderful selection of shops and get everyone in the festive spirit, but
also to raise money for the Philippine Typhoon  Appeal. The Bring and
Buy sale will be located in The Forge for the evening.  The Christmas
lights will be on, and there will be carol singers, a Shere quiz, and
hopefully plenty of festive spirit, so please tell your customers, friends
and family so that they can come along to support this very
worthwhile event.
---
Christmas Cards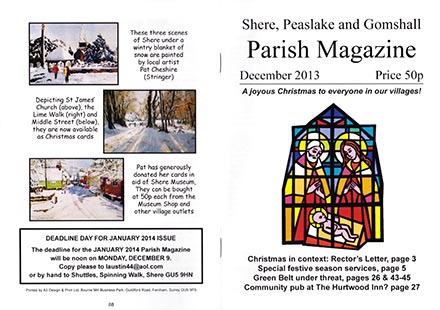 On the back of this months Parish Magazine - there are three beautiful
winter scenes of Shere by local artist Pat Cheshire (Stringer). These
Christmas cards are in aid of the Shere Museum and can be purchased
for 50p each from the Museum Shop and other village outlets.
Larger images can be found on the Christmas Card page.
---
Green Belt Status: Please comment
by Friday 29th November
Guildford Borough Council is consulting on its new Local Plan. The Plan
sets out a vision for the whole borough for the next 20 years. It proposes
that Shere and Gomshall are removed from the Green Belt and makes it
easier for developers to get permission for build houses in the area.


To comment on Guildford Borough Council's Green Belt proposals,
please do this by Friday 29th November as all details can be
found on the Shere Parish Council website
MORE INFORMATION
---

Green Belt Status may be removed
from our village
Show your support to protect the greenbelt of Shere, Gomshall & Abinger.
---
Wishing You a Happy Christmas
and a Bright New Year - 1906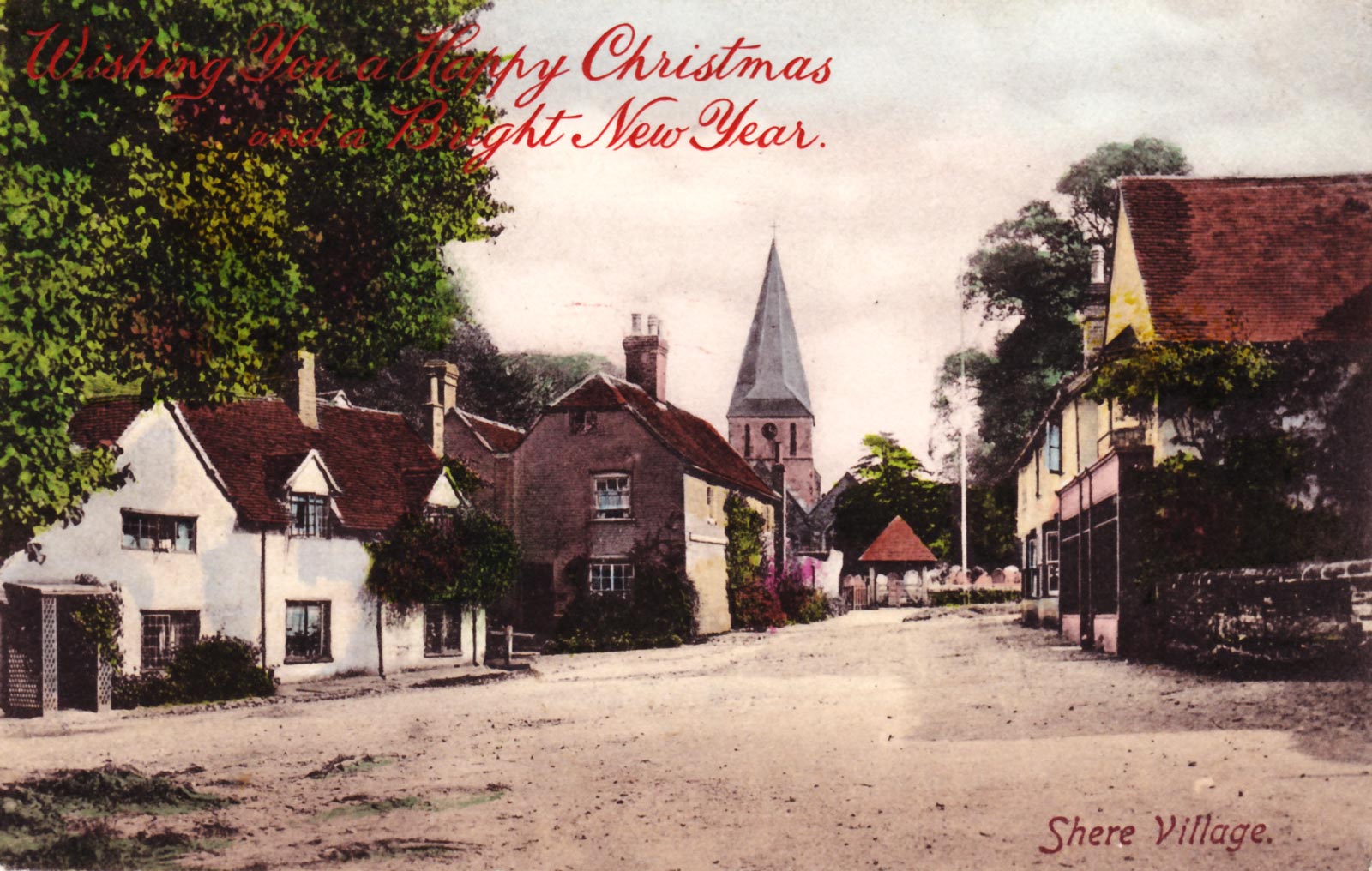 The printed postcard, used as a greetings card - READ MORE

---
Postcard Collection - 337

An additional 75 postcards have now been scanned and added to the
Shere Postcard flickr page, bringing the total just shy of 340
---
Wedding in Shere - 1905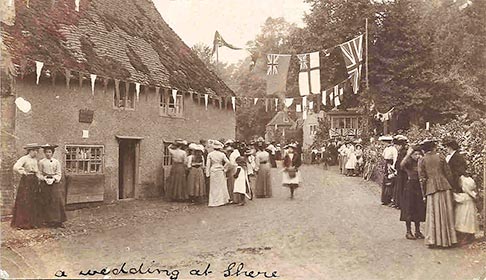 Interesting photo at the junction of Upper Street/Middle Street
of a wedding photo taken in 1905 - sent as a postcard on August 23rd 1905
---
New Painting to be
exibited at Denbies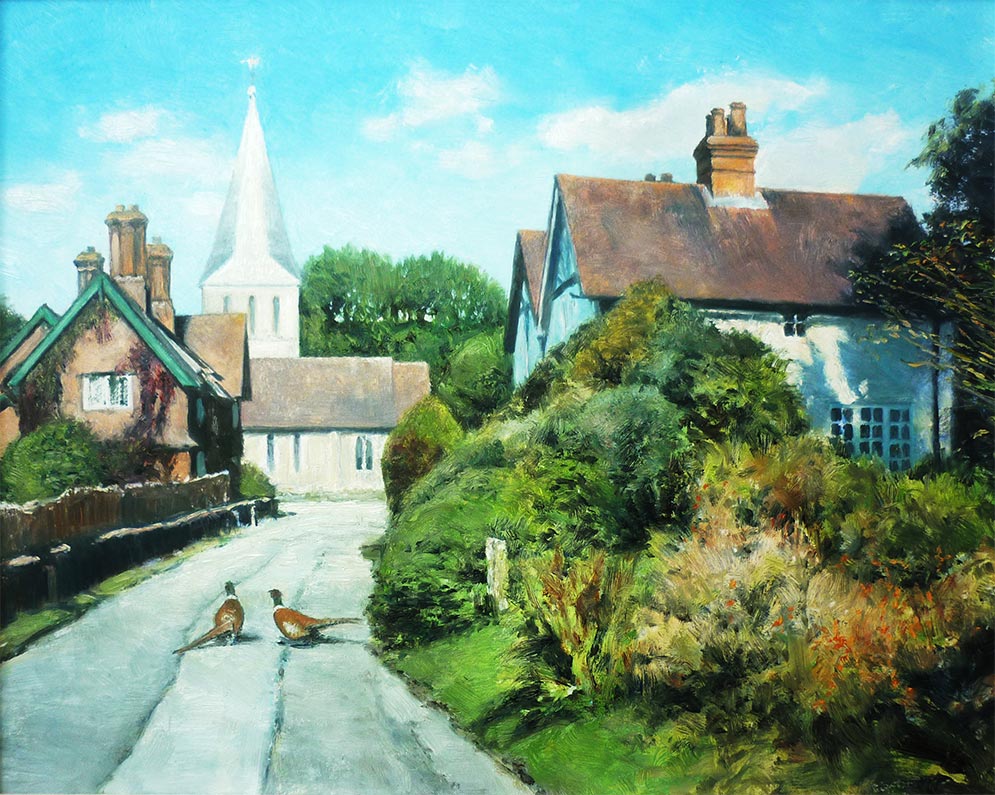 The above painting by David Deamer can be viewed in an exhibition at
Denbie's Vineyard for the first two weeks of November
Visit the Paintings Page for more details
Shere Gardens Open Day 2013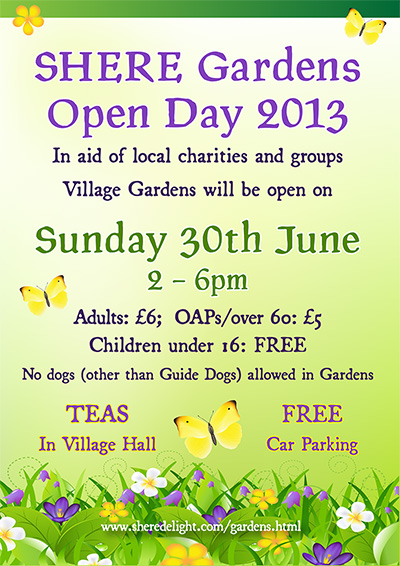 Shere & Peaslake Church

MAY 2013
Our parish has two churches, St James' in Shere and St Marks' in Peaslake
- Wonderful website just launched and can be viewed HERE
Shere Gardens Open Day 2013
QUINTESSENTIAL ENGLAND
REVEALED AT SHERE OPEN GARDENS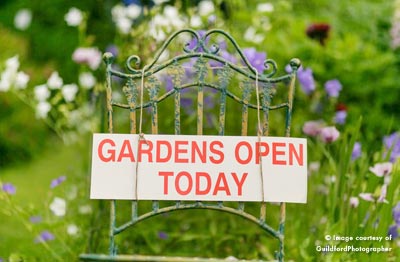 Looking forward to Summer - Sunday 30th June 2013
To celebrate the 35th Annual Shere Gardens Open Day,
a new dedicated Open Gardens page has been created.
View the Shere Open Gardens Page
Middle Street Today...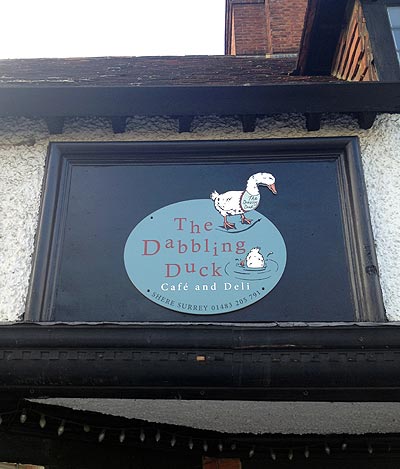 Cathy Garthwaite and Christina Collins - The Dabbling Duck
- Opening this coming week - Wednesday March 6th 2013 at 8am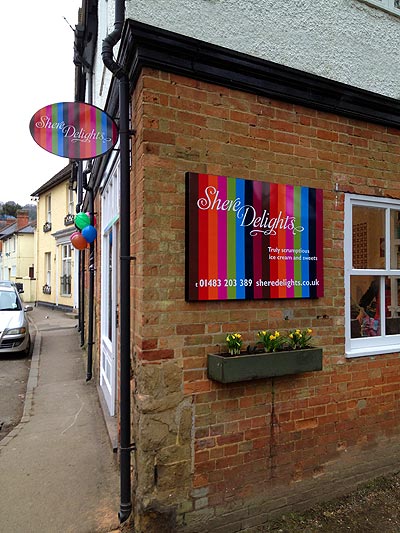 Gillian Ackroyd's Shere Delights Ice Cream and Sweet Shop
- Opened Sunday March 3rd 2013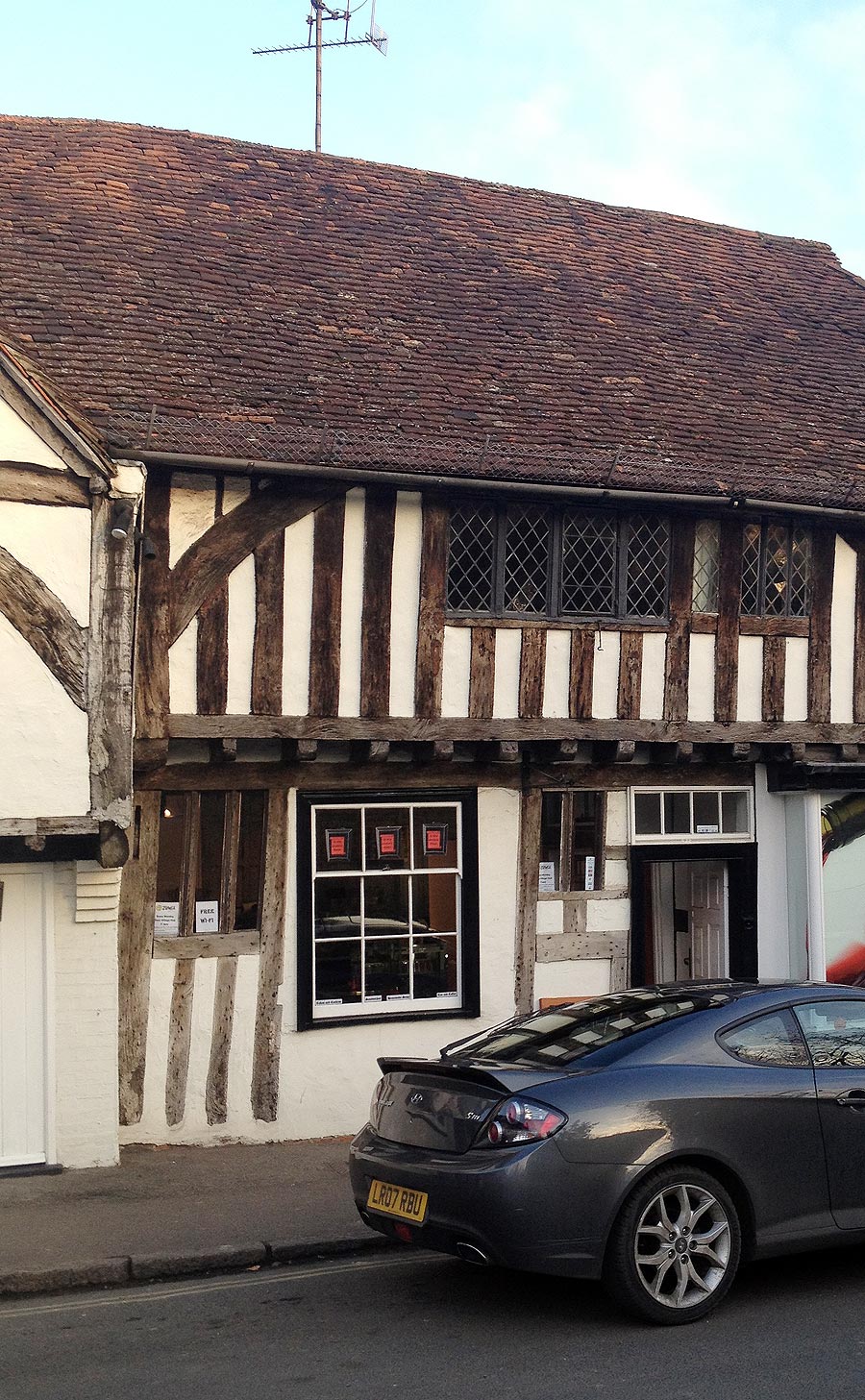 Steve Thompson's 'Ye Olde Sandwich Shoppe'
Home made soups, sandwiches and coffee's to eat in or take away.
- Opened end of February
...and Middle Street of yesteryear
A trip down memory lane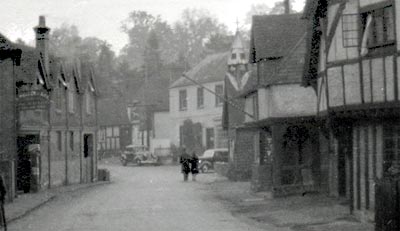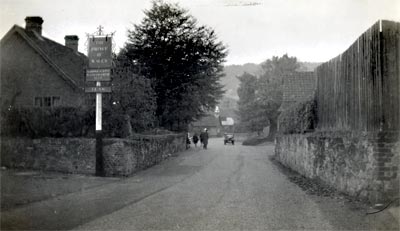 both photos were taken in October 1947 and can be viewed in
the photos section of this website.
If anyone has any photos that they would like to share with us,
please drop me an e-mail - we would love to see them
Shere in the Snow - 2013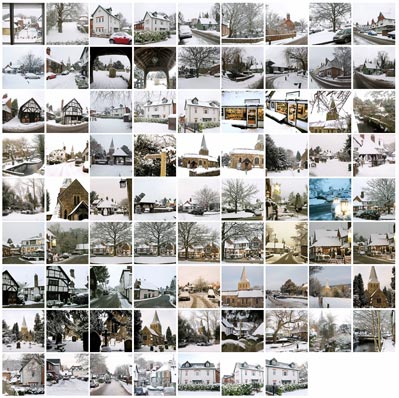 Other photos taken in and around the village - ©2013 Tristan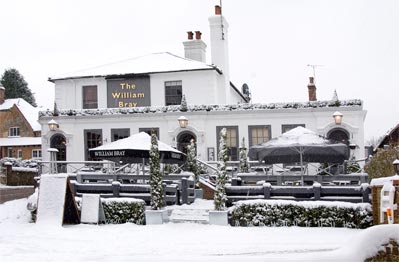 The William Bray -
photo ©2013 John Powell AVS (Albury Visual Services)
Congratulations Howard
Howard Potter, British Empire Medal (BEM)
For Services to the community in Shere, Surrey
Fantastic news and richly deserved - PARISH MAGAZINE

Lucky Duck will be
in very good hands
By Mark Davison
The Speckledy Hen tearoom and deli, Shamley Green, near Guildford
I am always delighted when I receive news of a new tearoom which
has opened in Surrey and I always look forward to going
for a spin to try it out.
Last week, I was browsing through the most informative
Shere, Peaslake and Gomshall Parish Magazine,
and stumbled across an item that caught my eye...
Read More on 'THIS IS SUREY' website
RELATED ARTICLE: Time for Tea as reported in March 2012
Paintings page Update
Various additions to the Painting's page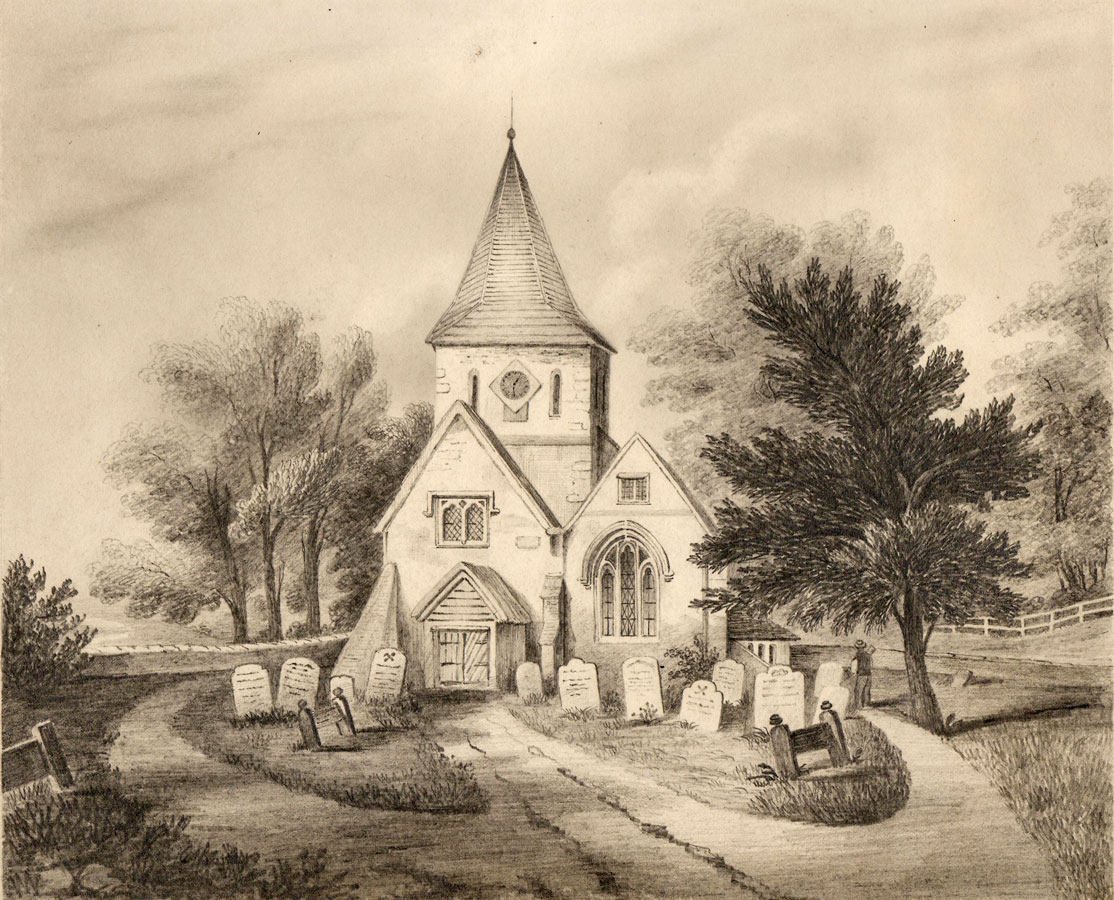 Additions include, this wonderful pencil sketch (approx. 1850) and...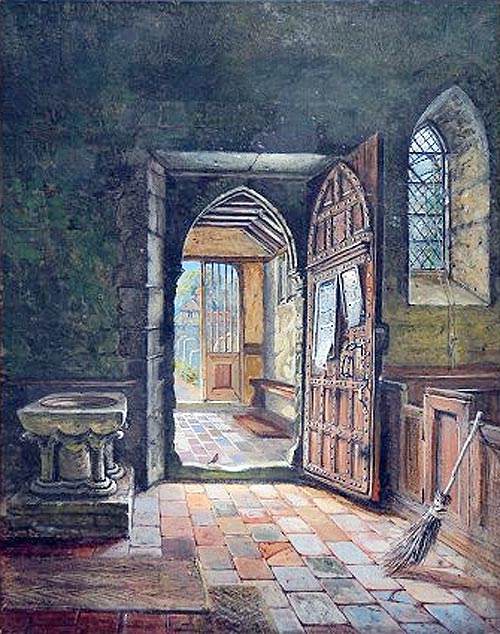 ...this beautiful painting (1880) from within St.James church
Yesteryear - Pram Race - 1984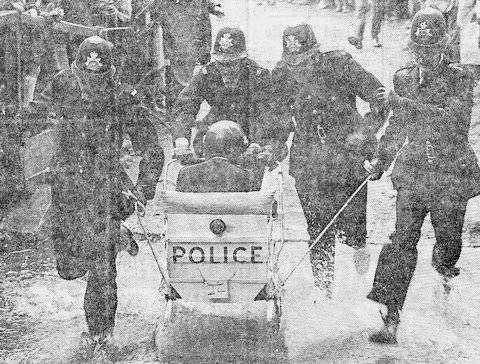 Who remembers the annual Pram Race through Shere?
Molly Moon:
The Incredible Hypnotist
UPDATE: Additional day of filming - Sunday 16th December 2012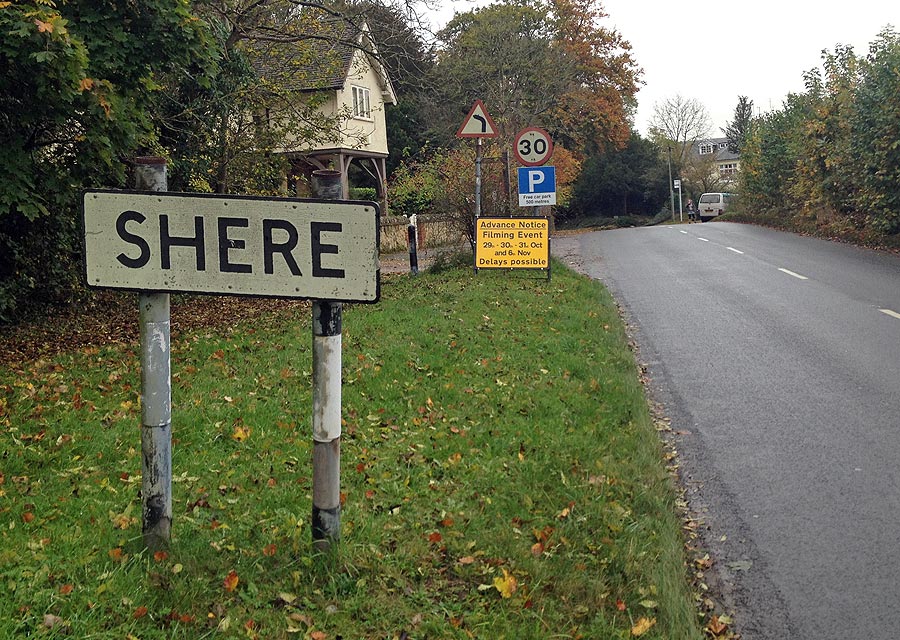 Filming begins in the Village today - 29th October 2012
LATEST UPDATES
St. James Church Sketchings - 1884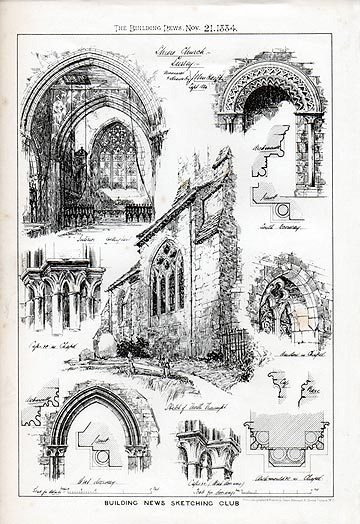 The Building News Sketching Club published these fascinating detailed
drawings of St. James Church some 130 years ago,
dated November 21st 1884 - Details on the History page.
Hollywood heartthrob
George Clooney made a stop for
lunch at the William Bray in Shere
August 29th 2012 - The actor/director, who has starred in Ocean's Eleven,
Three Kings and E.R. dined with four others at the pub in the heart
of Shere village. 
The owner of the William Bray – ex-Formula One star Julian Bailey
– regularly hosts the three stars of Top Gear
The Last Weekend - Television
LAST NIGHT - Sunday 19th August 2012 - First Episode of three parts
was shown on ITV last night. The next two episodes will be shown on
Sunday 26th August with the final episode to be screened on
Sunday 2nd May.
Some ilming took place in the Square, Shere on 1st May 2012
- Carnival Films
The Last Weekend: Based on the novel of the same name by
Blake Morrison, ''The Last Weekend'' tells the story of two estranged couple
reunited during a holiday retreat at a remote cottage by the sea.
Over the course of the long weekend, dangerous tensions surface as
each day sees the competitive couples carry out challenges with horrifying
consequences. The Last Weekend stars Rupert Penry Jones,
Genevieve O'Reilly, Shaun Evans and Claire Keelan. - wikipedia
READ MORE ON THE FILM SET PAGE
The London 2012 Olympic Torch
relay - photos / videos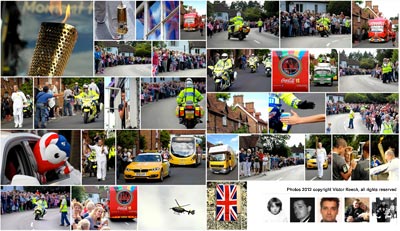 Friday 20th July 2012
The Olympic Torch Relay Convoy will be arriving approx. 4.55pm
along Gomshall Lane and Upper Street. This thrilling and historic
day will give local people and visitors the chance to share
the Olympic spirit, enjoy exciting entertainment and welcome
the Olympic Flame to Shere.
Oliver Haydon (22) (Gomshall Lane stage) and
Charlie Palmer (87) (Upper Street stage) will be the torchbearers
Middle street in 1930
Times past - 1930's photos added to the 'photography' page
Shere Gardens Open Day 2012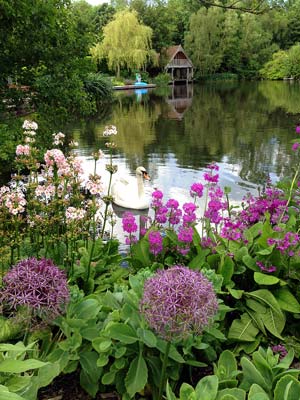 Sunday 24th June,
was the 34th Shere Gardens Open day.
View PDF GARDENS MAP

Shere, nr Guildford, Surrey
Sunday 24th June 2012
2.00pm to 6.00pm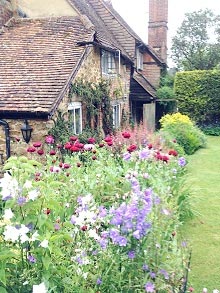 One of the most picturesque villages in Surrey, nestling at the foot of the North
Downs between Guildford and Dorking, will be opening its garden gates and
inviting the public to view a selection of about 20 beautiful private gardens.

Whether you are a keen gardener or simply curious to see behind the lichen
covered walls and manicured hedges, Shere Open Gardens gives a glimpse into
quintessential England and offers an enjoyable afternoon wandering around
gardens in full bloom.

2012 marks the 34th Open Gardens event in Shere.

Organised to raise money for a variety of village charities.
£6.00 for adults, £5.00 for OAPs, children under 16 Free
Queens Diamond Jubilee 2012
The Square Celebrations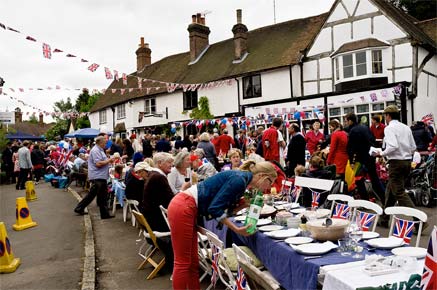 Series of 4 postcards!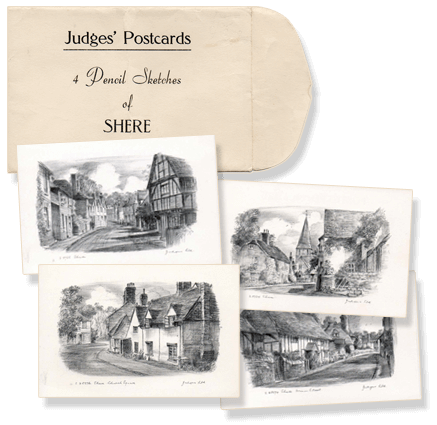 These beautiful pencil sketches were created and packaged by Judges'

HELP Shere Museum!
Shere Museum needs help through this busy 2012 Olympic summer.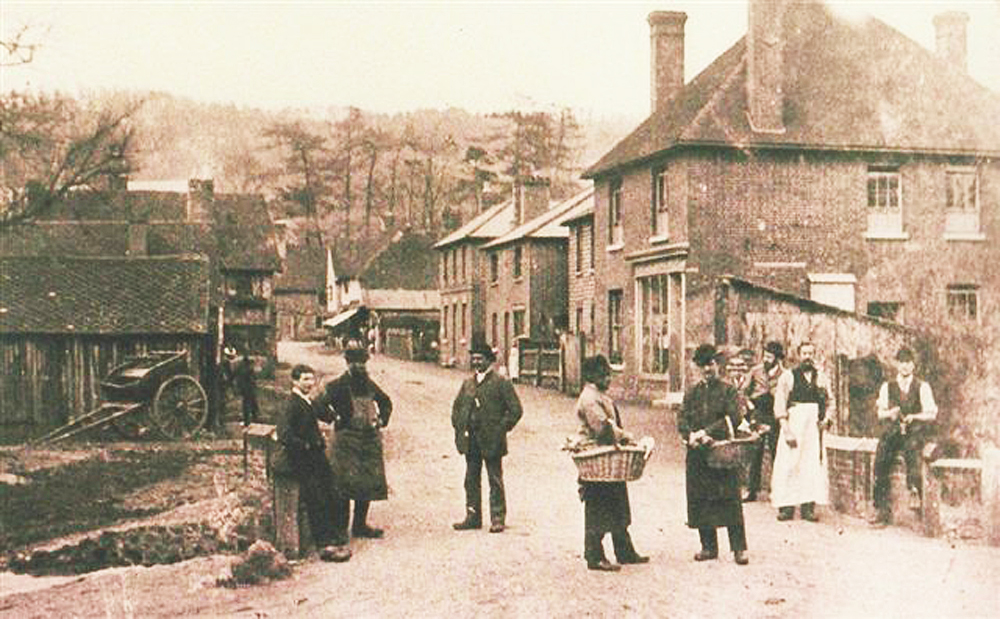 Can YOU spare a couple of hours?
As a TOURIST INFORMATION POINT FOR THE VILLAGE, we need to
be open for at least two additional days each week between
Easter and October this year.
The Museum is entirely staffed by volunteers: we just need a few more!
If you're friendly, live in or around the village and love living here
your're exactly the sort of person we need.
COME IN AND SEE US! or call 01483 202 769
email: info@shere.museum.co.uk


A great and fun place to visit, the 'Shere Museum'
World War II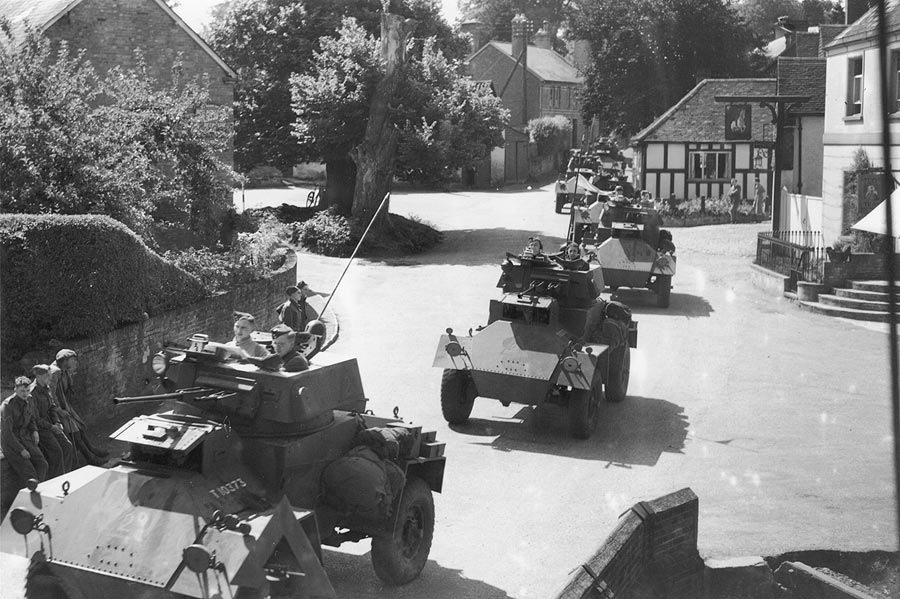 Who remembers living in shere during the war?
- Love to hear from you. Photo's added to the Photographs page
2012 - Top Gear in Shere
February 21, 2012

A FAMOUS motoring trio brought the village of Shere to a halt on Saturday.
Drenched Top Gear presenters Jeremy Clarkson, Richard Hammond
and James May pulled in at Trek Hire UK's shop to pick up some
waterproof clothing during one of their eccentric expeditions.
They needed it for the trip back to Dunsfold, where the BBC show is
filmed, as they were driving convertible cars despite the pouring rain.
Their classic convoy included a Caterham and KTM X-Bow....
...The family-run business has been visited by other famous names in the
past, including actress Julie Walters who popped in with her husband to
buy waterproof clothing.
2011 - Christmas time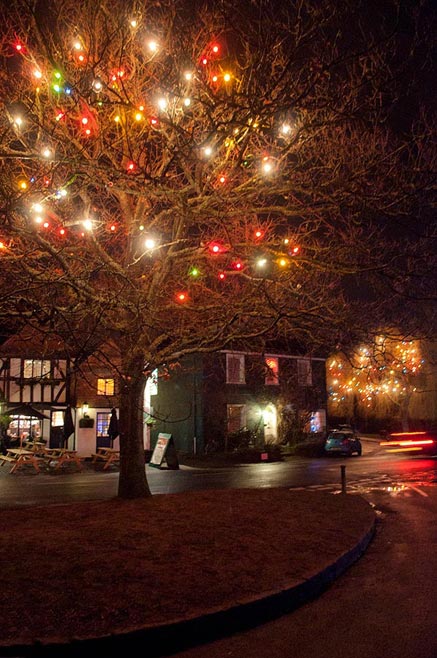 Some photo's taken this Christmas, 2011 - I would have taken more
but needed a Tri-pod for low light shots - I'm amazed these came out
1877 - In Village of Shere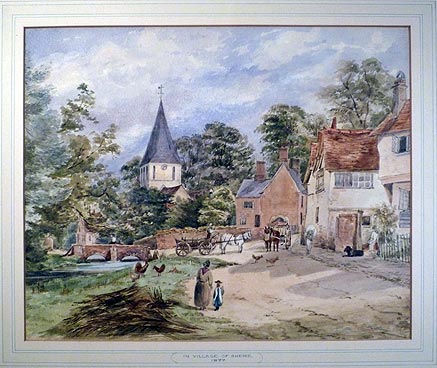 Does anyone recognise the artist of this painting, titled 'In
Village of Shere'? In times before the camera we can see a glimpse of
what life was like in the village. If you can help, please drop me a line.

God Bless the Happy Pair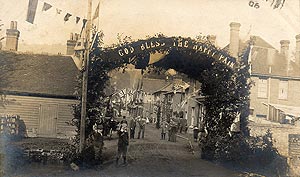 Wedding Celebrations in Middle Street - 1904
J. Weller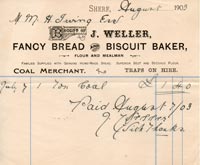 J. Weller - COAL MERCHANT and TRAPS ON HIRE
August 1903 Receipt
Middle Street Garage

Who remembers the Petrol pumps in Middle Street? These photos are
from 1965 - Does anyone have any others - would love to see them
Gardens Open Day 2011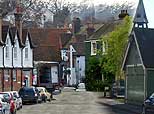 Sunday, was the 33rd Shere Gardens Open day.
View GARDENS MAP

Postcards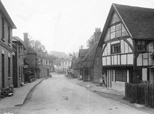 Village life through the ages
- Shere is renowed as one of the most photographed
villages and can be
documented through the 'postcard'
- Take a walk through the village via my collection of postcards, some dating back over the past 100 years
- the village remains fairly unchanged throughout, although the most
noticed addition today is the motor car
Shere Open Gardens 2011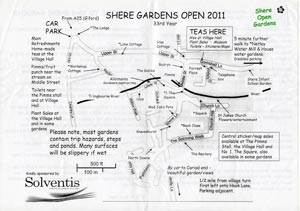 VIEW GARDENS MAP (pdf format)
Sunday 26th June 2011
2.00pm to 6.00pm
The beautiful and historic village of Shere, near Guildford will be
opening its gardens.
Approximately 15 gardens will be open, including the village telephone
box, and there will be an over-the-wall gardeners question time at
the allotments.
Home-made teas, plant sales. No dogs please except guide dogs.
Plant sales: Various places
Cost: £6.00 for adults, £5.00 for OAPs, children under 16 Free
How to get event passports: From any garden
Directions:
Shere is between Dorking and Guildford in Surrey, just off the A25.
Location: Postcode for Sat Nav: GU5 9HF
Shere as a Film location

The village has been the home to various film locations, such as The Wedding Date
(Debra Messing & Dermot Mulroney) Wedding scenes and shots of 'The Square'
Bridgette Jones - The Edge of Reason
(Renée Zellweger, Colin Firth, Hugh Grant, Jim Broadbent)
The Holiday
(Cameron Diaz, Kate Winslet, Jack Black and Jude Law)
Various village shots
The Ruling Class
1972 (Peter O'Toole, Alastair Sim, Arthur Lowe). Shots of 'The White Horse interior and outside shots of 'The Square'.
WATCH video clip (Inside the pub and outside in The Square)
Hearts of the World
(DW Griffith 1918 silent film) - some location shots, although I personally havn't seen this film. Starring Erich Von Stroheim, D.W. Griffith,
Lillian Gish, Noël Coward, Dorothy Gish, Robert Anderson,
Robert Harron, Billy Bitzer, William "Wild Bill" Elliott and features
David Lloyd George
A Matter of Life and Death
Shere was used as Dr. Reeve's village in the 1946 film
(David Niven and Kim Hunter) but seen very briefly through camera obscura that if you blink you would miss it.
The Earth Dies Screaming Shere was the location for the 1965 science fiction film which was mainly filmed around 'The Square' - see the newly planted Oak Tree below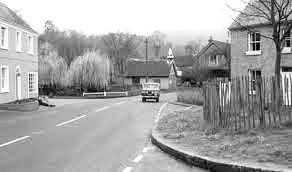 Access by Bus and Rail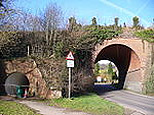 The nearest train stations to Shere are
Gomshall train station (0.91 miles)
Chilworth train station (2.68 miles)
Gomshall station was previously known as Gomshall & Shere,
as it also serves the adjacent village of Shere.
It has been unmanned since 1967.
There are buses from the village that run every half that stops at
'The Compasses Pub' in Gomshall - This takes 3 minutes according
to the time table and means that you only walk 0.2 mile from there to
the train station  
- so a max time of a 5 minute walk - Total time is 8 minutes from
Shere to the station by bus/foot.
London
by train - National RAIL WEBSITE times:
Gomshall to London Waterloo - Total time = 58 minutes
with 1 change at Guildford
Gomshall to Guildford = 15min
Waiting time between trains = 9min
Guildford to - London Waterloo = 34min
TOTAL: 58 minutes
ALTERNATIVELY - Gomshall to London Bridge
- Total time = 69 minutes
with 1 change (Redhill)
Gomshall to Redhill = 21min
Waiting time between trains = 12min
Redhill to - London Bridge = 36min
TOTAL: 69 minutes
STATISTICS
Seems that Train travel is rising, heading for twice the amount of passengers in the past ten years.Annual rail passenger usage*:
2004/05: 27,136
2005/06: 28,968
2006/07: 28,999
2007/08: 32,978
2008/09: 39,770
2009/10: 41,040
2010/11: 46,628
* Annual estimated passenger usage based on sales of tickets in stated financial year(s) which end or originate at Gomshall from
Office of Rail Regulation statistics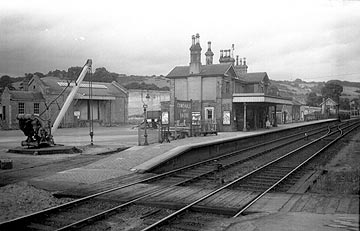 Gomshall and Shere Railway station - 24th July 1937
Guestbook
We hope that you have time to Sign the Guestbook
WebsiteDesign and programming by Tristan Greatrex